Press Releases
Universities Should Establish Joint Human Rights Standards on Licensing, Procurement and Investment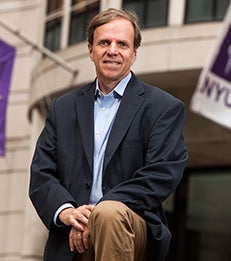 In an address at the University of Michigan on Friday,
Michael Posner
, co-director of the NYU Stern
Center for Business and Human Rights
, called for American colleges and universities to adopt uniform human rights standards relating to three aspects of their business operations – product licensing, procurement of goods and services and with respect to their investments.
"From the food served in the dining hall to construction of new buildings and facilities, to the paper in office printers, the scope of university purchasing is tremendous," said Posner. "Each year, American colleges and universities spend hundreds of billions of dollars on commercial contracts for goods and services.
"The supply chains of universities touch labor rights in manufacturing, but extend to other issues and sectors as well…The University of California system spends more than $7 billion each year on goods and services. It has an extensive and laudable commitment to what it calls 'environmentally preferable purchasing goals.' And while the university's supplier agreements require a certification that foreign made products will not be produced by forced or prison labor, it does not incorporate any of the other fundamental labor rights protections codified by the International Labor Organization. Why not?"
Posner also examined the enormous economic power of university endowments, and urged universities to use their collective leverage in the investment realm to promote human rights.
"[University of] Michigan's endowment is $8.7 billion dollars, making it the eighth largest university endowment in the country," said Posner. "[The] combined endowments of American and Canadian universities now exceed $450 billion. Viewed from the perspective of the overall U.S. economy, with assets of over $200 trillion dollars, university endowments are modest. But, if major universities came together to develop collective investment strategies aimed at advancing human rights, there is little doubt that they could have an impact.
"…. But too often, the debate is purely reactive, focused on those issues that are the subject of student campaigns or wide media attention. These discussions are too narrowly focused on divestment in extreme cases as the only tool available to influence the behavior of companies in an endowment's portfolio."
He suggested a different approach, noting :
"Instead, there is a need for major universities to come together to develop a better coordinated, more creative and expansive approach to investments, an approach that yields solid financial returns while rewarding long-term sustainable business practices."
Posner spoke at a conference convened by the
University of Michigan's Advisory Committee on Labor Standards and Human Right
s, He recognized that progress has been made in the area of licensing as universities engage groups like the Fair Labor Association and the Worker's Rights Consortium to provide oversight of the brands that produce licensed products.
"An important premise of both of these efforts is the recognition that no one company – or university – can solve challenging labor rights issues alone. Companies need to work together, even with their fiercest competitors, when it comes to human rights.
"But universities need to assume greater responsibility for labor rights in their licensing programs. Universities should screen potential suppliers for their capacity to manage labor rights challenges in their supply chains before licensing proposals are accepted and at the point of renewal."
Please see the
Center for Business and Human Rights website
for the full text of Professor Posner's remarks.