Research Center Events
NYU Stern W. R. Berkley Innovation Labs Celebrate Open House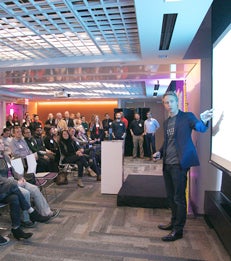 The NYU Stern
W. R. Berkley Innovation Labs
serve as the School's creative hub for the design of 21st century business ventures and learning environments. At a recent open house, the Labs team showcased their offerings and unveiled new initiatives to a standing-room-only crowd made up of faculty, staff and alumni.
Vice Dean
Raghu Sundaram
delivered opening remarks, emphasizing the impact of technology and globalization on business and the importance of an innovative mindset in today's business climate. Vice Dean Sundaram also highlighted students' growing interest in entrepreneurship. In the past 3 years alone, this heightened interest has resulted in a 150% increase in enrollment in entrepreneurship-related courses.
William R. Berkley (BS '66), chair of the NYU Trustees and chair emeritus of NYU Stern's Board of Overseers, for whom the Innovation Labs are named, also underscored the importance of innovation in business as a means to create value.
Professor
Luke Williams
, executive director of the W. R. Berkley Innovation Labs, shared a presentation on the Labs' three areas of focus:
The entrepreneurship team supports more than 2,000 students and alumni in developing and launching transformative companies.
The learning science team works closely with faculty to build robust, student-centered learning environments and design unique teaching tools that leverage current technologies.
The thought leadership platform, Ideas Never Sleep, curates and presents provocative ideas and insights from both the NYU community and the broader business community, encouraging intellectual engagement with timely and relevant topics.
Two studio sessions followed:
Professor Kristen Sosulski, director of learning science for the W. R. Berkley Innovation Labs, led a discussion with Professor Tensie Whelan, director of Stern's Center for Sustainable Business, on a recent partnership developing online courses for global clients.
Professor Cynthia Franklin, director of entrepreneurship at the W. R. Berkley Innovation Labs, moderated a panel of five Stern alumni who have founded thriving businesses with the help of the Innovation Labs and shared strategies for leading scalable ventures.