Stern Stories
Expand Possible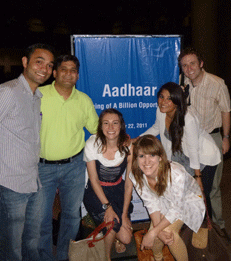 Five MBA students participated in a Stern Consulting Corps project, working with Professor Arun Sundararajan on India's Unique Identification (UID) initiative.
This is a public-private partnership that has the effect of improving people's lives.
 Five MBA students participated in a Stern Consulting Corps project, working with Professor Arun Sundararajan on India's Unique Identification (UID) initiative.
"I grew up in a socialist model in India, where the emphasis was on government initiatives," says NYU Stern MBA student Saurabh Palkar. "Then I moved to the US, where you see mostly private initiatives, but I think there is a lot of room and flexibility for the two to fit together." Saurabh was able to see this concept in action when he participated in a Stern Consulting Corps project, working with Professor
Arun Sundararajan
on
India's Unique Identification
(UID) initiative along with fellow MBA students Vivek Bhat, Aditi Raturi, Kristin Salaya and Jackie Walters.
India is in the process of rolling out a unique biometric ID to each of its 1.2 billion citizens, aiming to bring formerly excluded people into the mainstream economy and allow them access to banking, mobile services, healthcare and education. Professor Sundararajan has been leading a multi-institute project with University of Minnesota Carlson School of Management Professor Ravi Bapna and the Indian School of Business to measure the socioeconomic impact of the UID initiative, and the students have been working with him to study and analyze the market-state partnerships in place, assess how their effectiveness can be translated to other projects and countries, and provide recommendations on transition planning and nurturing the ecosystem. "This project offered a combination of research and a very practical application, and that intrigued me!" says Kristin. Additionally, "it was an innovative way to explore a government program and learn how the private sector could work with the public sector to provide a greater good for India." Aditi, who has family in India, was eager to get involved in a project that was forging private-public partnerships to improve people's lives: "The government in India has not always been effective in many areas, but here they are trying to break through and change this."
The students conducted research in the US during the spring semester and travelled to India in June to learn about the project first-hand. "Going to India made the project come alive for us," says Kristin. The students met with government officials in Bangalore, Delhi and Hyderabad, as well as business people in the private sector. They wanted to understand how businesses could leverage the UID to improve financial inclusion and open up new services to people. Wherever they travelled, they also reached out to Indian citizens to garner their reaction to the initiative. "There is definitely a general sense of excitement about what this project could do for the country in the future," says Vivek. The UID opens up possibilities that did not exist before: "In rural places it is not easy to prove your identity," explains Kristin. "UID streamlines the process. For example, with the UID it's easy to open a bank account and transfer money. Now residents can scan their fingerprints and transfer money to family members in another city. It's providing efficiency and access to services that people didn't have previously." Vivek adds, "I am really excited about the fact that entrepreneurs can leverage this incredible technology to develop innovative and sustainable social initiatives that, up until now, were challenging or almost impossible to implement. An obvious example is how the UID enables people to build a credit history system for micro-finance."
Professor Sundararajan saw a transformation in the students' mindsets during their trip to India: "The week the students were in India, their understanding of the problem, h ow we're solving it, and their whole world-view was altered because they were in the context of the problem. They gained a clear understanding of the breadth of the problem, the extent of exclusion and how the business-government partnership can make a change. They saw the potential of business to be an agent of social change and have value creation that goes beyond shareholder value.
If enrollments continue according to projections, Professor Sundararajan estimates that around 300 million people (25% of the population) will attain portable IDs for the first time ever by the end of 2012, and this number will continue to grow in 2013. "It's an incredible feeling to have expertise on this major initiative that we're reading about in the news," says Jackie. The students are optimistic about the changes the UID will bring to India. Saurabh explains, "This is a public-private partnership that has the effect of improving people's lives."