Jennifer Meacham, MBA 2015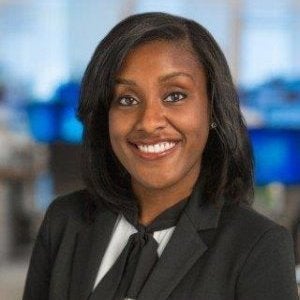 Jennifer Meacham joined Goldman Sachs in 2015 upon completing her MBA from NYU Stern School of Business, where she was a recipient of the prestigious President's Service Award from the university and was honored as one of the 2015 Best MBAs by Poets & Quants. Prior to business school, Jennifer worked as an Analytical Lead in the Retail Division of the Online Sales Group at Google in both the Mountain View and Chicago offices. She also attended Phillips Academy Andover and graduated Summa Cum Laude from Howard University where she earned her B.A. in Telecommunications Management.
As a student, where was your favorite spot to spend time at Stern?
The Leadership Lounge. I pretty much went there in between all of my classes.
What is your favorite way to spend a Saturday?
I like to kick off Saturdays with a morning workout followed by brunch and conversation with friends.
What is your favorite seasonal activity?
This isn't really seasonal, but I love traveling. Given that my friends are all over the map, I spend a lot of my time on a plane reuniting with friends to create new memories.
What is your favorite memory from your time at Stern?
Raising money for and performing in AHBBS' Date Auction. It was really fun to create and perform our Beyoncé medley in front of many of my classmates and bond with my roommates in the process.
Why do you choose to stay engaged with Stern as an alumnus?
I see engagement as my responsibility, not a choice. I benefited so much from my Stern experience that I think it's only right that I dedicate my time making sure other students share a similar experience.
What quote most inspires you?
"Give a man a fish, feed him for a day. Teach a man to fish, feed him for a lifetime."
~ Proverb
---