NYU Stern Alumnae Offer Mentorship to MBA Students During Their Summer Internship
—
Lisa Draho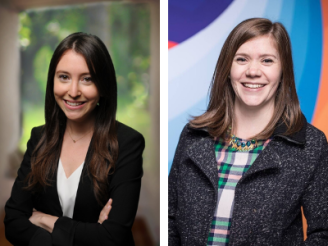 After a successful pilot during the summer of 2019, the Stern Women in Business (SWIB) student club will be facilitating a mentorship program to match two-year full-time MBA students with alumnae mentors for support and advice during their summer internships. SWIB is partnering with the corporate relations team, which works across student clubs, to identify appropriate mentors based on career interests.
"SWIB's new mentorship program will help students get the most from their summer internships and learn from the perspectives and experiences of others," said Dean Raghu Sundaram. "We are excited for SWIB students to have this opportunity to build relationships with alumnae and gain exposure to successful role models."
Katie Cowling (MBA '17), product marketing manager, global marketing solutions, healthcare at Facebook, [pictured right] volunteered because she had had great, strong female mentors. As she explained, "I got so much value from Stern, that combining two impactful things in my life to possibly help others in their careers seemed like a no-brainer."
Katie felt that a mentorship program could be a value-add because "consistent 1:1 time over a summer internship or longer with a trusted female confidant is invaluable. The mentor-mentee connection is more constant, deeper and can explore different questions and themes."   
A mentor offers career insights into the tech sector
Katie was paired with Allie Kornstein (MBA '20) [pictured left], who was interning as a product marketing manager at Facebook. The two would connect for 30 minutes every other week, often through video conferencing. They got together for lunch to celebrate Allie's full time offer during the last week of her internship. Allie, a member of the SWIB board, took part in the mentorship program because she was interested in connecting with an alumnae working in tech about how she used her MBA to get there. She appreciated that Stern matched her with a recent alum as opposed to needing to reach out on her own. 
"There was a more structured, legitimate feel to the program which was helpful in guiding my conversations with my mentor. It was also helpful to know that my mentor had already opted-in to this program, whereas if I were to have reached out to someone out of the blue, it might not have been someone who had the time to mentor me," said Allie.
A mentee looks for advice on career switching
Another student, Sherry Lu (MBA '20), participated in the pilot program and was paired with Megan Sirras (MBA '17), associate brand manager at Mars. Sherry was switching careers from consulting to marketing and brand management and knew her summer internship would be full of new challenges. She explained, "I was looking for someone to turn to for advice. And I was also thinking about life after graduation and wanted to start building my Stern network by meeting alumni within my industry and function." 
Sherry's mentor worked at the same organization that she interned at. "We developed a cadence of bi-weekly touch-base meetings. Early on she shared her summer intern project, which was valuable in helping me think through my approach," said Sherry. "Beyond project guidance, Megan also helped me understand how to navigate a large organization and to get buy-in from senior leaders on my project by scheduling meetings with brand directors starting in late June  because their calendars fill up. As a result, I was able to meet with most of them and get feedback in advance of my final presentation," Sherry explained.
Katie's advice for reaching out to a mentor: "Be open and vulnerable! This is easier said than done, but I've gotten the most out of my past mentorships in doing so too. You can find great nuggets of wisdom when you're both open to chatting about not only successes, but also failures and what you've learned from them."
Alumnae who are interested in getting involved as mentors can contact Ava Danville at
adanville@stern.nyu.edu
for more information.