Stern Partners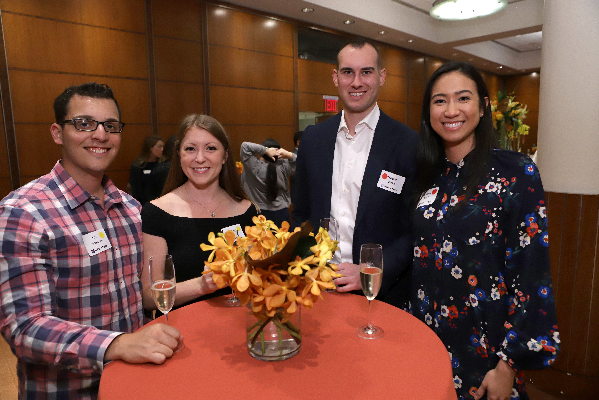 Stern strives to create a welcoming environment for partners and families of Stern graduate students.

Transportation to NYC
NYU Traveler is a great resource for discounts on flights, hotels, rental cars, and commuter trains. Students can use their NetID to access discounts, and those without NetIDs can email nyuglobaltravelteam@nyu.edu for options. For discounts on busses between cities, booking directly through the bus company usually allows for discounts to be applied. Greyhound busses require the use of the Advantage Card, so be sure to sign up a few weeks in advance. NYU offers a shuttle service from NYU Residence Halls and the Kimmel Center to LaGuardia or JFK International airports for $18.

Housing Resources
On Campus - Stern students can apply to live at Palladium Hall or Washington Square Village student housing. On-Campus housing gives students a hassle-free option with many available resources. Although it is an expensive option, living on campus is very convenient for MBA students and their families. Find out more here. Palladium is an NYU student dorm on Union Square park, about 10 minutes walking distance from Stern. Graduate students have their own floors, and each graduate family has their own studio. Palladium is not similar to college party dorms, so noise is not an issue. Its rooms all come pre-furnished. The building also offers an athletic facility, dining hall, and career center. Trader Joe's is a convenient neighbor for all residents, who also take advantage to their proximity to Union Square and its many MTA trains (4, 6, L, N, Q, R, 5, and W). The NYU F and E busses also stop within a block of its front doors, giving residents an accessible and free ride to Washington Square. For more transportation information, see the Transportation to Stern tab. Apply to Palladium here.

Washington Square Village is a graduate student dorm one block southeast of Washington Square Park. It is less than a five minute walk away from Stern buildings. Each graduate gets their own pre-furnished studio apartment, which also has access to a playground and small park area within the apartment compound. The building also houses non-nyu students, so it operates like an apartment building with amenities like a doorman and parking lot. The Resource Center is also in the building. All NYU busses stop nearby at the main Washington Square stop, and the closest MTA station is 3 blocks away on West 4th Street. Apply to WSV via NYU Global Home.

Off Campus - Many students also choose to live off campus by finding an apartment in the city. To make this process easier, NYU offers many housing information resources and search platforms. Those new to the city can use this housing guide to determine which neighborhoods and buildings are best suited for their needs, as well as which landlords students have recommended. It also explains the renting process in NYC. Once students know where they want to live, they can use these websites to find their new homes:

NYU Private Housing Registry
NYU Stern CampusGroups Apartment and Roommate Listings
Recommended Public Agencies
Hotel Discounts on NYU Traveler
NYU Stern Apartment Listing Sheet
NYU Stern CampusGroups Apartment and Roommate Listings

Furnishings
To Rent - Renting furniture is a popular option among students. Rental companies usually offer front door delivery and pickup, and are a great way to eliminate the biggest hassles of moving and storing furniture. Cort offers a student discount, package deals of apartments and furniture rental, and some clearance items for sale. Cort is great for students living off campus because the movers are able to set up the furniture before their arrival, so that the apartment is comfortable right away. Cort's website is optimized for students coming from afar. We also recommend Churchill Rental Furniture. With flexible leases, rented furniture is a great way to go for students who are unsure of how long they will live in one place.
To Buy - buying furniture can be affordable for students and families who make use of the city's many thrift stores and secondhand furniture stores. Here is a map of NYC's best brick and mortar used furniture stores. For those who are furnishing their homes remotely, try Furnishare for an experience very similar to Cort's. On Furnishare's website, you can browse thousands of used furniture pieces, reserve them, and schedule them to be set up prior to your arrival. Furniture can be resold on the site after move-out.

Moving Resources
The following companies provide discount or special rates for students and usually require proof of enrollment such as a student ID or use of an NYU email address:

Oz Moving and Storage (10% student discount)
Roadway Moving (10% student discount)
Flatrate (10% student discount)
Smartbox ($20 off delivery with code 20NYU)
Roommate Search Resources - NYU Provides a few platforms to help grad students in search of roommates to find each other.
Facebook Group for Grad Student Roommate Search

Mail Services and Addresses
All new residents of NY, including those without US citizenship, should obtain a US government issued ID with their new address on it. Even students whose primary US address is elsewhere should get a state ID card with the new address, for emergencies. Visit the DMV website to order your new card. To get your mail forwarded to your new home, either temporarily or permanently, notify USPS of your new address here. Students living in Palladium dorm will be able to receive mail and packages in the building, and can send mail from the post office one block away (map). Palladium residents send paper mail from public outgoing mailboxes around the city (map). For those living outside an NYU dorm, past MBA students recommend picking up packages at the nearest post office unless the apartment has a doorman and mail room, because packages left on a stoop are subject to theft. Find locations and hours of operation for your nearest post office here. Mail for a US destination should be addressed as follows:

Recipient Name Jane Doe
Street Address 34 Sam Street Northwest
Street Address 2 Apt 209
City, State Zip New York, NY 10003

Phone Services
International students and those students who wish to have a landline will need to arrange a new phone service. For help choosing the right US phone plan, flywire has some good advice and pointers. If you would like a landline and your landlord has not provided one, setup involves signing up with your phone company. The process is outlined here.

Local & Long Distance Calls For local or long distance service you must dial 1 plus the 10-digit number (example: 1-212-854-3587 for the ISSO). The area code is the first 3 numbers. In the above example, 212 is the area code. Toll-Free Call These numbers are often referred to as "800 numbers" after the original area code. For service, dial 1 plus the toll free 10-digit number. The following area codes indicate toll- free calls: 800, 822, 833, 844, 855, 866, 877 and 888. International Call Dial 011 + country code + area code + number. See www.countrycallingcodes.com for a list of country codes.
Children
Schools - while NYU does not offer an on-campus daycare for students' children, there are many great resources in NYC. The Department of Education shows a map of public schools according to residence address, grade, and preferences. Every preschool aged child is guaranteed a place in school. For advice, K-12 tutoring, and free enrichment programs, Inside Schools has clear and accessible information.

Activities - There are many after-school activities available for kids in NYC. Check out Time Out for ongoing programs and outing suggestions. Here is a great site for sorting options by your child's age, interests, or neighborhood. NYU provides a list of fun activities for kids here. Remember that most museums in the city have free admission for young children and students (list). NYU also partners with some summer camps in the city.

Childcare - Each fall and spring semester, the Center for Student Life provides a childcare subsidy to eligible full-time graduate students to assist with childcare services. Apply as soon as possible if you are eligible. NYU also partners with Carebridge Life Resources to provide reliable childcare for working families. Services include babysitter search resources, summer camp suggestions, and short-term childcare care solutions. UrbanSitter can help you find babysitters best suited for your child, and can even direct you to NYU student sitters majoring in Child Development, Education, or Nursing. Accredited offers a great list of resources for finding the right childcare for your family, and gives new parent tips on the childcare search.

Healthcare
NYU requires that all matriculated students have health insurance, so tuition expense also covers the NYU Health Insurance plan for one student. Students are automatically registered for the plan when they enroll in classes for the term, but may choose to opt-out for a refund if they have preference for an alternative plan (they must be able to prove coverage). Dependents, domestic partners, and spouses can also sign up for health insurance plans for an additional cost.
Overview
FAQs
Rates (page 26)

Transportation
Many students and their families choose to make use of MTA public transport to get around the city efficiently. The MTA does not offer student discounts. NJ TRANSIT offers students who are Enrolled-Full-Time (as verified through Albert under the Academic Load field) a 25% discount for bus, rail, or light rail monthly passes. This is an auto-subscription program, each month you will get a new pass unless you cancel or suspend your account. There is a $3 processing fee each month for the program.

Bike Share is another transportation option, ideal for those students living in NYU dorms. Using their university ID, students can check out any available bike for the day, and return it to any bike share location by 10pm (bike issued on a first-come, first-served basis). Palladium dormitory has a bike share location in-building, and there are several on-campus locations where students can store the bikes during the day.

Religion & Places of Worship
NYU center for spiritual life provides NYU students and their families the opportunity to engage with their faith on-campus at religious centers. The university also offers mindfulness coaching and many ways to engage spirituality without affiliation to any specific religion. Enrolled students can join any club, including religious clubs university-wide, and their family members can reach out to the clubs directly to see if they can join (each cub has its own policy about NYU affiliated memberships). Learn more about NYU's on-campus religious opportunities here, and find a map of the city's places of worship here.

Cuisine-Specific Grocers
Below, find directions to highly-rated (google reviews) specialty grocery stores around the city.
Asian - Asia Market Corporation, Hong Kong Supermarket, H Mart
Japanese - Dainobu, Sunrise Mart, Katagiri Japanese Grocery
Chinese - Asia Market Gramercy Park, Tan Tin Hung Supermarket
Middle Eastern - Spice Corner, Sahadi's, Holon Middle East Grocery
Indian - Dual Specialty, Patel Brothers, New Foods of India, Little India, Kalustyan's
Eastern European - Euro Market, NetCost Market
Greek - Ninth Ave. International Foods, Titan Foods
Italian - Eataly, Agata & Valentina
British - Myers of Keswick
Brazilian - Buzios, Rio Market Inc
Kosher - Eastside Kosher, Frankels Kosher Market, The Kosher Marketplace
All - Food Bazaar, Associated Supermarket
Clubs
Students are welcome to join any graduate student club they choose. Partners can usually join social or special-interest clubs, but admissions is up to each club's policies, so any questions can be emailed to the club management directly. Stern clubs are organized in the website CampusGroups, where you can see events calendars, pay dues, and manage memberships. Students can log in with their NetID (ex:abc123) and password, and partners can register a new account by:
Go to CampusGroups
Next to CampusGroups Labs, click the "Join" button
Check the unchecked box and click "Join"
Click "Register on CampusGroups"
Fill in your personal information
For Account Type, select "Guest"
For Year of Graduation, select your student's year of graduation
Copy the code sent to your entered email, paste it into the CampusGroups page, and click Submit
Join the Stern Partners Campus Group!
Partners Club - Partners are highly encouraged to join Partners Club to get connected with each other. See instructions above to register and join via Campus Group. In addition, Partners are encouraged to join the Partner communities on Facebook and GroupMe.
Special Interest Clubs

Social Media Groups
Students and Partners each have several social media groups to help them get acquainted with their new communities. To find your Facebook community, search for "NYU Stern [Full/Part-time] MBA Class of [Graduating Year]". Clubs and student groups also have social media profiles, which can be found on their individual club pages on CampusGroups.

Campus Navigation
To learn the locations of Stern buildings, check out the campus map here. Try searching for the two adjacent Stern Buildings: KMC and Tisch (two locations will appear for Tisch - the one on Broadway is the Arts School, and that building is where the NYU busses stop).

Campus Safety
Because NYU is in the middle of Manhattan, there is tight security in and around all university buildings. All student areas are protected by security guards and often turnstiles that require NYU ID cards for entry. An NYU ID card is necessary for entrance to both Stern buildings. Partners and family members can sign in as guests using a government issued photo ID. If any student or affiliated member of NYU (includes partners and families) feels unsafe on campus, they can call NYU Public Safety at +1 (212) 998-2222. Safe Ride, an on-call transportation service, is also available to students and their families.