Stern Partners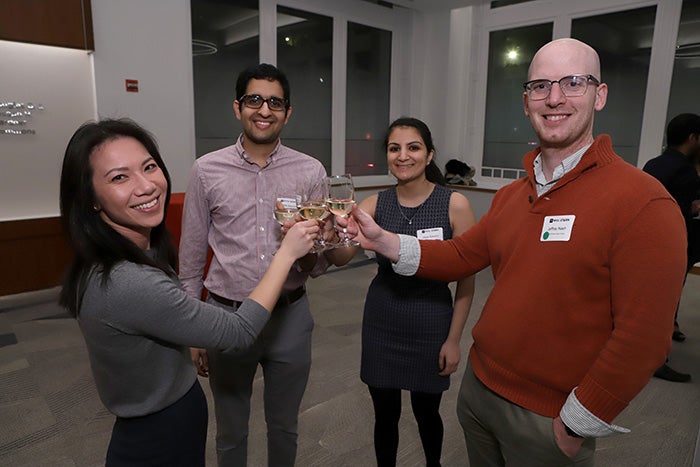 Stern strives to create a welcoming environment for partners and families of Stern graduate students.

Clubs
Students are welcome to join any graduate student club they choose. Partners can usually join social or special-interest clubs, but admissions is up to each club's policies, so any questions can be emailed to the club management directly. Stern clubs are organized in the website CampusGroups, where you can see events calendars, pay dues, and manage memberships. Students can log in with their NetID (ex:abc123) and password, and partners can register a new account by:
Go to CampusGroups
Next to CampusGroups Labs, click the "Join" button
Check the unchecked box and click "Join"
Click "Register on CampusGroups"
Fill in your personal information
For Account Type, select "Guest"
For Year of Graduation, select your student's year of graduation
Copy the code sent to your entered email, paste it into the CampusGroups page, and click Submit
Join the Stern Partners Campus Group!
Partners Club - Partners are highly encouraged to join Partners Club to get connected with each other. See instructions above to register and join via Campus Group. In addition, Partners are encouraged to join the Partner communities on
Facebook
and
GroupMe
.
Special Interest Clubs
Social Media Groups
Students and Partners each have several social media groups to help them get acquainted with their new communities. To find your Facebook community, search for "NYU Stern [Full/Part-time] MBA Class of [Graduating Year]". Clubs and student groups also have social media profiles, which can be found on their individual club pages on CampusGroups.
Campus Navigation
To learn the locations of Stern buildings, check out the campus map
here
. Try searching for the two adjacent Stern Buildings: KMC and Tisch (two locations will appear for Tisch - the one on Broadway is the Arts School, and that building is where the
NYU busses
stop).
Campus Safety
Because NYU is in the middle of Manhattan, there is tight security in and around all university buildings. All student areas are protected by security guards and often turnstiles that require NYU ID cards for entry. An NYU ID card is necessary for entrance to both Stern buildings. Partners and family members can sign in as guests using a government issued photo ID. If any student or affiliated member of NYU (includes partners and families) feels unsafe on campus, they can call
NYU Public Safety
at +1 (212) 998-2222.
Safe Ride
, an on-call transportation service, is also available to students and their families.