Business Analytics Symposium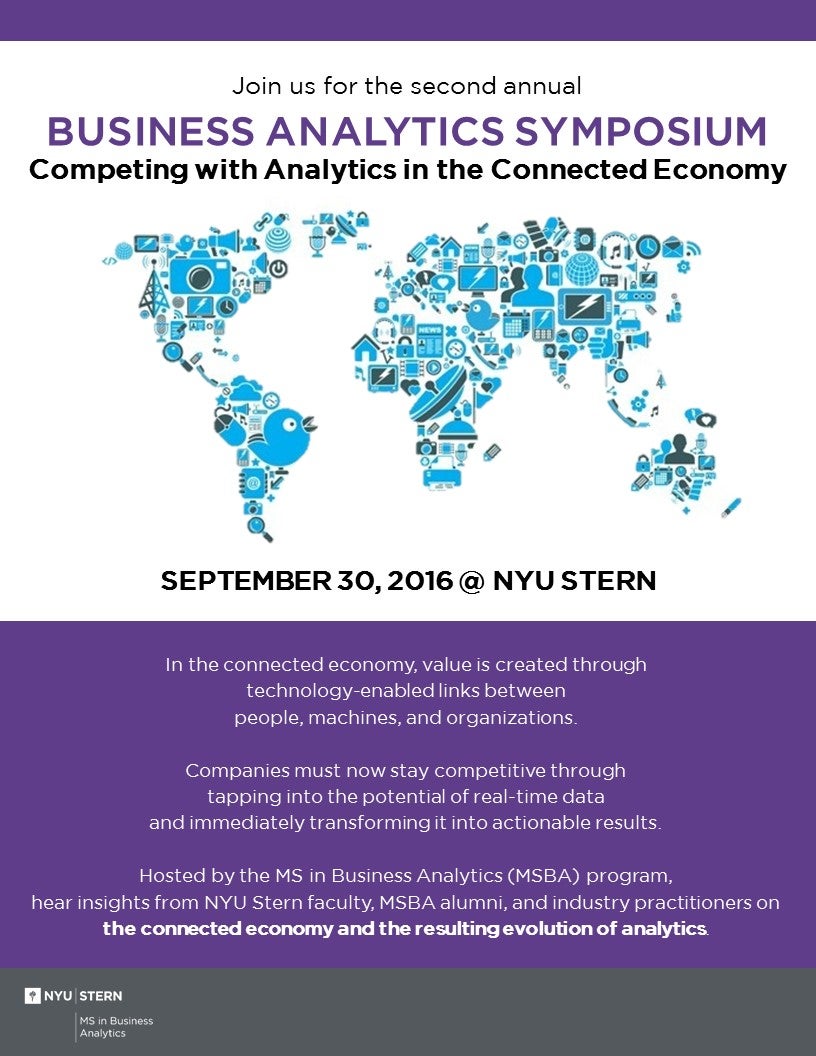 If you have any questions, please email Megan Hallissy (mhalliss@stern.nyu.edu).

Learn more about the NYU Stern MS in Business Analytics Program.
Welcome & Introduction: Competing with Analytics in the Connected Economy
- Foster Provost, NYU Stern Professor of Information Systems

In the connected economy, value is created through the technology-enabled links between people, machines and organizations. With the increased amount of data coming from connected devices, companies need to take large amounts of real-time data, analyze it quickly and provide results, responses or recommendations immediately. A digitally connected economy opens up new opportunities for growth, but competing in a connected economy requires a new way of thinking to fully tap its potential.

For this Symposium we will explore how analytics has evolved with the connected economy and is the driving factor, creating an economic resource that companies are using to generate new sources of value and growth.
 
---
Panel Discussion on Analytics Applications in IoT
- Eric Sherman, SVP Insights & Analytics, Gas Station TV, MSBA '14
- Diptimaya Mishra, Big Data Solutions Architect, Microsoft Corporation, MSBA '15
- Moderated by Foster Provost, NYU Stern Professor of Information Systems

According to Gartner Research there will be 20.8 billion devices on the Internet of things by 2020.  IoT is driving the value generated in the connected economy. In this panel we will explore the applications of analytics in IoT from several different perspectives.  
---
Connected People in the Connected Economy
- Panos Ipeirotis, NYU Stern Professor of Data Science and Information Systems

The connected economy is not just the connection between devices but also the connections and links between people.  In this session we will explore a different perspective of the connected economy and focus on how crowdsourcing and harnessing the power of connected people brings value to business and society.
---
Policy Implications in the Connected Economy
- Joah Saphhire, Founder and President, Global Dynamic Group, LLC.

With the explosion of connected devices and the massive amounts of data they produce, businesses, individuals and government bodies need to evaluate their current strategy and future plans to handle, process and make sense of this growing amounts of data. This session explores the implications and challenges that this ecosystem of connect devices has on businesses.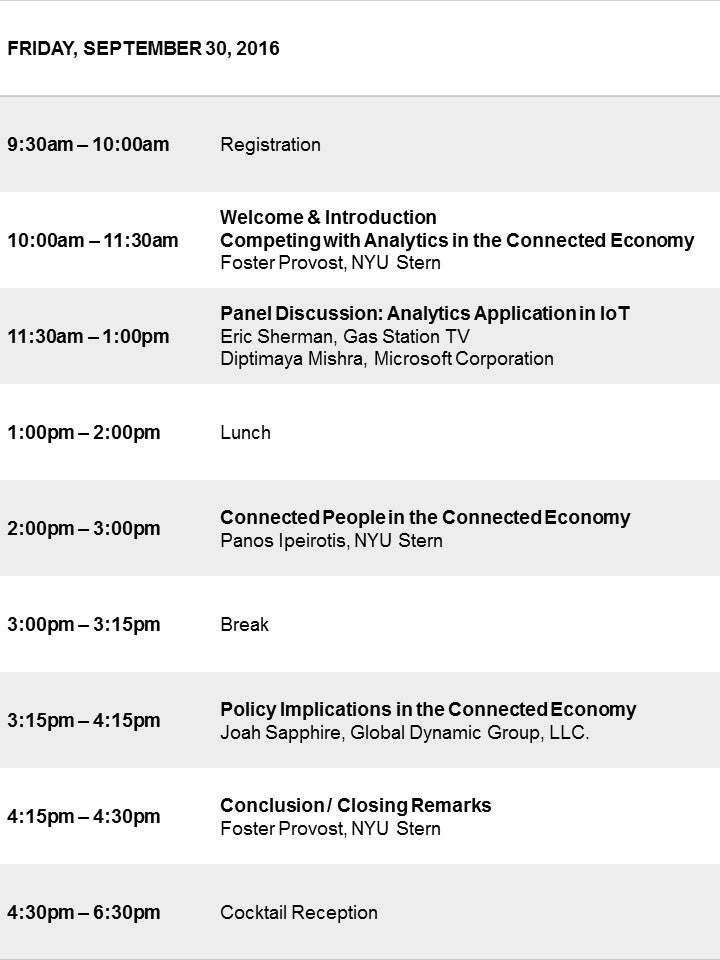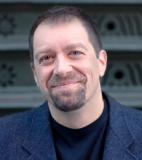 Foster Provost is Professor of Information Systems and Andre Meyer Faculty Fellow at New York University's Stern School of Business. Professor Provost studies data mining, machine learning, social network analysis and their alignment with business problems. He has won several awards, including the 2009 INFORMS Design Science award for social network-based marketing, IBM Faculty Awards for outstanding research in data mining and machine learning, a President's Award from NYNEX Science and Technology, Best Paper Awards from the ACM SIGKDD conference, and awards in SIGKDD's annual KDDCUP data mining competition.

Professor Provost's research focuses on the issues involved with aligning data mining technologies with real-world problems. Currently he is focusing on mining social-network data, such as networks of consumers, where the connections can be important for predictive modeling. He also is focusing on economic considerations in data mining and machine learning; technical strategies may change when cost and benefit information is taken into account. Professor Provost has applied data mining technologies to a variety of business problems, including on-line advertising, fraud detection, network diagnosis, targeted marketing, counterterrorism, and others.

Professor Provost recently retired as Editor-in-Chief of the journal Machine Learning after 6+ years. He is a member of the editorial boards of the Journal of Machine Learning Research (JMLR) and the journal Data Mining and Knowledge Discover. He was elected as a founding board member of the International Machine Learning Society. He advises businesses and U.S. government agencies on policy and investments in data mining research, and on practical issues in applying data mining and machine learning.

Professor Provost has a B.S. from Duquesne University in Physics and Mathematics and an M.A. and Ph.D. in Computer Science from the University of Pittsburgh.
---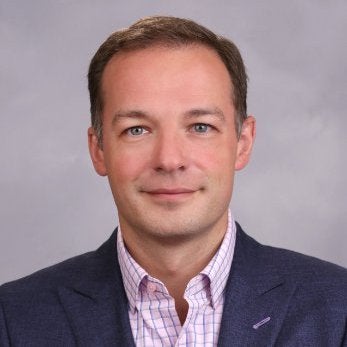 Panos Ipeirotis is a Professor of Data Science and Information Systems and George A. Kellner Faculty Fellow at the Department of Information, Operations, and Management Sciences at Leonard N. Stern School of Business of New York University. His recent research interests focus on crowdsourcing and on mining user-generated content on the Internet. He received his Ph.D. degree in Computer Science from Columbia University in 2004.

He has received nine best paper awards and nominations. He is also a recipient of a CAREER award from the National Science Foundation and of several other grants. He has been profiled twice at BusinessWeek, first as innovator in crowdsourcing, then as the "data dude" in a business school (when dealing with data was not deemed to be cool). In his spare time, he fights financial crime at Detectica.
---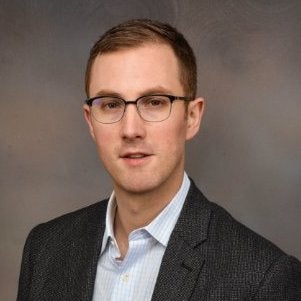 Eric Sherman, MSBA '14, is the Senior Vice President of Insights & Analytics at Gas Station TV, a high-growth place-based digital media company.  Reporting to the CEO, Eric oversees audience insights, ad effectiveness research, and data strategy.  He is currently building the company's advanced audience measurement, marketing attribution, and geospatial analytics practice.
 
Prior to GSTV, as head of US media research at Twitter, Eric led a multi-disciplinary research, analytics, and data science team charged with demonstrating and quantifying the value of Twitter to media companies, content owners, and multi-platform marketers. 
 
Before joining Twitter, Eric oversaw audience measurement, ad effectiveness research and geospatial analytics for Clear Channel Outdoor's $1.3 billion US advertising business.  He also spent seven years at NBCUniversal, heading up ad sales research and web analytics for CNBC. 
 
Previously, At Digitas and Dynamic Logic, Eric advised clients on digital marketing strategy and measurement.
 
Eric lives in New York City with his wife and daughter.
 
---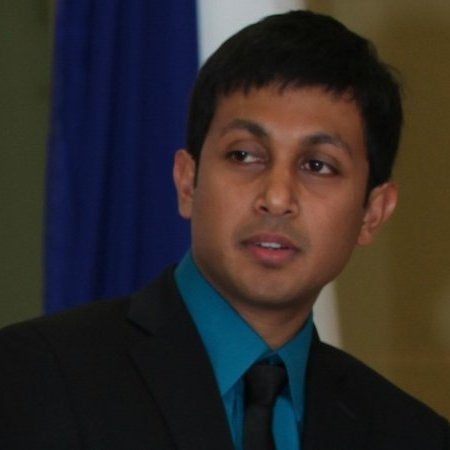 Diptimaya Mishra, MSBA '15, is a Big Data Solutions Architect  at Microsoft Corporation where he helps in solving  complex  business problems and data challenges faced by Microsoft's enterprise customers. His areas of expertise lie in Machine Learning, Big Data Analytics and Internet of Things (IoT). He is also the Principal Data Scientist for the real estate startup Brixsy.

Prior to Microsoft, Diptimaya was leading a multi-disciplinary IoT and advanced analytics team at Penske. During his tenure at Penske, Diptimaya led the Connected Vehicles initiative that leveraged real time streaming data from the vehicles to derive insights and perform predictive maintenance. 

Before joining Penske, he was part of various Business Intelligence and Analytics teams at AIG and 21st Century Insurance.
 
---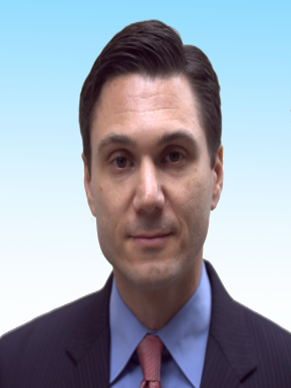 Joah Sapphire leads Internet of Things solutions in highly regulated industries leveraging twenty years of experience in the public and private sector.  Joah is Founder and President of Global Dynamic Group, LLC.  Previously, he was Founding Partner of Verulam, China Representative of Ospraie, CFO of NROTB, Deputy Commissioner of Suffolk County, Finance Director of Nassau County and Senior Analyst in the New York State Assembly.

Joah serves as adjunct professor for Columbia University's School of International and Public Affairs.  He serves at guest lecturer for Georgetown University's McDonough School of Business.  He is an industry affiliate of Cornell University's Program in Infrastructure Policy and a member of the Advisory Board of University at Buffalo's Institute for Sustainable Transportation and Logistics.  

He received a BS from Cornell University and a MPA from Columbia University.
The Symposium will be held at NYU Stern School of Business. 

New York University
Leonard N. Stern School of Business
44. W. 4th Street
New York, New York 10012
Map and Parking Options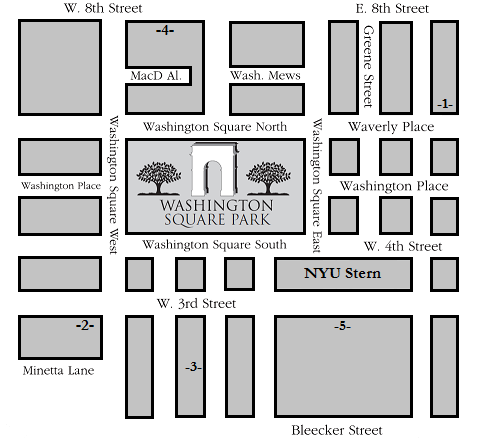 1. Hillary Gardens Garage | 300 Mercer Street | +1-212-473-8752
2. Minetta Lane Garage | 122-28 West Third Street | +1-212-777-3530
3. Thompson Street Garage | 221 Thompson Street | +1-212-677-8741
4. Washington Square Garage | 2 Fifth Avenue | +1-212-533-8312
5. Washington Square Village Garage | 2 Washington Square | +1-212-253- 9061

If you will need hotel accommodations near the NYU Stern vicinity, please visit our website for a list of options.