Innovation at the Pace of Business


NYU Stern launches a new category of specialty MBA program, expanding the innovative ways it shapes future leaders
BY TED PRZYBOCKI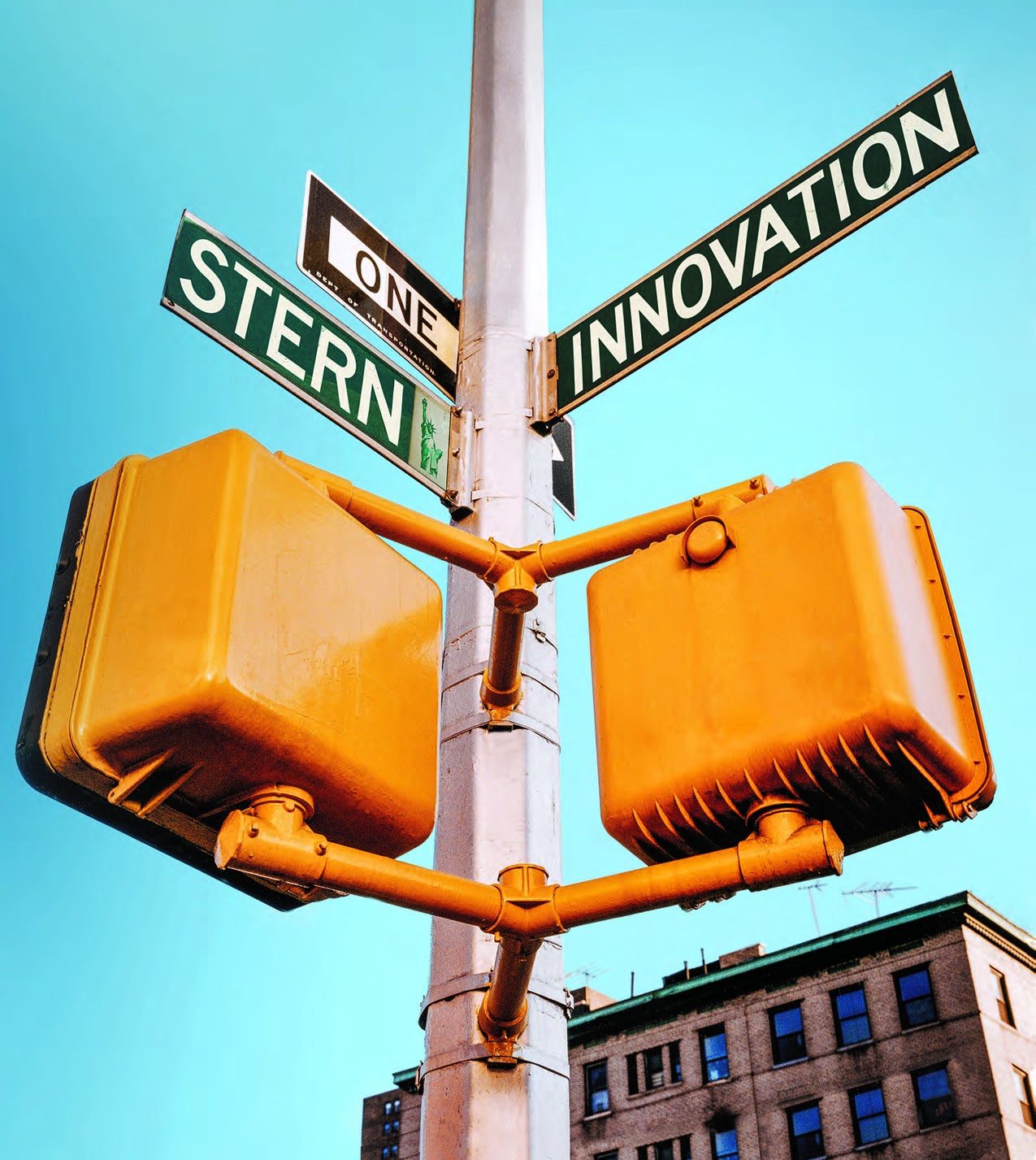 From advancements in automation, to cybersecurity threats, to voice-activated assistants that help you shop, technology is changing the way we live at a dizzying pace. The innovations changing business, policy, and culture are continuously in play at Stern.  
Case in point: Stern recently announced two new specialty-focused one-year MBA programs: The Tech MBA and the Fashion & Luxury MBA, which will enroll their first classes in May 2018. These programs represent a new category of specialized MBA, thanks to a customized curriculum with a business core, a tech or fashion and luxury core, elective courses, and the integration of real-world experiential learning projects with Stern partners—brands, startups, and nonprofits on the front lines of global change.
According to Dean Peter Henry, proximity plays a role in what makes these new programs special.
"Because we sit in the heart of the global business ecosystem that is New York City," says Henry, "with company headquarters and new economy upstarts just outside our doors, we are in constant dialogue with industry about developing future talent. It's one of the reasons MBA candidates come here in the first place. We have great access to insights and opportunities."The new programs were intentionally designed for students specifically focused on and passionate about business careers in technology or fashion and luxury disciplines, says Raghu Sundaram, vice dean for MBA programs and online learning.  
"These MBAs combine broad exposure to core business areas," said Sundaram, "with depth of focus on specialty areas through an efficient schedule, reducing opportunity costs and resulting in a more affordable and specialized MBA option."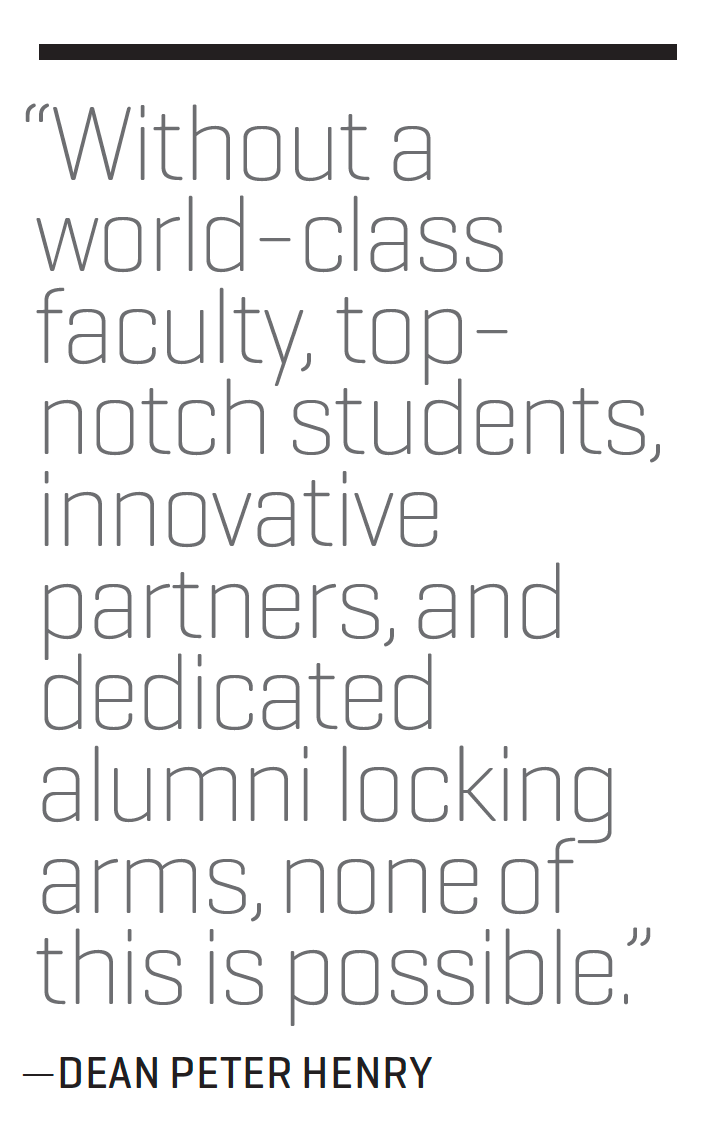 "We want to make sure there are choices in the marketplace for students," said Henry. "For most students, the two-year MBA will continue to be the program of choice. But for students who are singularly focused on tech or on fashion and luxury, we wanted to offer a way to get their degree more quickly through a different, laser-focused type of experience."  
One of the standout features of the new programs is the integration of real-world experiential learning projects. This unique aspect is part of a larger effort at Stern to enable more applied learning across the board. This year, Stern elevated its commitment to experiential learning and branded it Stern Solutions. (See more on Stern Solutions.)  
"The traditional paths of MBA students toward careers in investment banking and consulting have been based on a model of internships as a pre-screening and hiring tool," said Sundaram. According to Sundaram, in tech, and in fashion and luxury, hiring is not as predicated on the internship model, leading Stern to create a different path to a career through these real-world experiences.
  "The job requirements are changing, so we're changing the way companies are exposed to candidates from these new programs," said Sundaram. "So far, the response has been very strong. We're very pleased in the immediate interest prospective students have shown."
Street smart programs from an elite institution
Stern reached out to its broad community of alumni and corporate partners when developing the new focused MBAs, and a cross section of them (business leaders from Amazon, PayPal, IBM, and Gilt, to name a few, along with several other tech, fashion and luxury business influencers) will participate in newly assembled, power-packed advisory boards.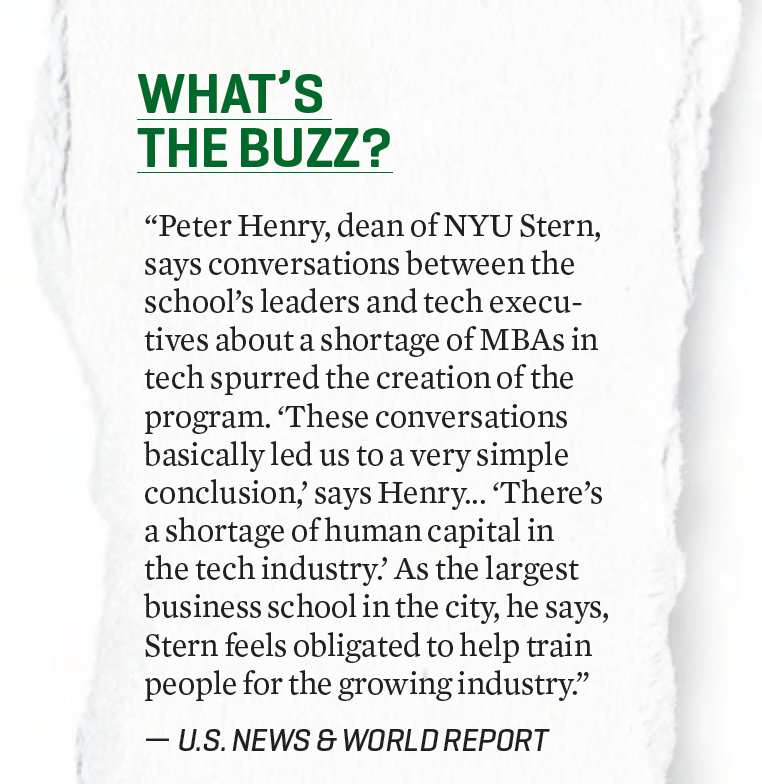 The advisory boards will help ensure that the conversation continues, providing the insight necessary to stay ahead of changing needs.  
The message from these leaders is clear: From new tech companies to traditional companies revolutionized by tech, all are in need of a new type of talent fluent in both technology and business.
  "In our line of work, there is an acute need for people who understand both business and technology. The Stern Tech MBA is primed to develop this type of talent," said Don Callahan, Citigroup head of technology and operations and a member of Stern's new Tech MBA advisory board.  
"We have the same kind of interest being expressed to us by the denizens of the fashion industry," said Henry. "There is an important need that has not been met. There is a marriage that needs to happen, if you will, between the creative and analytical side. They need people with a deep appreciation for and knowledge of fashion, with a business background."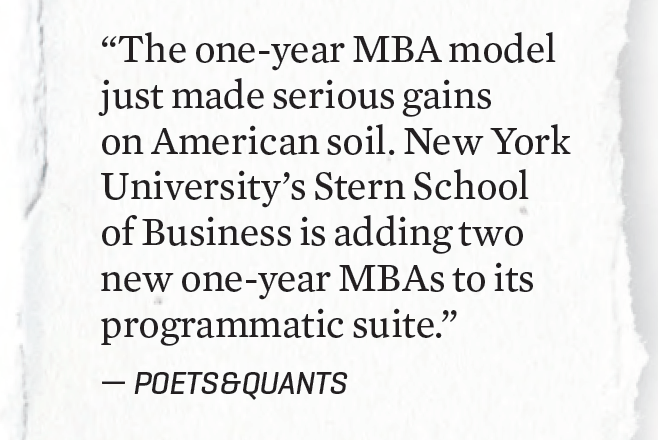 The business school of the future, today
These new programs and the increase in experiential learning opportunities are an outgrowth of Stern's core purpose—to provide a unique education and develop people who will be equipped to transform challenges into opportunities. In fact, these latest developments are a natural part of an ongoing cadence of relevant offerings from Stern.  
According to Sundaram, even more innovations are planned for the near future that take advantage of online collaborative learning technology and NYU's global footprint.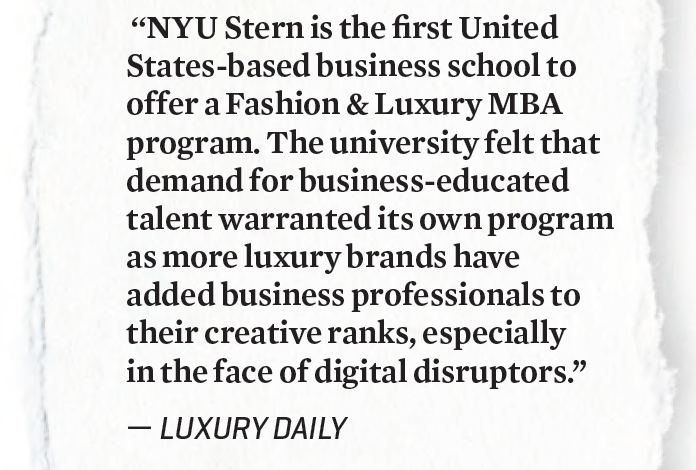 As the changing economy races forward, Henry believes that NYU creates successful people that can compete at the front of the pack. "Our goal is to deliver graduates with C-level acuity, and an entry-level attitude," he says. "It's how we stay as relevant to the new economy as we are to Wall Street."  
For Stern, much of this decade has been devoted to building on a solid foundation through Stern's tradition of innovation. The way Stern views its purpose, its programs and its place in business and society continue to evolve, resulting in a business school with strong forward momentum, bolstered by solid outcomes.  
"Without a world-class faculty, top-notch students, innovative partners and dedicated alumni locking arms, none of this is possible," said Henry. "Stern is a product of talented people with diverse perspectives, working together collaboratively. It's a special place with a unique point of view."

---
A Closer Look at Stern's Newest Programs




THE NEW ONE YEAR FASHION & LUXURY MBA
A look behind the curtain at NYU Stern's new MBA designed specifically for fashion and luxury mavens
Read More
THE NEW ONE-YEAR TECH MBA
NYU Stern is hard-wiring tech and business skills into a new category of MBA to fill an unmet business need
Read More
 
STERN SOLUTIONS
Real-world projects with NYU Stern partner companies prepare MBA students for life in global business
Read More
NYU STERN'S EXECUTIVE MBA GOES TO WASHINGTON
Stern's program expands to NYU's global site in downtown Washington, D.C., offering proven and exclusive benefits to working professionals
Read More