Young Man with a Mission
Read this article on mobile
Samir Goel, BS '16 has developed a personal finance app for the underserved that digitizes a rotational savings system
BY MARILYN HARRIS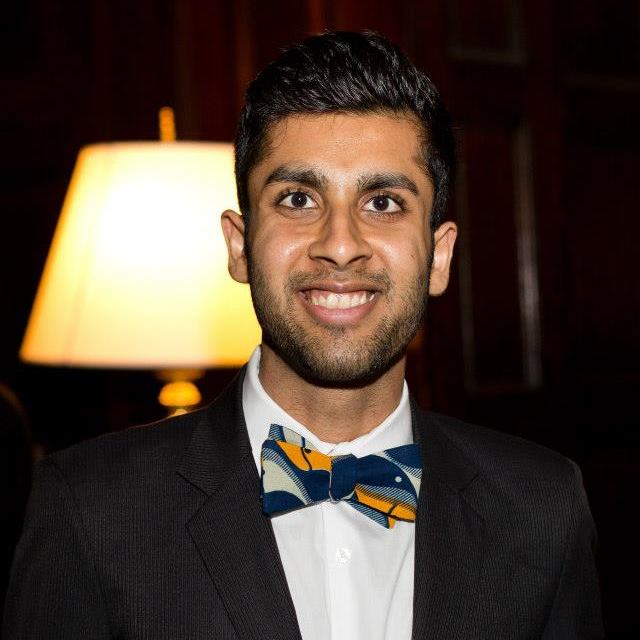 Growing up in upstate New York as the eldest of five children of Indian immigrants, Samir Goel (BS '16) watched his parents struggle with financial and cultural burdens of immigrating to America. The experience imbued him with a lifelong passion for helping others. This drive finds its current incarnation in a start-up venture with a digital platform called Esusu.
Esusu is the West African name for the informal rotational savings clubs that are popular among the financially underserved across the developing world. Goel's Esusu app is a digitized and feature-rich version of these savings groups, aimed at America's immigrant, minority, and student populations. "Our goal is to put payday lenders out of business, help students pay down their college debt, and provide equitable financial access for everyone," Goel said.
Goel didn't set out to earn a business degree. He entered NYU intent on majoring in international relations and interned at the UN during freshman year. That experience convinced him that a market-driven approach to social action could make more of an immediate impact, and he transferred to Stern as a sophomore. The financial skills he picked up at Stern, as well the confidence to "manage a room," contributed to an early success co-founding a nonprofit called Transfernation, which distributes excess food from benefit events to needy New York City communities.
As a break from the nonprofit world, Goel said, he wanted "to understand driving impact at scale from a corporate perspective" and joined LinkedIn, where he worked across several roles, most recently in sales operations in Europe, the Middle East, and Africa. While attending a conference, Goel met Wemimo Abbey, who was finishing a master's in public administration at NYU Wagner, having already founded a successful nonprofit, Clean Water for Everyone. The two connected through their shared interest.

Taking the Plunge
Both Goel and Abbey were familiar with rotational savings systems through their families' roots in India and Nigeria, respectively, and they knew that the practice existed within the immigrant population in the US. Translating it into digital form became their spare-time obsession for two years, while they raised venture capital and maxed out their 401K accounts in preparation for leaving their jobs. "The personal financial struggle is real," Goel admitted, "but I knew if I didn't do this, I'd always regret it."
In a rotational savings system, members of a small group—often family or trusted friends—agree as a team to contribute a set amount on a regular schedule to reach a savings goal. The members take scheduled turns withdrawing needed funds from the pot.
The Esusu app, aside from keeping transparent records, reminds participants of upcoming payments and charts their progress toward the team goal. Goel and Abbey are progressively adding features that help participants establish financial stability, such as sharing transaction data with credit bureaus. The venture is also partnering with universities, including NYU, to incorporate more financial literacy classes into their curricula.
As two-thirds of the entire team—a CFO, Rob Henning, handles compliance and regulatory issues—the founders/co-CEOs have their hands full trying to promote the app among their target demographic. They are initially working the B2B route, establishing partnerships with community development financial institutions, financial wellness nonprofits, and public housing authorities, with plans to go direct to consumers via campus ambassador programs, churches, and foreign language radio.
The work leaves little time for Goel's personal goals, but somehow he manages to run several times a week, host potluck dinners, and study up on real estate, his next frontier for social impact.