[no-title]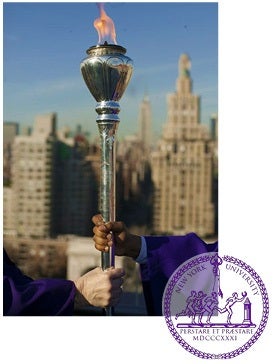 Lighting the path into New York City, the Statue of Liberty has illuminated opportunity for those who once saw none. Perched in the New York Harbor, the Statue, whose formal name is Liberty Enlightening the World, has for generations been a beacon of light welcoming immigrants from their respective corners of the world.  
The spirit of enlightenment and freedom embodied by the Statue of Liberty has been reflected in NYU's visual identity since 1897, when the torch first appeared on the University seal. In 1911, Helen Miller Gould gifted a five-pound sterling silver torch designed by Tiffany & Co. to NYU for use in Commencement processions. Her gift, modeled after Lady Liberty's torch, would reignite Albert Gallatin's vision for NYU to be a university "in and of the city." The graphic representation of the torch in NYU's logo was introduced in 1965 by Ivan Chermayeff, then president of the American Institute of Graphic Arts.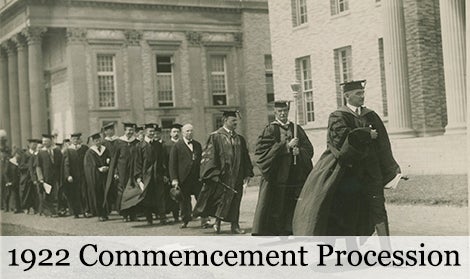 Today, reflecting the spirit of the torch, NYU Stern's undergraduate and MBA programs boast students from 90 countries who enrich the student body with their unique perspectives and cultures. As tradition has it, during the Commencement processions the senior member of the faculty passes that very same silver torch from 1911 to the youngest member of the graduating class, a physical manifestation of the "eternal pursuit of truth," the sharing of enlightenment, and a tenacious effort to open ever more possibilities and opportunities for all.
---