How to Grow a Unicorn


A Conversation with Ragy Thomas, MBA '03, founder and CEO of Sprinklr
by MARILYN HARRIS 
Ragy Thomas (MBA '03) is founder and CEO of Sprinklr, a $1.8 billion enterprise software company that helps big companies manage their social media presence and the customer experience. Sprinklr, based in New York, was founded in 2009 and attained unicorn status in 2015 (so-called unicorn startups have a market value of $1 billion or more). Under his leadership, the company counts more than 1,200 brands as customers, including half of the Fortune 50. A native of India, Thomas earned his undergraduate degree in computer science and engineering from Pondicherry University. He is a board member and investor in two mobile startups in fashion and education.
Thomas was interviewed last semester by Professor Luke Williams, the executive director of the NYU Stern's W.R. Berkley Innovation Labs, as part of the Langone Speaker Series.
 
---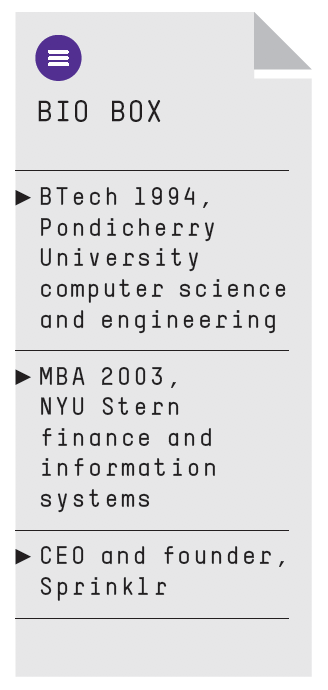 LUKE WILLIAMS
: Has being so successful so quickly changed the way that you think about the business or the growth?
RAGY THOMAS
: Not really. I don't focus on the optics of the business. Value creation is about building a product and taking it to clients. I don't want to be selling anything. I want to just obsess about creating value. The unicorn label and the free press it gave us have great marketing value, but top-line EBITA and growth are what count.
LW
: As of late 2016, US-based unicorns accounted for a combined market value of $353 billion— less than 2 percent of the total market value of the companies that make up the S&P 500. By this framing, unicorns are mostly irrelevant. Do you see this changing anytime soon?
RT
: It's more about share of mind. People want to talk about what's going to happen in the future, and the growth that results in a billion-dollar valuation is very exciting. Out of that is going to come the titans of the future, the fundamental disruptions to how we live and how businesses work.
LW
: Are there any opportunities remaining for future unicorns?
RT
: This is a period of extraordinary opportunities because almost every aspect of business is going to get disrupted, if it hasn't been already. Evolution in communication has fueled the transformation of the economy from manufacturing in the 1900s to distribution in the '60s, to information in the '90s, to now, the Age of the Customer. Social media has changed the world by media giving everyone access to the same information. Consumers empowered with information connect with each other, and suddenly they're in control. For the first time, companies have to make sure the consumer is having a great experience. The combination of social and mobile on top of the Internet is even more amazing, because it removes the geo-spatial restrictions that we've had forever.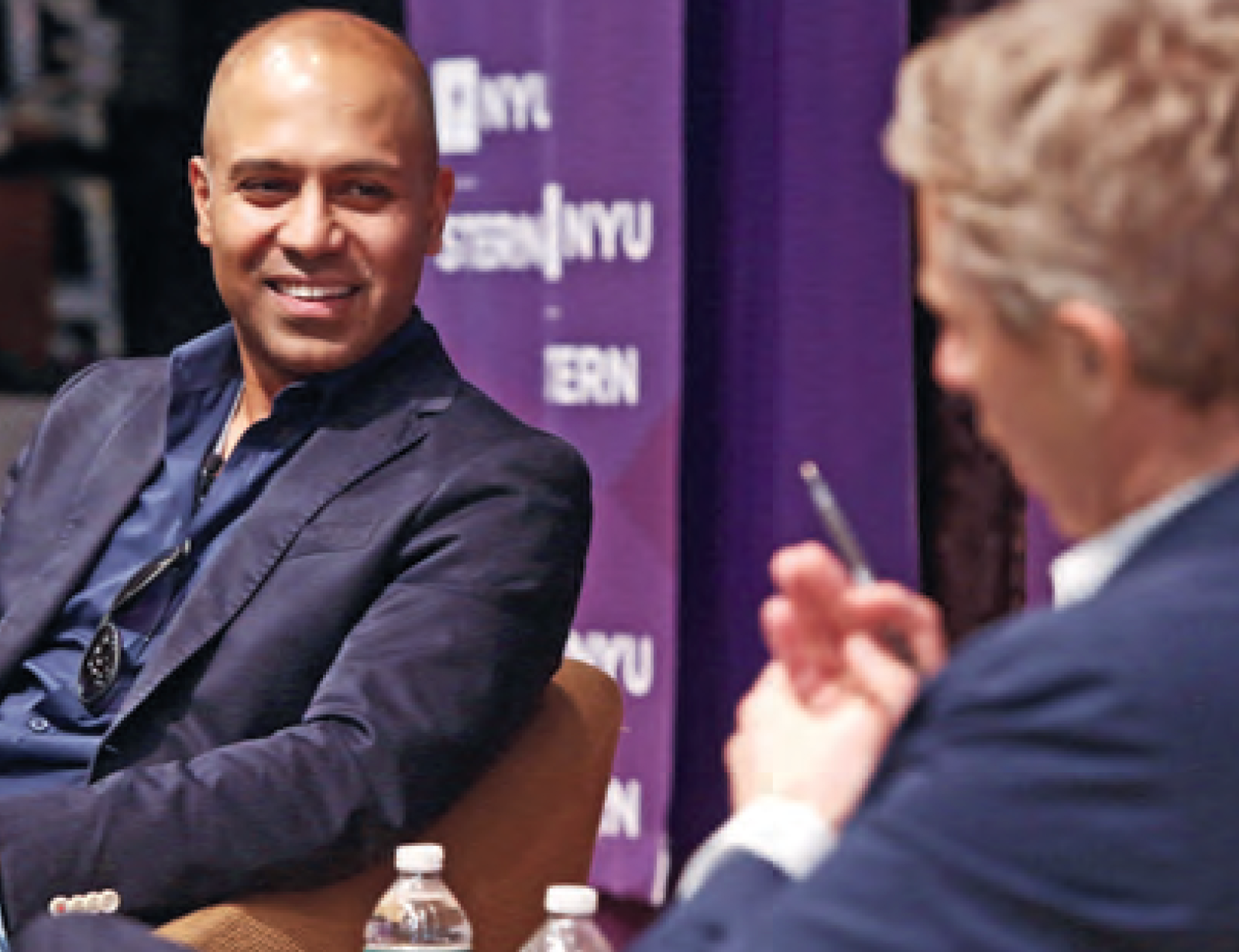 LW
: The opportunities that are enabled by this convergence of social and mobile are driving a growing interest in entrepreneurship and startups here at Stern and in the New York City community. What else do you think is fueling this interest?
RT
: Starting companies is becoming easier. The friction that's always been involved with starting companies that are innovating and building stuff is all going away. You can throw stuff on the cloud. You don't have to worry about data centers or operating systems or storage. With the fluidity of capital and talent, you're no longer constrained. The support system that's available now is unreal compared to even 16 or 17 years ago when I started my first company.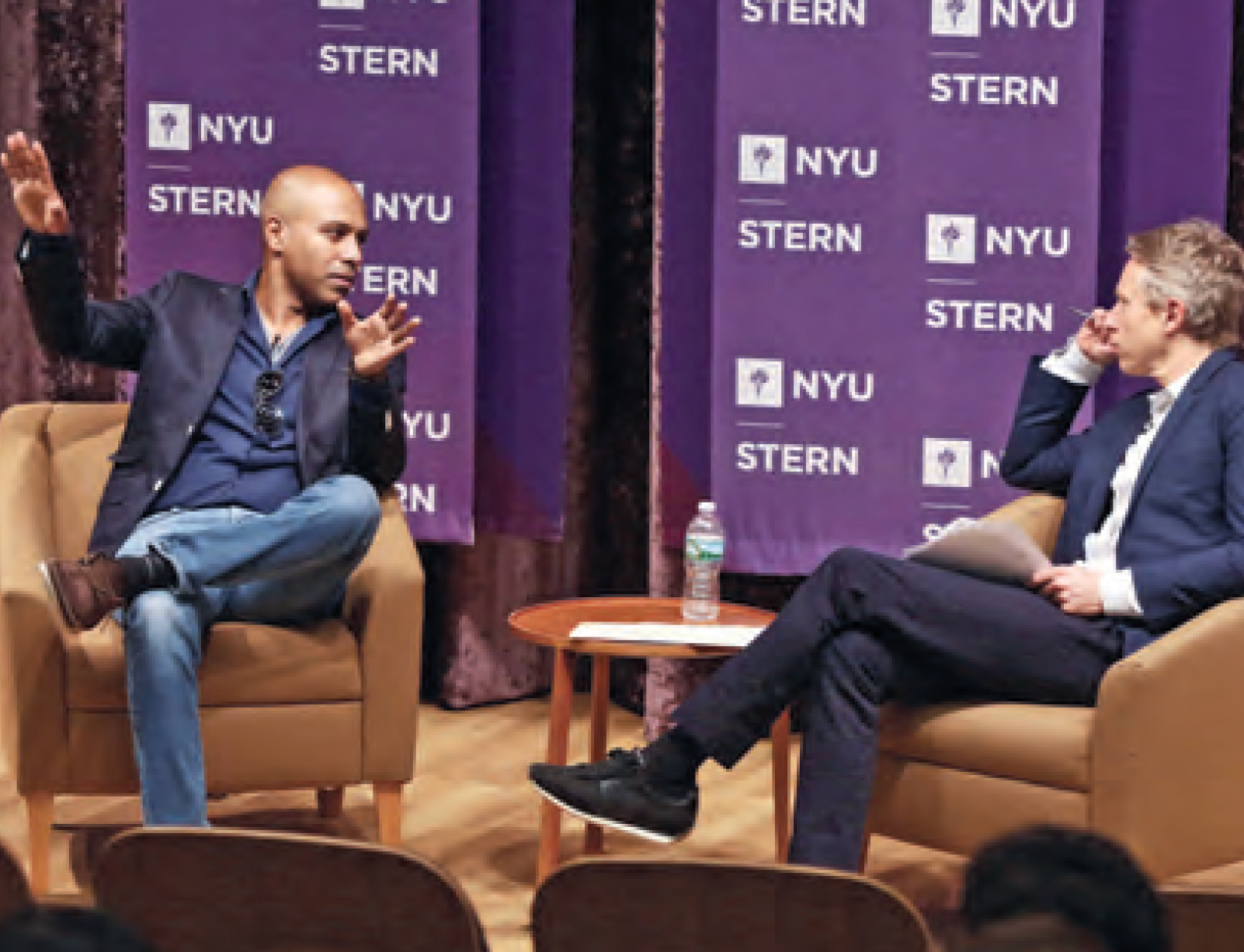 LW
: With 1,400 employees, how do you maintain an entrepreneurial mindset?
RT
: When the lights are out, values drive what you do. Very early on, we focused on identifying who we are and created five Sprinklr values—not business values, more who we are as people. They provide a fundamental compass for employees and are baked into our DNA now.
LW
: As you grow, how do you keep the existing engines running when you have to challenge some of those values?
RT
: You can either think "path forward," or you can think "future backwards." When you do path forward thinking, you're trying to get ahead. When you do future backward thinking, you envision what's going to happen in the future: "That's where I want to be, and if I have to be there at that time, what do I have to do now to get there?"
"This is a period of extraordinary opportunities, because almost every aspect of business is going to get disrupted, if it hasn't been already."

- Ragy Thomas, MBA '03
LW
: You tell your employees to be obsessed with outcomes. How do you decide where to invest your thinking time to do that?
RT
: It's being very clear about what's important to you, which is usually easy once you know what your life goal is. My personal goal in life is to make a difference to this universe 100 years from now. That perspective makes a lot of stuff trivial for me.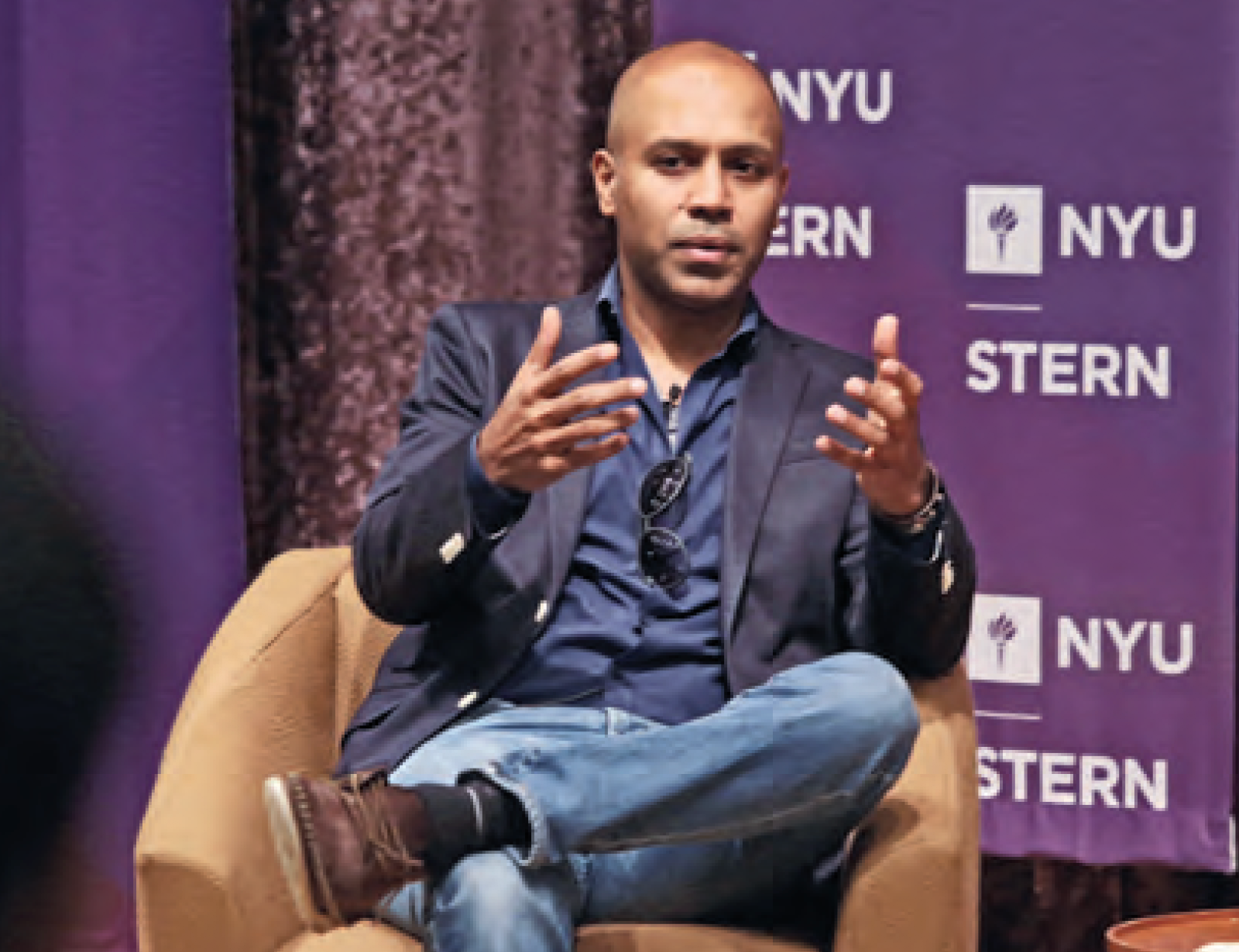 LW
: What's your advice to the budding entrepreneurs if they want to do something that's relevant in 200 years? How do you get them to scale up their thinking?
RT
: My advice is to think about your biggest ambition and multiply it and then obsess about it. For me, you start thinking future backwards, and a path opens.
LW
: You have a known aversion to using PowerPoint. You raised $240 million with just one PowerPoint presentation, and only did it because the investors were in two locations. Why?
RT
: I tell people if you don't understand the vision and what we're trying to do after you speak to me for 30 minutes, then my vision is not big enough or you don't need to know.
LW
: But how do you go about having a conversation with a potential investor about your narrative and your numbers?
RT
: They find me. The way to do things in life is to create something. You say, "Okay, if I want their attention, it's very simple. I've just got to create a company whose growth is exploding and they'll find me, they'll line up, and they'll pitch me."