Social Impact Chic

Abrima Erwiah weaves high fashion and business savvy into a successful microeconomic model
by MARILYN HARRIS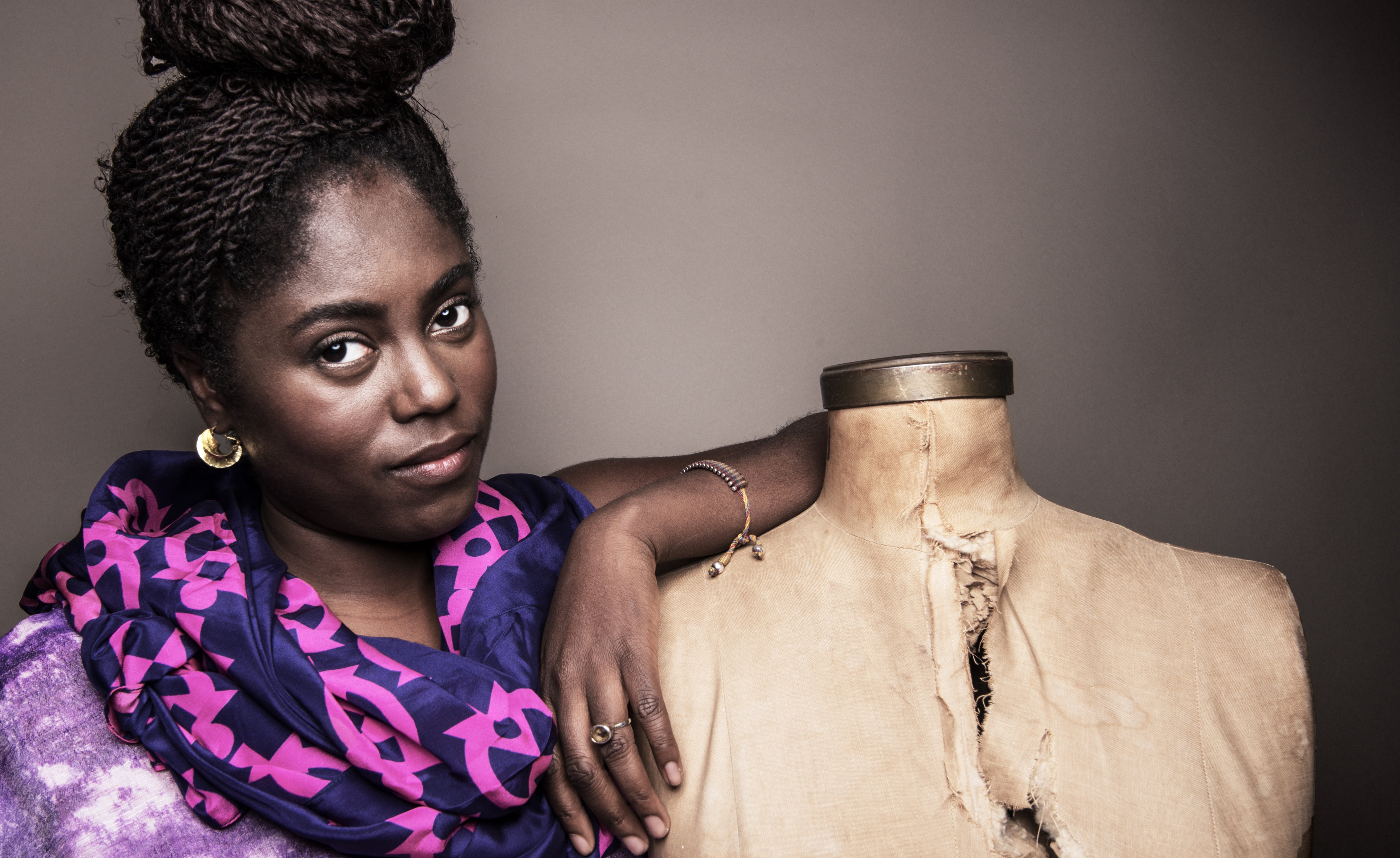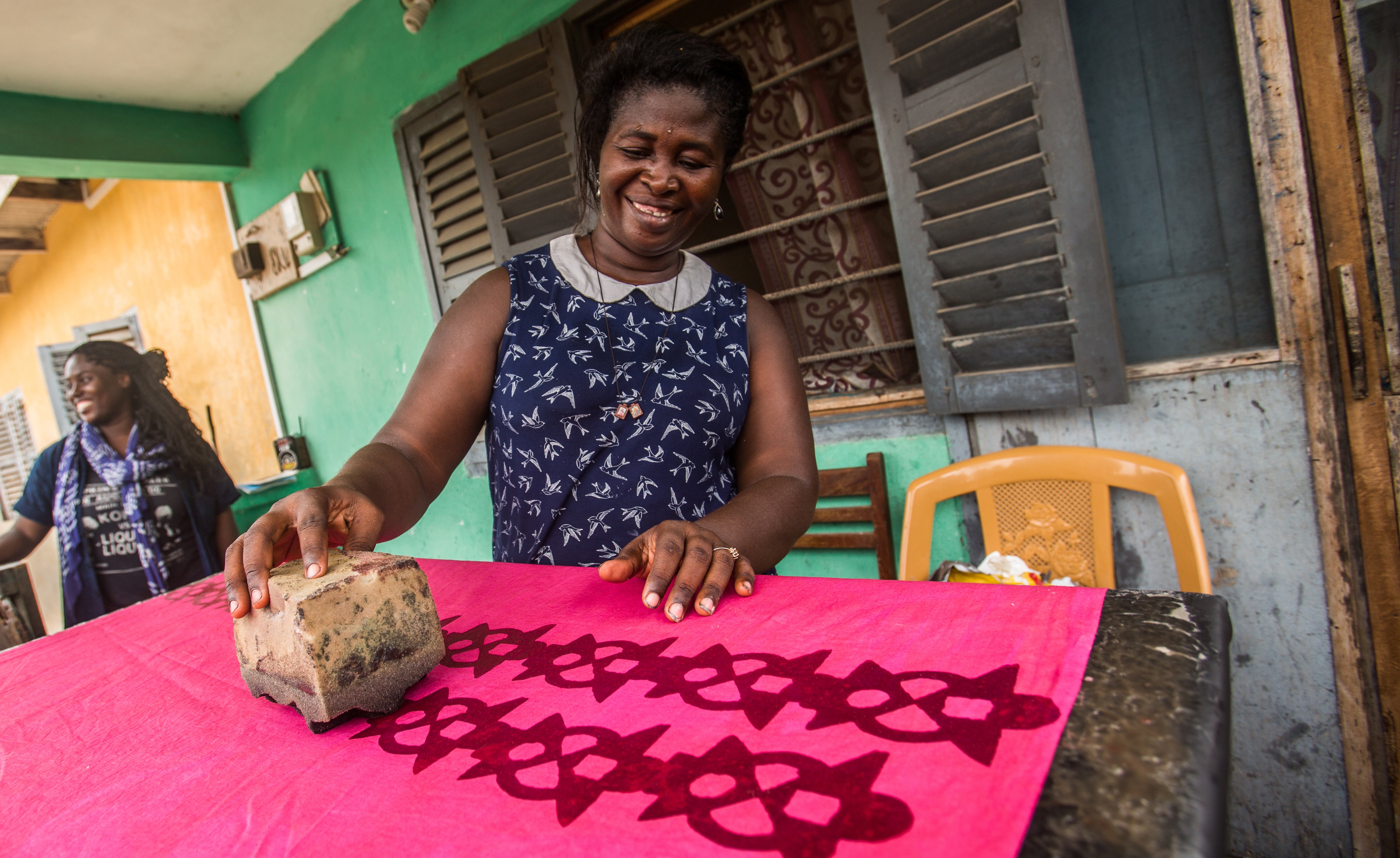 In hindsight, Abrima Erwiah's (BS '02) path to fusing fashion with social enterprise in Africa appears foreordained. Erwiah is the child of a Ghanaian father and Mississippi-born mother. Her maternal aunt was the first black supermodel, Naomi Sims. If biology is destiny, her calling was imprinted in her DNA. In 2013, Erwiah co-founded Studio One Eighty Nine, a fashion-focused social enterprise based between Accra (Ghana) and New York. Studio One Eighty Nine provides a platform to promote and curate African and Africaninspired fashion content through the worldwide distribution and manufacturing of its private-label artisan-produced collection, as well as through support of other brands. The organization focuses on empowering women, creating jobs, and supporting education and skills training through workshops, certified programs, skills development, and counseling.
Schooled at New York's strict Lycée Français prior to college, Erwiah said she found intellectual freedom at NYU Stern. "Discovering Stern was one of the best experiences I've had. It changed my life." A finance and international business major, she was especially grateful for the opportunity to spend her sophomore year in Florence, where her creative side blossomed. "The classroom really came to life for me. I have a split creative/ business brain, and I saw such appreciation for craftsmanship, quality, heritage, and excellence all around."
A CAREER IN FASHION, AND A CALLING
Thanks to an initial connection through Stern's career services, Erwiah started a career in luxury fashion, working for brands such as Hermès and eventually Bottega Veneta (Kering), where she stayed for nearly a decade, as global marketing and communications associate director. Erwiah always admired the commitment of these luxury European companies had for supporting their local fashion and creative industries and what that meant for the artisans and other employees that did the work. It meant that each person was valued, their work was respected, and they could afford to send their children to school and sustain their livelihood. Erwiah noticed a similar history of craftsmanship, heritage, creativity, and skills in her travels in developing economies. However, she said, it seemed "people struggled to take their business to the next level for lack of the ability to develop marketing and distribution skills and gain exposure. I didn't know how to connect the dots for them and began to focus on finding a way to use my skill set to add value to someone else's life." She spent vacations visiting NGOs and accumulating ideas.

RIGHT / Actress Rosario Dawson and Abrima Erwiah at the City of Joy
The stars aligned in 2011 when she traveled with an old friend, the actress Rosario Dawson, on a trip to the Democratic Republic of Congo for the opening of the City of Joy, a bricks-and-mortar community for women survivors of violence. "What we found were amazing women who had been through so much trauma but were somehow still smiling. They built this community with their own hands. For Rosario and me, it was as if the universe was speaking. We realized we wanted to be a platform that supports this type of microeconomics in action."
By early 2013, after pitching in with various charitable projects in Africa, she and Dawson had completed plans to start their own social enterprise, working with different partners who could train women in fashion design and manufacturing. The duo launched the first collection in April 2013 in honor of One Billion Rising, a mass global campaign to end violence against women. "As part of that campaign, we said fashion could rise and named our collection Fashion Rising."
"I am blown away by the level of interest in social impact and creativity at Stern now. I feel hopeful about the future of the world when I see students with such multifaceted interests."

-ABRIMA ERWIAH, BS '02
The experience has been immensely rewarding, Erwiah said. "We've seen so many of our women grow through this, putting their kids through school, bettering their own skills in more than fashion, going to school themselves." Their model has inspired a number of partnerships, including with the United Nations International Trade Centre Ethical Fashion Initiative, NYU Stern, Fendi, Lexus, YOOX, and H&M and with NGOs such as the 14+ Foundation, a New York-based nonprofit, to design and produce school uniforms for its school in Zambia. Studio One Eighty Nine currently has a project with the UN's International Trade Centre to help eliminate poverty among Ghanaian yam farmers. "Our role is as a creative agency, to raise awareness and create demand in higher value niche markets for yam products, resulting in new income streams and sustainability for smallholder cocoa farmers," Erwiah said.
Erwiah is energized by Stern students' enthusiasm for social enterprise, which she saw firsthand when she addressed the School's Business & Its Publics plenary session last February. Studio One Eighty Nine's current intern is a Stern MBA student, and 30 undergraduates from the Stern International Volunteers program recently accompanied Studio One Eighty Nine artisans to teach batik to women in an isolated fishing community. The class helped set up a village-owned social enterprise to teach the community to become self-sustainable and provide the women access to their first jobs. "When I attended Stern, there really weren't any social impact courses," Erwiah said. "I am blown away by the level of interest in social impact and creativity at Stern now. I feel hopeful about the future of the world when I see students with such multifaceted interests."