Catherine Hirschman (MBA '12) and Ashar Choudhry (MBA '12)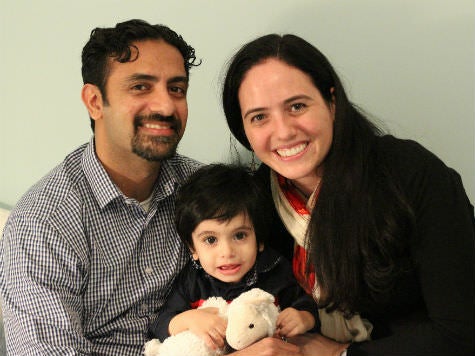 As told by Catherine: During orientation weekend, I was excited to attend the clubs fair and become an active member in the NYU Stern community. I signed up for the softball team but did not think much about it because the season had just ended and would not start up again until May. When May rolled around, I got an email saying that there would be an event at the batting cages at Chelsea Piers. I had not played in many years, but I figured I'd go check it out. I met Ashar that night and was immediately drawn to him so, when the team went out afterwards, I made it a point to get a seat next to him. We had a lot in common and I found him to be upbeat and funny. I couldn't tell if he was interested in me, but I definitely wanted to see him again. Since Ashar was the captain, I knew he'd be at most of the games, so I made it a point to go to every game I could and always joined when we went out afterwards. About midway through the season, we started hanging out outside of softball.


As told by Ashar: During my first year at Stern, I learned that there was a softball team and I was excited to get involved because I loved playing and also thought it would be a great way to make some new friends. Since I was picked to be the captain of the team, I set up a batting cage day at Chelsea Piers at the start of the season to allow everyone to meet and get some practice time. Catherine was one of the first people to come that day and after I had a chance to talk to her, I remember thinking to myself, "Why can't I meet someone like her?" Later, when she managed to break one of the team's aluminum bats with her impressive swing, I thought, "I really need to get to know her." We were in different core groups and though we had many friends in common, this was the first time we had met. After a few months of hanging out, we decided one day that we would leave class early and catch a movie. I'm sure I missed part of a great lecture, but it was one of the best decisions I ever made (I don't remember what class it was or what the topic was, but I do remember the movie). Catherine and I started dating and found out that we had a lot of things in common, including playing sports, amongst other things. We have been inseparable since we first started dating.


As told together: In the summer of 2011, we got engaged. In the summer of 2012, we got married in Brooklyn, and in December 2013, our son, Noah, was born. Thank goodness the Stern softball team welcomes alums because we plan on playing for many years to come. Stern has a special place in our hearts, not only because of the great times we had there and the friends we made, but also because it is where we met each other. We hope our son Noah decides to go to Stern and gets to play on the softball team as well. He's already enjoyed a few games in his Stern onesie, so we're hopeful.