Lorraine Spradley (MBA '12) and Sean Wilson (MBA '10)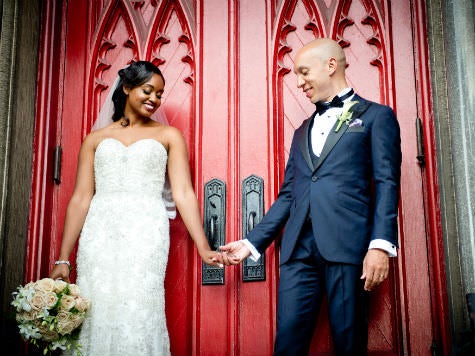 Lorraine and Sean both grew up in Maryland. Before attending NYU Stern, Sean worked less than a mile away from Lorraine's home in Bethesda, Maryland. They frequented the same Maryland diners, shopping malls, and DC bars, but somehow did not meet until moving to New York City.
In December 2009, Lorraine was finishing her business school applications while working in finance in New York. She was invited to an Association of Hispanic and Black Business Students (
AHBBS
)-sponsored holiday party by two friends in their first year of the full-time MBA program at Stern. Lorraine and Sean were drawn to one another at the event, and after a few minutes of networking, they realized they had made a deeper connection. The first date took place a few weeks later. Lorraine attended several Stern events with Sean in his last semester, and getting to know his Stern friends made her decision to attend Stern even easier.
After more than three years, five NYC apartments, trips to eight countries and 19 states, Sean asked Lorraine to marry him at Brooklyn Bridge Park on June 9, 2013. The couple was married in Sean's hometown of Baltimore, Maryland, on August 16, 2014. In attendance were dozens of Sternies from the classes of 2010 and 2012. Lorraine and Sean are still very active in the Stern community, recruiting prospective students and helping with the annual Alumni Holiday Celebration. They currently live in New York.