Noa Arias (MBA '09) and John Arias (MBA '11)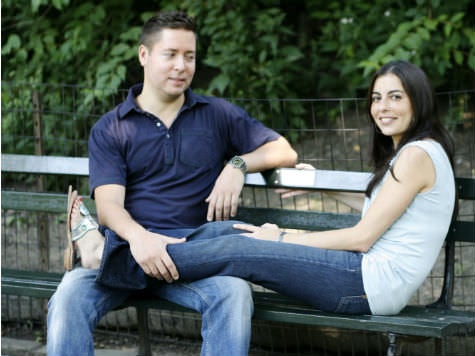 Noa and John may not have met at NYU Stern, but it was during their time there that they decided to take their relationship to the next level. Just five years earlier, the two had met while working at SMARTS, a company founded by Noa's parents. At the time, John was nervous about asking the boss's daughter out on a date, but he got his resume in order and gathered up the courage to ask Noa out (spoiler alert: He did not get fired for his audacity!).
A few years later, in the fall of 2007, Noa enrolled in the full-time MBA program at Stern. After seeing how much Noa enjoyed business school, John enrolled in the Langone program and, much to his dismay, quickly learned that attending graduate school part-time was a lot more work than going full-time. While Noa spent her days learning and her nights "Beer Blasting," John spent his days working and his nights studying.
In March of 2008, John decided to pop the question and the couple got married the following summer, shortly after Noa's graduation from Stern. Most recently, Noa and John returned to Stern to work with students in Professor Sosulski's E-Communities class on their budding website,
Cribsters.com
, which helps parents find local child care. The two now live in the suburbs of New York with their two children—future Sternies.