Rita Wessan (BS '55) and Arthur Wessan (BS '55)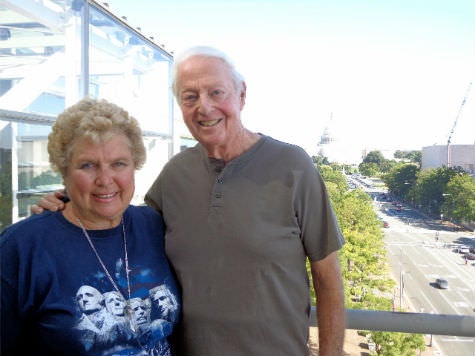 As told by Rita: It all started in 1951, when I was dating a young man who invited me to an NYU basketball game at Madison Square Garden. I was introduced to many of his fraternity brothers that evening.

In January 1952, having graduated from high school a half-year early, I entered NYU as a member of the class of 1955. In order to graduate on-time with my class, I was advised to take 16 credits in two summer sessions to make up the work.

One of the courses I registered for was Business English, a graduation requirement for the program. I had heard through the grapevine that it was a very difficult course, and I decided that I would complete it early in my coursework.

On the first day of class, I was already in my assigned seat, #29, when a very tall, handsome young man in his Air Force ROTC uniform entered the classroom. He was looking for his assigned seat, #30, and when he saw me, he had a shocked look on his face. He sat down right next to me and began to tell me that we had met at Madison Square Garden a year earlier. He had asked my friend for my telephone number but his fraternity brother refused to give it to him. I found this to be quite amusing.

He continued to tell me that he had searched for me in Lassman Hall and other student lounges, as well as Washington Square Park, but could not find me. (I was a senior in high school then, and I had not arrived on campus until January.) I now understood why he had such a shocked look on his face when he entered the classroom.

That was the beginning of our love affair.

We started dating and Prof. Manville always enjoyed telling people that we met in his class. In February 1952, Art gave me his fraternity pin. We were together for the next three years and graduated from the School of Commerce in June of 1955.

We were married three days later on June 18, 1955, and flew to California for a five-week honeymoon. When we returned, Art's draft papers had arrived and he had to report to the USA armed forces two days later. I would later join him in Germany for two years of European adventures. It was one of the most wonderful experiences of our lives—London, Paris, Italy, Belgium, Scotland, and Holland.

We returned to the United States and had three wonderful children: Lisa, Neil, and Amy. Amy did her undergraduate and graduate work at NYU and loved it just as much as we had.

My parents said that it was fate that brought us together. I had received a four-year academic scholarship to Cornell University, but my parents would not allow me to go to Ithaca, which made me so unhappy. They wanted me to stay in New York so that they could meet the young men that I was dating. If I had accepted the Cornell scholarship, we would never have met.

In June, we will be celebrating our 60th wedding anniversary. Time has passed so quickly. It all started at NYU and we always look back with fondness on those years in Washington Square. We would meet at our favorite bench in the park. It was a very special time and place for us. We learned so much and went on to enjoy successful careers. NYU has always had a special place in our hearts.