Donors and Their Scholarship Recipients Come Together to Share Stories at the 6th Annual Scholarship Reception
NYU Stern brought together the School's generous scholarship benefactors and their accomplished recipients for the Sixth Annual Scholarship Reception this week. The evening celebrated the transformative impact of scholarships, and provided a platform for undergraduate and graduate scholars to share what they've been able to achieve thanks to the support of donors who believe in them and in Stern. Deans Peter Henry and Geeta Menon both expressed their gratitude for the scholarship donors' ongoing support, and emphasized the many ways their generosity builds up the Stern community.
NYU Stern Board of Overseers members Edward E. Barr, BS '57, and Nomi Ghez, ADCRT '81, each shared why they established scholarships as part of
NYU Stern's Access Initiative
.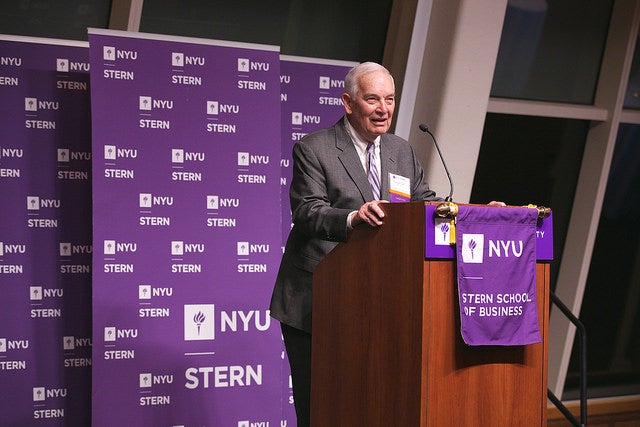 Mr. Barr and his wife, Nancy, are advocates for providing opportunities for high-achieving students who might not otherwise have the means for a world-class business education, and they are the benefactors of the
Ed and Nancy Barr Opportunity Scholarship
. Ms. Ghez established the
Advancement of Women in Business Scholarship
, to empower deserving women in American business.
Mr. Barr explained that he wouldn't have had the opportunity to attend NYU if it weren't for a scholarship that covered full tuition and fees. Ever since then he's paid it forward, and encouraged everyone in the room to do the same. "After graduation start with a small amount to get into the habit. The most important thing is to just start giving back."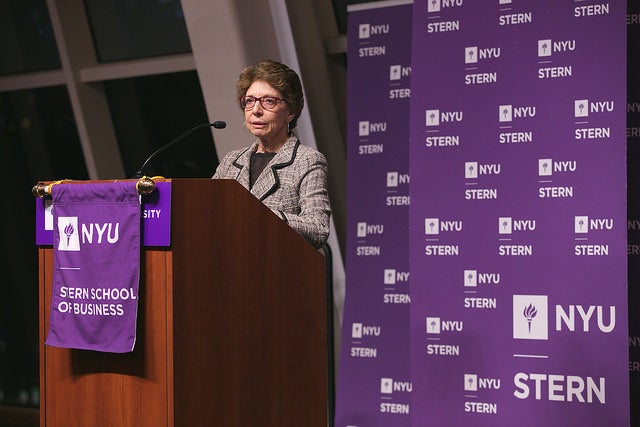 Ms. Ghez expressed that as an immigrant to the US from Israel, she would not have had the opportunity to get an advanced degree without the assistance of a teaching fellowship. She went on to have a successful finance career and when she became a Partner at Goldman Sachs, she was one of only a dozen women partners among more than a hundred male partners. According to Ms. Ghez, "Women have come a long way in business, and the ratio of men to women has improved, but we still have a long way to go."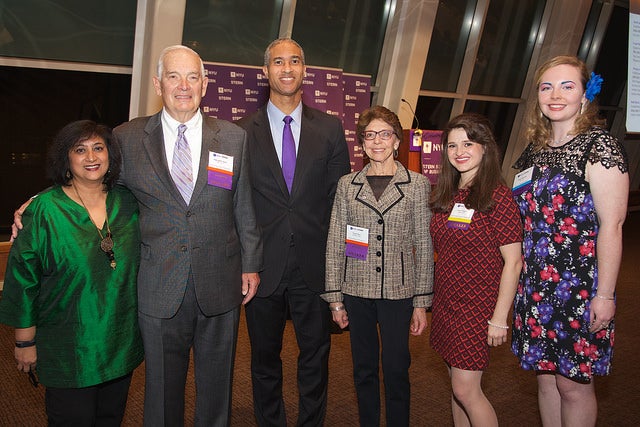 Pictured left to right: Dean Menon, Ed Barr, Dean Henry, Nomi Ghez, Anne Gregory, Katie Anderson
Anne Gregory, MBA '17, the recipient of
The Howard Gilman Foundation Scholarship
, shared how her scholarship made her realize that her performing arts background was something to celebrate at Stern, rather than hide. A classical flutist for nearly two decades, Ms. Gregory chose to pursue an MBA at Stern to understand the business side of the music industry. She is grateful for her benefactors' show of faith in supporting her education, and is motivated to pay it forward as she contributes to the performing arts. In sharing a quote by Warren Buffett, "Someone is sitting in the shade today because someone planted a tree a long time ago," Anne captured a feeling close to home for many in the room.
Katie Anderson, BS '17, a recipient of the
John A. Paulson Scholarship
and senior concentrating in Business Economics, spoke about how Stern was her dream school growing up in northern Minnesota. Ms. Anderson reflected on the financial freedom that her scholarship allowed her, giving her the time to channel her energy into groups and activities at Stern. She immersed herself in new experiences, including an internship at a nonprofit that opened her eyes to a career path she didn't know existed.
The evening was well-attended by over 150 guests who enjoyed exchanging Stern stories, and proving that scholarships have the power to transform lives.
See highlights from the Scholarship Reception
.