Pete Buttigieg Can Rebuild America's Transportation Infrastructure: Five Suggestions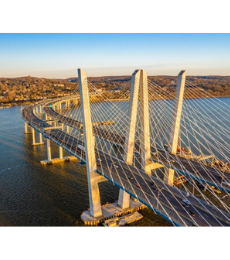 By Clive Lipshitz and Ingo Walter
U.S. Secretary of Transportation, Pete Buttigieg, has been tasked with realizing President Biden's vision for America's transportation infrastructure. If he is successful, his efforts will place this administration alongside those of Presidents Lincoln, Theodore Roosevelt, and Eisenhower in the pantheon of America's great builders.
As things stand today, the backlogs in maintenance of highways, bridges, tunnels, airports, and rail systems have serious implications for the safety and quality of life of all Americans and for America's economic competitiveness. Public transit such as commuter rail, light rail, and subways are essential to the future of cities. Yet the Covid-19 pandemic has pushed many of them to the brink of financial collapse, absent federal support. Climate change compounds the need to rethink our transportation infrastructure and plan for a low-carbon future. The reality is the compelling need for renewal, and Secretary Buttigieg can get it done. Here's how.
First, if not now, then when? Interest rates are at historically low levels. Targeted transportation infrastructure investment comes with an economic multiplier, creates jobs, and boosts long-term growth. Judging from Buttigieg's confirmation hearing, this is a policy domain that appeals across the political spectrum.
Second, it is critical to solve the "funding" puzzle. Who pays, and how much? The biggest challenge in infrastructure finance is ensuring durable revenues. Without them, maintenance and capital expenditures end up burdening taxpayers. The Highway Trust Fund depends on a funding mechanism – the gas tax – that is becoming an anachronism. An equitable vehicle-miles-traveled tax is one solution. Increases in user fees across modes of transportation may be necessary, while maintaining accessibility and affordability. State and local governments should develop sustainable funding solutions such as Los Angeles County's Measure M, a permanent sales tax earmarked for infrastructure. Likewise, "value-capture" – using infrastructure to stimulate real estate development, and real estate taxation to pay for the infrastructure – should be considered where appropriate.
Third, private capital has a role to play in financing transportation networks. The pandemic will have long-lasting effects on the finances of the state and local governments that own most U.S. transportation systems. Institutional investors and fund managers have hundreds of billions of dollars to invest in the type of cash-flows provided by the right infrastructure investments – long-duration, inflation-linked and predictable. But nothing will happen without breaking the cycle of political distrust. The private sector must show it's a good partner and the public sector must escape the notion of private capital as a malevolent force.
Fourth, federal support should be directed to areas that might otherwise be starved of infrastructure investments. Regional infrastructure centers should be part of that solution. Smaller states and cities may not have the resources or expertise to take advantage of federal financing programs and would have trouble designing, negotiating, and monitoring transactions with private investors. Partly supported by federal funds, a network of regional infrastructure centers could coordinate this activity. A special expertise program could – through secondment – bring the know-how of bankers, lawyers, and consultants to these centers. Renewing America's infrastructure has to be a high-priority national goal.
Fifth, build for the future. Once beyond the pandemic, many Americans will return to cities and towns. City governments and the private sector can work together to develop efficient solutions to President Biden's objective of accessible zero-emission public transit. Once national transportation renewal gets serious, the private sector can easily achieve the President's goal of half a million electric vehicle charging stations nationwide, for example. Private sector entrepreneurship already shows promise in intercity rail and emerging technologies such as Hyperloop.
The lessons from Lincoln, Roosevelt, and Eisenhower are that successful transportation infrastructure depends on vision and executive leadership. A coherent national commitment can provide the long-term framework for the country's transportation infrastructure, with implementation devolved in large part to the states. Prioritizing the right initiatives, optimally leveraging public funds, and encouraging private sector participation will fortify America's transportation infrastructure for the urgent climate, fiscal and competitive challenges facing this country over the course of the 21st century. Biden and Buttigieg should heed these lessons and get started.
Ingo Walter is professor emeritus of finance at NYU Stern School of Business, Clive Lipshitz is managing partner of Tradewind Interstate Advisors.
---