SVB and Beyond: The Banking Stress of 2023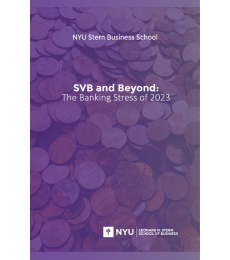 In the aftermath of the failures of Silicon Valley Bank (SVB), Signature Bank, First Republic Bank, and of the depositor runs on other midsized banks, 10 leading accounting, economics, and finance scholars from NYU Stern and external collaborators develop an organized framework for analyzing this episode and diagnosing the frailties that led to it. They also make recommendations to strengthen the banking system and to safeguard financial stability going forward.
The book's four editors are NYU Stern Professors Viral V. Acharya, Matthew P. Richardson, Kermit L. Schoenholtz, and Bruce Tuckman. The authors are NYU Stern Professors Viral V. Acharya, Richard Berner, Thomas Philippon, Matthew P. Richardson, Stephen G. Ryan, Alexi Savov, Philipp Schnabl, Kermit L. Schoenholtz, Bruce Tuckman, Lawrence J. White, and co-authors Stephen G. Cecchetti (Brandeis University), Sehwa Kim (Columbia University), and Seil Kim (Baruch College).
Endorsements
"This collection of essays by some of the leading experts in the field masterfully covers all the bases with respect to current challenges facing the banking system. It provides a thoughtful treatment of the economics of banking, the missteps by management and regulators that led to SVB's failure, the implications for the industry going forward, and the difficult tradeoffs facing policymakers. It will be enormously valuable for anyone in the public or private sector with an interest in the industry."
- Jeremy Stein, Moise Y. Safra Professor of Economics, Harvard University, and former member of the Board of Governors of the Federal Reserve System.
"This volume is a must read for anyone who wants to understand the regional bank turmoil of 2023. In this compilation of essays, leading scholars lucidly explain just what went wrong, why the problems are not yet behind us, how policy makers can enhance the resilience of the banking system, and the dangers that lurk should policy makers learn the wrong lessons from this episode."
- Kathryn Judge, Harvey J. Goldschmid Professor of Law Vice Dean for Intellectual Life, Columbia Law School
"This new book by leading academicians continues the Stern tradition of analyzing the frailties of our financial system and proposing remedies to promote financial resilience. It will be of great use to scholars, market practitioners and policymakers alike."
- Dr. Henry Kaufman, President of Henry Kaufman & Company, Inc.
A complimentary download of the book is available here.
---