Living in the Land Down Under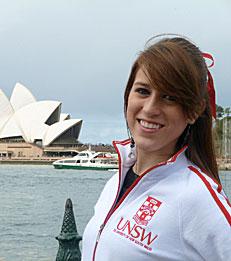 Undergraduate student Alejandra Preciat blogs from her semester abroad in Sydney, Australia.
A year before being on exchange in Australia, I did NYU Study Abroad in China. If you are not familiar with the organizations, they can seem the same so I want to share with you some of the differences.
These differences are based on my experiences. I will try to make it broad enough so it does not only reflect the specific sites I have been to in Shanghai and Sydney.
Read more
During my long weekend, thanks to Labor Day, I was able to have fun in Sydney and also take a quick trip to Canberra, Australia's capital.
I can see a movie in any part of the world. But here, I have gone to fun theaters, such as the IMAX with the largest screen in the world and Govinda's. Govinda's is a restaurant and theater where before the movies starts you can eat at their vegetarian buffet. The theater isn't like a normal movie theater. It is a small room that might fit a maximum of 30 people and it is set up like a lounge, with floor cushions and couches.
Read more
Downtown Sydney has beautiful architecture; Australian coffee is the best; and when the sun shines it is the brightest I have ever seen. But the most amazing aspect of Australia is the nature that is all around us. There are gorgeous beaches so close, national parks all around, the outback, the great barrier reef and mountains.
It's nice to go out and enjoy nature because it brings a sense of tranquility and liveliness to those who let themselves soak it in. Nature grows where it wants to, however it wants to, in an array of bright colors and just looking around, it reminds me of what it means to be alive.
We went on a trip to Georges River National Park, which is a few hours away from Sydney. People were having barbecues, enjoying the lakes and having fun together. It is great to see that kind of social interaction where you have no worries and the stress from your daily routine can't really find its way in. We also took part in the fun and ran to a supermarket to buy food for our spontaneous barbecue!
Read more
There is no way I will be able to see all of Australia in one semester. I have to pick my travel spots wisely and the latest one was Melbourne, Victoria!

Melbourne has the second largest population in Australia. It is similar to Sydney in a few ways: it has a Central Business District with tall cosmopolitan buildings, which makes it feel a little like New York, as well as having beautiful gardens, ports and close-by beaches. Melbourne has the most modern and creative architecture I have ever seen, which fills our explorations with surprises. It is also the shopping capital of Australia, but that was unfortunate for my Australian budget! ...
Read more
This year I will be lucky enough to have two spring breaks! This is because even though it is Fall semester for everyone in the United States, here in Sydney, it is spring semester. Now, normally I go home to Texas for spring break, trying to escape the cold in New York. This semester, home is a little far away, so I went to Fiji instead!

Some days were very relaxing and others full of adventure! My favorite day was when we took a trip to a village. First, they took us up a river in little speed boats. Then, at the village, they showed us their traditional Kava Ceremony, how they weave mats and other crafts, and provided us with a traditional meal which is cooked underground, lovo. The kindergarten kids sang songs for us and we were also shown a traditional war dance. We later continued to go upstream to a waterfall and we were given rides on bamboo rafts! ...
Read more
 
"Hi! I'm Alejandra. I hope everyone is starting their semester well! For me, the semester is halfway done. This is because I am on exchange in Sydney!

So many things have happened since the end of my Sophomore year. So much has happened in the past few months that it would be unjust not to mention them!
Immediately after Spring semester, I went to Mexico and participated in Miss Yucatan. I won second place, which I am very proud of considering I had never done something like that before. ...
Read more
---
More posts by this author