Business at the Bund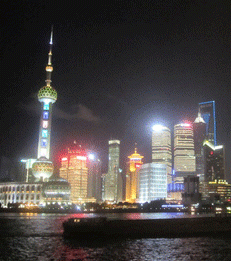 The skyline shows what concentrated capital and a desire to grow can do for a city and a country.
Undergraduate student Daniel Witcik blogs about studying abroad in Shanghai, China, as part of Stern's Business & Political Economy program.
Ah, a new semester and a new location. Last semester you may have read some of my posts from my time studying in
London
. That was an absolute blast, but now the BPE curriculum has taken me to Shanghai for the last of three semesters away from New York. I'm glad the government hasn't blocked Tumblr like it has Facebook and Twitter, I can share so much about the experience here. I must say, China has been quite the adventure and I can't wait to see even more of the country and the rest of Asia.
My semester started with a 10-day pre-move-in tour of China with my dad. Two days after finishing summer finals we hopped on a plane from Newark, and 14 hours later we found ourselves in central Beijing. This was the perfect way to start discovering the country because Beijing has so many more Chinese characteristics than heavily westernized Shanghai.
Read more
---
More posts by this author