Voices from Abroad
MBA Student Erica Birmingham Writes on Her Experiences Studying Abroad in China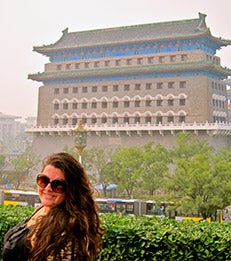 There is no denying that China's luxury market is rapidly developing, but there is less certainty about the stylistic choices of the Chinese consumer.
September 30, 2011

What's in a (brand) name?

On a recent Thursday afternoon, Lanvin's newest Beijing store was nearly deserted. The scene felt rather tranquil as a friend and I, the only visitors, browsed the fall deliveries. While I curiously checked the price of a pair of copper ballet flats(¥4300, or $674 at current exchange), the mood shifted as a new shopper entered the boutique. Her arrival was preceded by the enormous, exotic-skinned Birkin on her forearm, and she chose to leave her similarly pricey sunglasses on throughout her visit. But despite these nods to a luxury lifestyle, she didn't dress like a typical Lanvin shopper. Instead, she wore a Disneyland Hong Kong sweatsuit.

"What brand is this?" she barked, in Chinese, at no one in particular.

"This is Lanvin," replied one of the polite shopgirls. "It's a French brand".

"LV…Louis Vuitton!" exclaimed the shopper as she began perusing the goods, ignoring the shopgirl who attempted to explain that Lanvin shares little beyond the 'L' and 'V' in its name with the megabrand.

Despite her dark sunglasses, I could tell that this shopper was confused. Where were the bags featuring the iconic L's and V's? While she wouldn't locate anything with a prominent logo, the Birkin-adorned shopper ultimately selected a purple cocoon sweater (¥11800, or $1850 at current exchange), passed the shopgirl a sizeable handful of pink bills, and departed – without even trying it on.

Interactions such as these are no longer rare in Beijing, or in other large cities across China. Newly wealthy citizens have quickly developed a taste for extravagance, and many have the money to indulge this interest. As is typical of any society recently exposed to luxury goods, most Chinese shoppers express their shopping habits by acting as billboards, proudly displaying logo-covered merchandise from a slew of expensive, foreign brands. And while chic local bloggers and the fantastic Vogue China promote excellent style without the intrusion of brand names, most shoppers have yet to embrace these logo-free looks.

Perhaps this is simply a phase. But China's numerous fake markets – one of which exists a few hundred yards from the glitzy Lanvin boutique – may suggest otherwise. These vendors sell knock-offs of luxury goods at a fraction of the price. Some merchandise is indistinguishable from the real thing: I couldn't discern the difference between my Louis Vuitton wallet (real, and a limited edition at that) and the fake one.

Other items, despite their well-produced logos, maintain little of what Professor Scott Galloway calls "brand D.N.A." – the individual product features that communicate the core elements of the larger brand. Alongside the devastatingly accurate wallet reproduction hung a neon, leopard-print trench coat. The label? Swiss heritage brand Moncler. The D.N.A.? Unmistakably Roberto Cavalli. Despite the muddled trademarks, I saw many women coo over the jacket. One counter over, the Bottega Veneta handbag replicas – near perfect in both product specifications and brand D.N.A. – attracted no attention. These knock-offs bore no logos.

There is no denying that China's luxury market is rapidly developing, but there is less certainty about the stylistic choices of the Chinese consumer. In a country low on intellectual property protection and high on factory access, companies newly awash in Renminbi may be facing their greatest branding challenge yet.