Voices from Abroad
MBA Student Erica Birmingham on Her Experiences Studying Abroad in China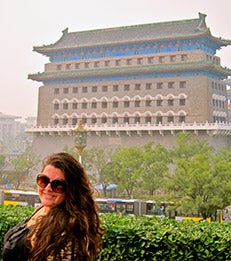 What Is Really Causing Rising Prices in China? MBA student Erica Birmingham explores increasing labor costs through the lens of her daily life in Beijing
Historically, Beijing held the power, but Shanghai had the glamour. These days such an assessment is somewhat outdated, but the rivalry remains.
What Is Really Causing Rising Prices in China? MBA student Erica Birmingham explores increasing labor costs through the lens of her daily life in Beijing
November 7, 2011
This article, written by MBA student Erica Birmingham, originally appeared in
The Stern Opportunity
. Visit
SternOpportunity.com
for more coverage.
Beijing and Shanghai have always been positioned as rivals. Historically, Beijing held the power, but Shanghai had the glamour. These days such an assessment is somewhat outdated, but the rivalry remains. As a result, I'm often asked why I chose to spend five months in Beijing rather than its chicer, southern counterpart. I explain that there were three motivating factors: my knowledge of Beijing's geography, my network within the city and the Yunya Salon. Some may think it's a bit drastic to move 6,000 miles based on spa services, but they probably don't get tri-weekly blowouts.
I first encountered the Yunya Salon in 2010. I'd just returned from a visit to Shanxi, China's leading province for coal production. It is only four hours from Beijing by train, but it felt a hundred times more foreign. So, I was thrilled to see familiar brand names (L'Oreal! Kerastase!) advertised in their window. I was even more excited to discover that a blowout cost only ¥35 (just over US $5 at the time). I also appreciated that it only took one of their stylists 45 minutes to bring my hair from a coal-infused mess to a Shanghai-worthy presentation.
When I returned to Beijing this fall, I quickly sought out the Yunya Salon. They recognized me upon my return, and informed me that the price of a blowout had increased to ¥40 (approximately $6.50 at current exchange). During my first visit, I'd realized why: they were now utilizing two employees for each blowout, one 'shampoo girl' to do the washing and one stylist to do the blow-drying. I initially mentally applauded them for their Adam Smith-inspired innovation, but when I left the salon that day, I realized my blowout took more than an hour. I first wrote it off as a fluke, but subsequent visits revealed that the new throughput time was consistently close to 75 minutes. What happened?
As other students of operations may have guessed, Yunya is suffering from a capacity matching issue. While they employ five shampoo girls, they have only two sinks and four stylists. Thus a queue begins to form, slowing down the process. Admittedly, though, their output is better. The specialized operations have improved the quality of their service.
This situation is not confined to hair salons, however. In fact, I believe it's emblematic of the direction in which Chinese factory production is moving. When China initially emerged as 'the factory of the world,' it effectively delivered low-cost, low-quality goods on a fast production schedule. These days, as luxury brands utilize its increasingly talented labor force to produce some of the highest quality merchandise on the market, lead times are increasing.
China-based brand Ports 1961 has been built on the bet that "Made in China" can be synonymous with luxury. Other companies quietly use Chinese factories. You may be surprised to realize that a ""Made in Italy"" handbag may have been fashioned in China, only to have a handle attached in Milan in order to justify the alleged origin of the item. In fact, a large, hyper-luxury leather goods brand recently considered moving their production to a Chinese factory that had so flawlessly knocked off their goods that senior management couldn't detect a difference. Ultimately, they did not pursue the move.
While prices in China continue to rise, it is important to consider what you are paying for. Perhaps it's a slightly pricier, more time-consuming blowout. Maybe it's a relatively more expensive, but substantially better constructed, luxury item. Some market analysts are auguring the end of times for China's cheap labor advantage, but perhaps that advantage is simply shifting. In the coming years, I predict that luxury brands will continue to outsource their production to China, and in greater numbers. And, depending on the success of Ports 1961 and other China-based brands, perhaps they'll begin to admit it.