Trading the Big Apple for Big Ben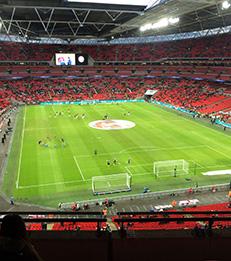 The epitome of the Holiday Spirit is found in Hyde Park, which is turned into a mini carnival with rides, food tents, games, live music and shopping stands. We walked around for a few hours, filling our time with traditional English meat pies and roller coasters.
Undergraduate student Matthew Wilson blogs about studying abroad at NYU London.
December 19, 2014
I just finished my last final exam and thought I would also write my last blog post of the semester before I start to pack up my room to move out.  
After my fall break travels, I slowly got back into my London routine and went out of my way to reestablish my "British-ness." This involved participating in NYU London's various cultural programming, which is similar to NYU Stern's
Cohen Arts & Culture Experience
(CACE) event programming. All NYU London students get 100 credits in the beginning of the semester to spend on various activities throughout the semester, and I made certain to take advantage of this unique offering!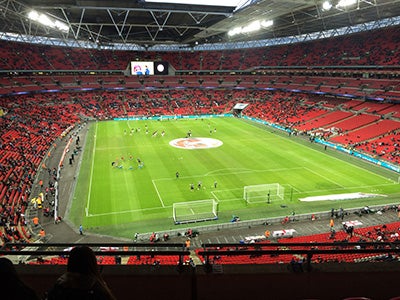 One of the events I attended was a soccer or "Football" match, specifically England vs. Slovenia. It was so much fun seeing all of the English fans get so excited and emotionally invested in the game. The score was 0-0 for most of the match, but once Slovenia made one goal, England quickly made three goals and won the game. By the end of the match, all of the NYU students were cheering on England just as much as the English fans!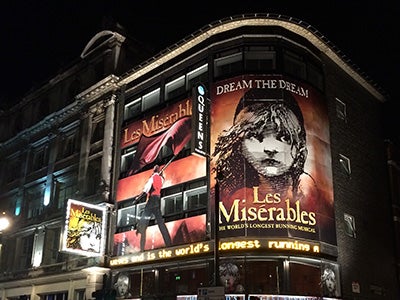 The next NYU London event that I attended was a production of
Les Miserables
. I was one of the few students to attend who had not seen the musical before, whether on stage or the film adaptation. The sets and singing were both incredible and I can only imagine the talent and time that went into perfecting them!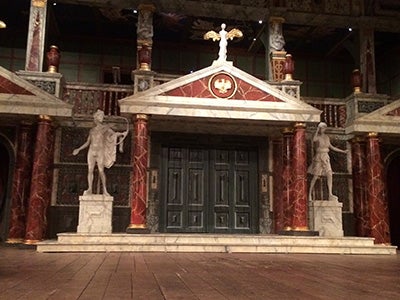 The last cultural program I attended after fall break was a performance of one of Shakespeare's plays,
The Comedy of Errors
. The performance took place in Shakespeare's Globe Theater, which is a remake of the original. It was interesting to see how plays were performed during that time period. The humor from this particular piece transcends time and I found myself laughing throughout it!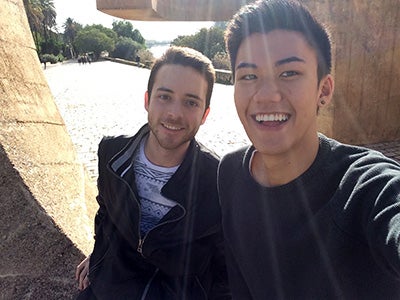 Before my friend, David Yu (a fellow Stern undergraduate student), and I began studying for finals, we had to take one last trip abroad. We chose to go to Sevilla, Spain because it is a beautiful city and not as touristy as Madrid or Barcelona. I can honestly say this city is extremely underrated!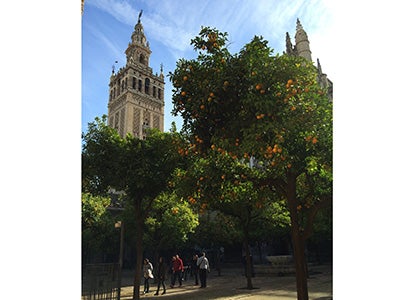 Our first stop was La Catedral de Sevilla. Naturally, we climbed to the top of its tower, La Giralda, to get a view of Sevilla. This photo is from the cathedral's inner courtyard with a view of La Giralda and a lot of orange trees, which you will see throughout the city.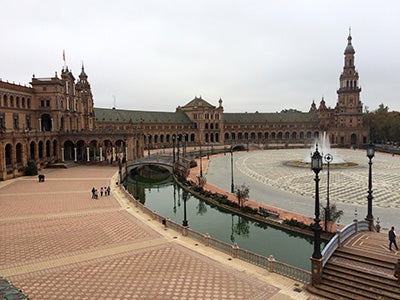 Of course, we visited the city's main plaza, La Plaza de Espana. This plaza was not a traditional empty square plaza but concave with a beautiful building around the back and a mini canal cutting across. You have the option to rent a rowboat and paddle throughout the mini canal, but because there was so much that David and I wanted to see, we decided to skip the mini exercise and head to another landmark.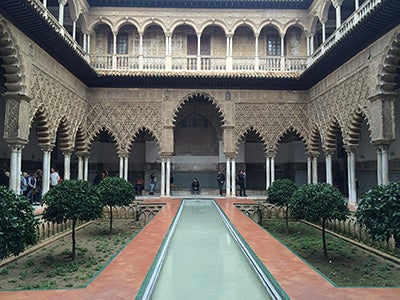 My favorite part of Sevilla was the Alcazar, which was a Moorish fort turned palace. The architecture was breathtaking and the maze-like layout was filled with cute internal courtyards, like the one I photographed.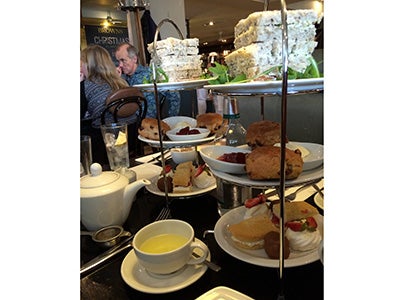 When I returned to London, I had a visitor waiting for me! My friend, Yana, who spent the semester at NYU Madrid, finally made a trip to London. I loved showing her around my city and being extra-British for her. To get her assimilated to the culture, we went to high tea at a place not too far from campus. She said it was everything she thought it would be when I told her we were going to tea!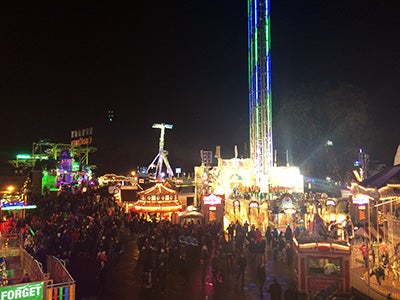 Besides tea, Londoners love Christmas! The entire city is decorated with wreaths, lights and Christmas trees. The epitome of the Holiday Spirit is found in Hyde Park, which is turned into a mini carnival with rides, food tents, games, live music and shopping stands. We walked around for a few hours, filling our time with traditional English meat pies and roller coasters.    
When Yana left, I knew it was time to go into finals mode. Exams in London are no different than exams back in NYC, and as usual, they require a lot of review and focus. I found it hard to focus because I knew what an exciting winter break was waiting for me after I handed in my last exam – I am spending my month off of school backpacking with friends around Italy. I have never been there before and I cannot wait to see if my high school Italian is still in my memory somewhere!
Happy Holidays!

November 21, 2014
The semester is half over and I can barely believe how fast it is going, but I am extremely fortunate to call NYU London my home for the entire year! I'm writing this post from a little café inside Russell Square, in my last tranquil moments of the weekend. We NYU London students just got through the hardest and then the most fun part of the fall semester thus far: midterms and fall break.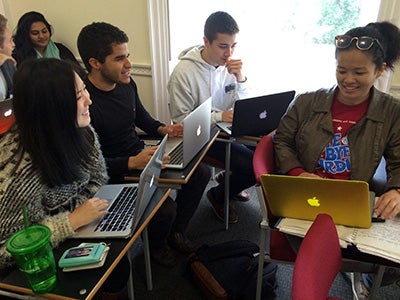 Weeks six and seven at NYU London are when all classes have a large assignment due. These can range from exams, essays, projects or presentations. While these assignments are challenging, no different than midterms in NYC, it was lovely seeing so many students come together, some for the first time all semester, to collaborate, study together and remind each other of the importance of study breaks. After the deadlines were reached, we were in need of a nice vacation, or as the Brits say, a holiday.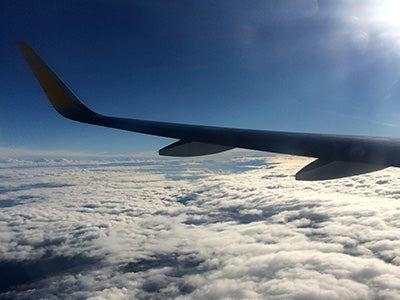 NYU London, like many abroad sites, gives students a week off in the middle of the semester. Most students take advantage of this and travel to a hand full of cities. My two friends from Stern's
Business & Political Economy
(BPE) program, Evan and Christine, and I packed our bags and headed to Barcelona, Madrid and Lisbon.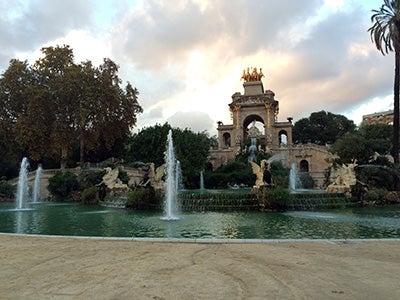 Barcelona was absolutely beautiful! I know I will be going back to this city in the spring, so I can take full advantage of its beautiful beaches. Barcelona has so much to see, it was hard to find time to see everything, even though we were there for four days! My three favorite attractions were all designed by a Catalan architect, Antoni Gaudí. I think Gaudí must have designed half of this city!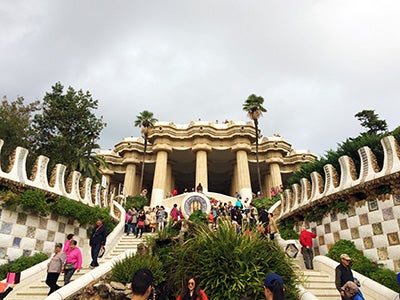 Park Güell is perfect for those who enjoy a nice (hilly) nature walk. While most of the park, including the areas with amazing views of the city, is free, my friends and I entered the ticketed section of the park in order to see the amazing structures (photographed above) Gaudí built here.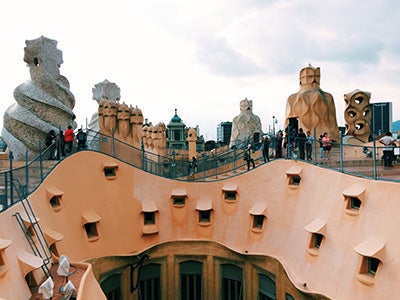 Gaudí also constructed several houses throughout the city that you can visit. These houses are just as beautifully constructed as Park Güell, continuing the unique architecture choices. This is a picture of the roof that has several crazy structures and a view of one of the internal courtyards of the house.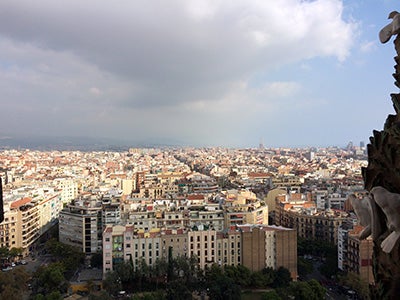 La Sagrada Familia, in my opinion, is the most beautiful, awe-inspiring church in the world. The detail on the outside is unbelievable and the one-of-a-kind design on the inside make this a must see in Barcelona. I don't want to post a photo of the interior so everyone can have the same "wow" moment that I did when I first walked inside. Another great feature of La Sagrada Familia is the option to climb one of its towers and see Barcelona from above. This is of course well worth it on a nice day! When you visit, be sure to buy tickets in advance online or you'll wait in a line for HOURS the day of your visit!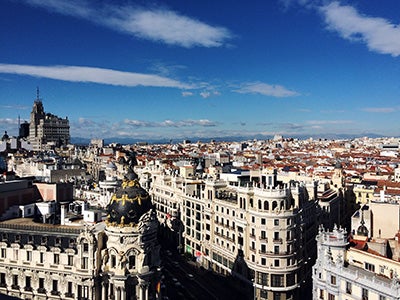 Our next stop was Madrid, which reminded us a lot of NYC, just with a Spanish twist!
Almost no one we met spoke English, which gave me the opportunity to put my high school Spanish successfully to use!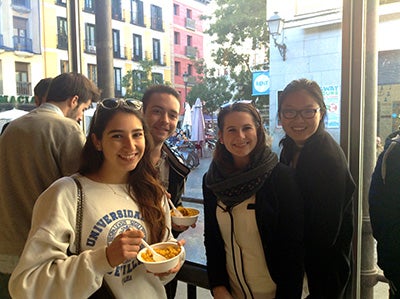 My favorite part of Madrid was the opportunity to see one of my closest friends who is studying abroad at NYU Madrid. It still amazes me that even though we are studying in two different countries, we're still able to meet up. We got lunch together at El Mercado de San Miguel and ate some amazing paella. We also planned out her visit to London in a few weeks!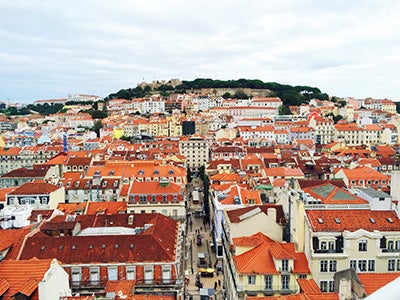 Our next and final stop before returning to London was Lisbon, Portugal. I think this city is extremely underrated! We saw some of the best views and ate some of the best food here during our fall break. I highly recommend visiting this city, but be warned, Lisbon is known as "the city of seven hills" and they are not kidding! Walking around a few days in Lisbon will give your legs a real work out!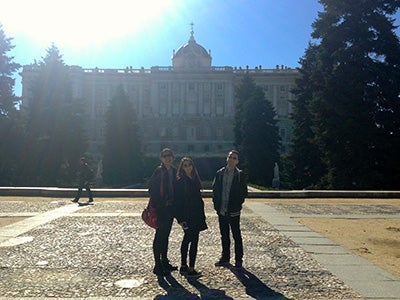 Before we knew it, it was time to return to London after our amazing week. While we had so much fun in Spain and Portugal, I think we were all just as excited to return back to our home for the year, London.   
October 20, 2014
Hello again, present and future Sternies! I must say that I am without a doubt loving my time abroad in London. However, this blog post is going to focus on my recent adventures outside of London, specifically Brighton, Paris and Brussels.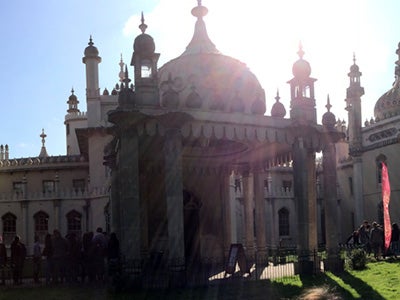 Brighton is a town on the southern coast of England, less than two hours from London. Due to its proximity, NYU London organized a day-trip there on one Sunday. The trip included entry to Brighton's Royal Pavilion, which was absolutely beautiful inside and out! I would have taken photos of the Asian-inspired décor if it were not strictly forbidden.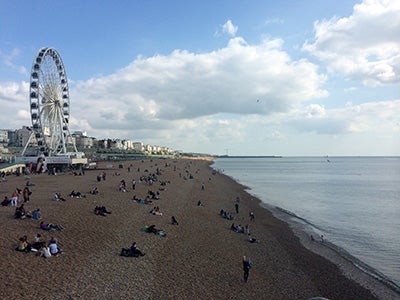 After our guided tour we had the rest of the day to explore the city. I immediately gravitated to the beach and pier. The weather was nice enough to eat lunch in the sand, or should I more accurately say rocks. After enjoying the sea air and playing some boardwalk games on the pier, my friends and I hit the streets to explore the small markets happening all over Brighton. Before too long it was time to head back to London.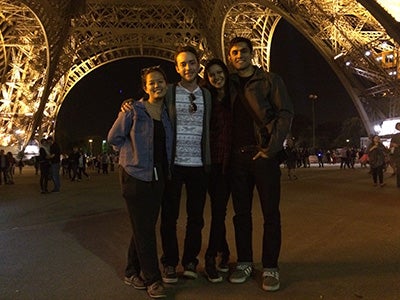 The following weekend, my three friends and I decided to visit Paris, a city none of us had been to before. We arrived at night and naturally our first stop was the Eiffel Tower. The four of us had a picnic under the lights enjoying the beautiful weather we were lucky enough to have. When we had finished we walked under the Eiffel Tower towards where we were staying so we would be well rested for a full day of sightseeing the next day.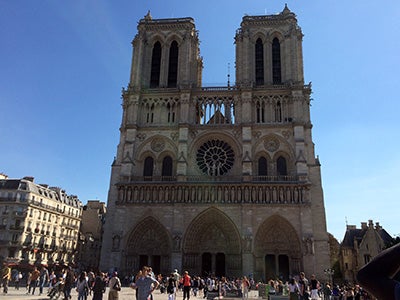 Notre Dame was our first stop. While we did not see The Hunchback, the architecture was just as interesting to look at. My friend who is in one of NYU's architecture classes in London was sure to point out the flying buttresses that the cathedral utilized. After walking through Notre Dame we walked to the Louvre.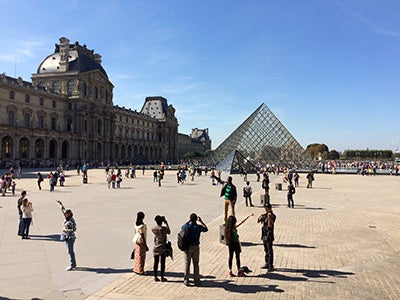 Anyone that goes to Paris has to stop at this famous museum and see its massive collection of art. My friends and I spent over two hours on one floor alone.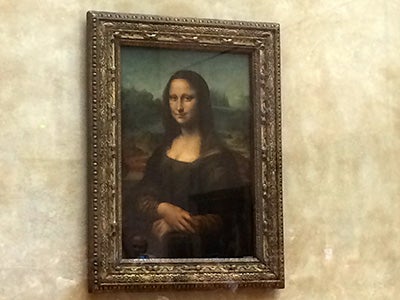 We had one sight to see so we chose to leave the Louvre a little prematurely; however, we made sure to see one of the main attractions, the Mona Lisa.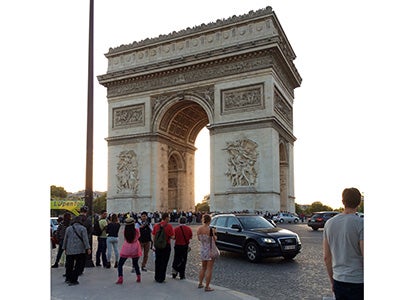 Not in Washington Square Park anymore, we visited the Arc de Triomphe! This arch is definitely bigger than ours in NYC, but it definitely made Paris feel like home. We arrived as the sun was setting and knew the view from the top would be amazing so we jumped on the ticket queue.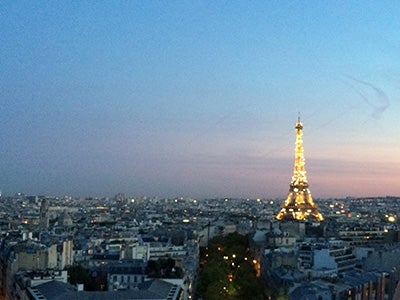 After climbing our fair share of steps, we got treated to a 360-degree twilight view of Paris. My favorite part of going to a new city is finding the best view and when the Eiffel tower lit up, I knew I found it! After a long day of walking and a hard earned dinner, we headed home to prepare for our last day in Paris.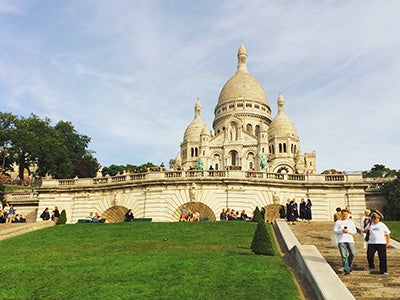 Our Sunday morning was spent at Le Sacre Coeur, an amazing church that is on a hill overlooking Paris. The view from outside the basilica was almost as good as the interior.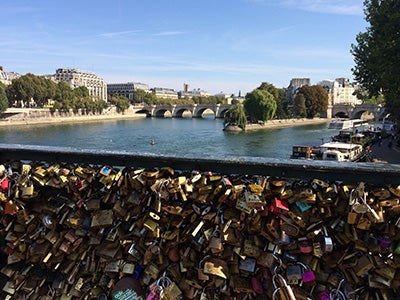 The rest of our day was spent relaxing in Paris, walking down the Seine, and even taking a river boat cruise. It was the perfect way to enjoy Paris's atmosphere and true beauty. By accident, we ended up at the Pont des Arts, which is one of Paris's famous bridges for its locks with loved ones names on them. Turns out that adding locks to the bridge is now illegal because the added weight is destroying the bridge! After an unforgettable weekend in Paris, it was time to return to London.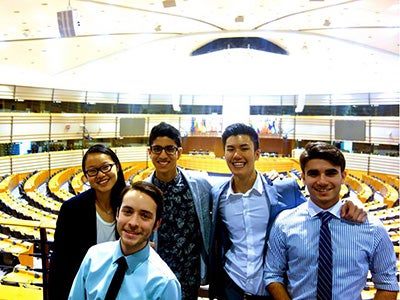 Every fall semester, sophomores in Stern's
BPE program
travel to Brussels in order to learn about the European Union through lectures and tours. It was interesting to hear the principles we're studying in our classes come to life in the form of this international organization. After our busy day, we headed to a lovely restaurant to eat dinner together.
Our final day in Brussels was spent around Market Square, which has countless shops and plenty of places to get famous Belgian food, including waffles, chocolate, and French fries. I would post photos of everything I ate, but I don't want my parents to worry about my nutrition!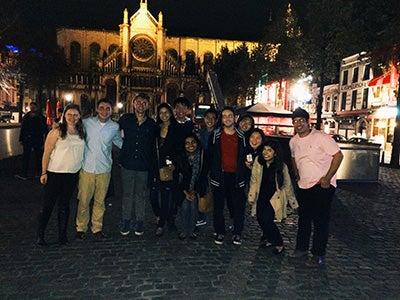 Being in London also means I'm free to travel throughout Europe with an awesome group of friends. Cheers to a couple fun weekend trips and cheers to many more!  
September 19, 2014
My name is Matthew Wilson, and I'm currently studying abroad at NYU London as part of the
Business and Political Economy (BPE)
program at Stern. As part of the program, BPE students spend their sophomore year in London, but all undergraduate Stern students can opt to spend one or two semesters here. I hope this blog not only excites you about Stern and its opportunities, but about studying abroad in general!

I decided to arrive a few days ahead of Move-In in order to "get my bearings" as the Brits say. One of the first places I visited was St. Paul's Cathedral. Not only is the building itself breathtaking, but the view from the top (over 500 steps later) leaves you in complete awe. I was able to get a full 360-degree view of my new home and I knew I was going to be happy here.

My next stop was the Tower of London, my first European castle. Walking around here is when I realized the history of London and what that meant. This one building is over three times as old as the United States! I loved how the architecture showed the passing of time through varied patterns and techniques for building the perfect castle. Another beautiful thing about the Tower of London was the installation of ceramic poppies in what used to be the castle's moat. Each poppy represents a British military casualty during WWI.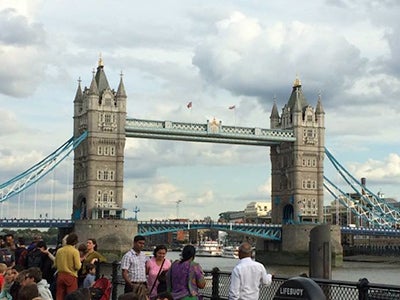 From the Tower of London you can see this iconic bridge. I, like many other tourists, believed this to be The London Bridge; however, after posting a photo on my instagram and facebook labeling it as such, I was quickly corrected by my friends who are BPE upperclassmen. One of the great parts about studying abroad for a semester as opposed to vacationing somewhere is that you slowly lose tourist ideals and begin to integrate as a native (and learn the correct name for famous landmarks). I am especially fortunate that I have the opportunity to embrace London throughout the year and take in everything I can.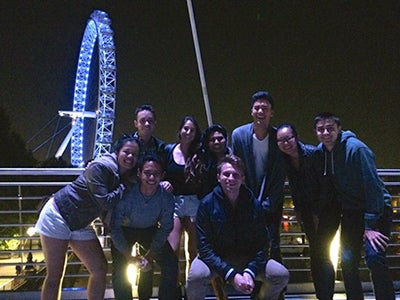 I personally have never been outside of the United States before (if you don't count a weekend visit in Montreal), so the idea of spending nine months abroad seemed very daunting. However, I can honestly say I'm not too nervous. This is because I have an amazing group of people to share this once-in-a-lifetime experience with, officially known as the Business and Political Economy students (unofficially as Beta Pi Epsilon). I cannot express how excited I am to explore the world with this group, starting, of course, with London!  
---