School News
10-year anniversary of The Call For Corporate Action: NYU Stern Student Voices, a magazine of essays by Stern undergraduate students addressing issues facing society, where businesses are in a unique position to make change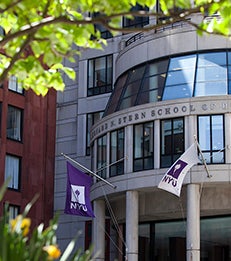 A key
Pillar
of the student experience at NYU Stern's
Undergraduate College
is Social Impact, the notion that business can be used to create a positive impact. One way students put this Pillar into action is through the production of
The Call For Corporate Action: NYU Stern Student Voices
, a magazine of essays written by first-year Stern undergrads that addresses issues facing society where businesses are in a unique position to make change.
This year marks the 10-year anniversary of The Call
.
Leveraging the United Nations Sustainable Development Goals as a framework, through
The Call
students offer creative solutions for how businesses can create positive impact in the future. The essays are written as a capstone to the Business and Society course, which students take in the spring of their first year as part of Stern's required four-year, four-course
Social Impact Core
curriculum. Faculty in the course curate the best essays for consideration and then past student authors of
The Call
make the final essay selections, serve as editors and design the final issue. The competition is steep: more than 700 essays are considered each year but only the top 10 "calls" are picked for being realistic, creative, passionate, and unique.
Professor
Jeffrey Younger
was inspired to start
The Call
in 2011 when he was particularly impressed by the creative solutions students presented in their final essays. Professor Younger started the magazine as a way of showcasing their out-of-the-box thinking, zeal, and dedication. He has served as the Senior Faculty Editor ever since.
"When we launched
The Call
a decade ago, we wanted to provide a platform for students who were exploring some of the most pressing issues of the time through Stern's Business and Society course," Professor Younger said. "The magazine started with a flight of papers that begged for publication. Students have leveraged their analytical thinking, curiosity, and creativity to develop strategies specific companies can use to create economic, social, and environmental value."
Essays from the past decade have touched on prescient topics including diamond mining, fracking, online privacy, opioid addiction, and more. This year's issue spans topics including becoming "coral positive," investing in local journalism, overcoming crowding in Israeli hospitals, rethinking financial inclusion for the Indian farming industry through pay-as-you-earn schemes, and providing a sustainable alternative to the rubber industry with dandelion roots, among others.
Avery Farm (BS '21) is this year's Lead Senior Editor. His essay, "On-Track to Deliver to Solution to Port Congestion" was included in the
Spring 2019 issue
.
"In my own essay, I advocated for increased on-dock rail usage to move cargo to and from the Port of Long Beach, which would reduce the port's reliance on container trucking," Farm said. "Fewer container trucks mean fewer emissions for surrounding residents, improved port efficiency, and better utilization of an existing taxpayer-funded rail line. In this manner, the incentives of corporations, government, and community are aligned."
He continued, "Being an author for
The Call
gave my ideas a voice. Being an editor for
The Call
exposed me to issues I had never heard of before and has shown me hundreds of different ways to solve problems. This exercise is incredibly valuable to any business student because solving problems is at the core of what business is. Our authors' creativity has inspired me to continue searching for ways to improve business's impact on society well beyond my undergraduate career."
Farm noted in his role as Senior Editor, he sought to highlight essays that presented profit-focused solutions in addition to societal impact. "I believe that companies need to have clear incentives to undertake any project, regardless of the social good that project will do," he said. "That is why the essays we selected are more than just good ideas. They are serious business arguments that tackle a variety of pressing issues."
One essay that exemplifies this in this year's issue is from Prabhav Kamojjhala (BPE '23), the author of "Loans, Not Life Sentences: Rethinking Financial Inclusion Through Pay-As-You-Earn Schemes."
Kamojjhala said, "Growing up in India, the national epidemic of farmer suicides always hung over you like a cloud. While politicians would often come up with these lofty plans to have massive debt forgiveness schemes, the issue never disappeared. I wanted to investigate the mechanisms that appeared to be driving the crisis. My essay charts out an approach to solving the issue that keeps in mind the seemingly competing interests of lenders and borrowers and would truly create a system where lending ceases to be predatory and can help genuinely boost growth and incomes. It was really rewarding to write and think about an issue that quite literally places itself at Indian dinner tables every day and to come up with a solution (however small it may be) that can literally make the lives of thousands of farmers."
After working on
The Call
, students gain a new perspective for how business can impact society across industries that they take with them beyond graduation and into their careers. Alumnus Brendon Khan (BS '17), who was featured in the
Spring 2015 issue
for his essay "Animal Rights: How Morality & Profit Can Coexist in the Pork Industry," has found this to be the case in corporate law.
"Ever since I worked on my paper for
The Call
, I have always looked at corporate decisions through the lens of social impact," Khan said. "By appreciating the people behind the paper, I have been able to more effectively approach my career in corporate law."
Alumna Melissa Alvarez (BS '20), whose essay "Power to the Period" was featured in the
Spring 2018 issue
, said "Writing for
The Call
made me more conscious about the world around me and how I could shape it positively. I don't live inside a bubble, there are people everywhere who are going through crises and they aren't separate from me or my actions. What I do ultimately affects everyone."
Alvarez continued, "While we live in a world where companies have the power to impact communities (positively and negatively), it's my duty to work for one that does good—not just has the resources to help, but that is actively doing that. I've only worked at non-profits, or mission-driven companies, and I plan on keeping it that way. My work is only meaningful if real people benefit from it."
No matter which industries students enter, their impact makes a difference.
According to Professor Younger, "We are so proud of all students involved, and they carry on with them a mindset for creating a better tomorrow and the optimism and tools to make that a reality."