$125,000 DeFi Education Fund Research Grant Awarded to the NYU Stern Fubon Center for Technology, Business and Innovation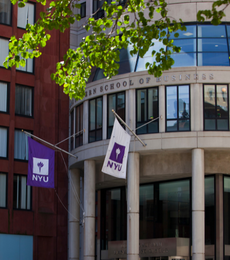 New grant from the DeFi Education Fund will support and accelerate decentralized finance research at NYU Stern's Fubon Center
Today, the New York University Stern School of Business
Fubon Center for Technology, Business and Innovation
and the
DeFi Education Fund
(DEF) jointly announced a $125,000 grant to the school supporting research in the area of decentralized finance (DeFi).  This one-year grant will contribute to new research insights and to the development of a long-term partnership.
"DeFi will transform the web and revolutionize the way the world does business. That's why we are delighted to announce this grant, consistent with our mission to help the ecosystem flourish by supporting world-class DeFi thought leadership and research at NYU Stern's Fubon Center," said Miller Whitehouse-Levine, policy director at the DeFi Education Fund.  
The use of DeFi, blockchain-based financial services software, is expanding rapidly and is poised to transform financial systems, models, and theories. The DEF exists to help achieve regulatory clarity for the future of the global digital economy and supports DeFi policy research and scholarship in this area.  
At Stern, entrepreneurial faculty are already exploring this vast, expanding terrain. Accelerating Stern's DeFi research, and staying close to its fast-moving frontier, will contribute to the collective understanding of academics, practitioners, and policymakers. The most recent Stern Fubon Center fintech conference, "Defy or DeFi," attracted more than 1,500 registrants to discuss DeFi transformation of asset pricing, financial intermediation, corporate finance, banking and trading operations, payments systems, insurance, risk management, and private equity, and the associated global policies, regulations and security risks.  
"We are pleased to be among the inaugural recipients of a generous grant from the DeFi Education Fund," said Professor
David Yermack
, the Albert Fingerhut Professor of Finance and Business Transformation, Chair of the Finance Department at NYU Stern, and Director of the NYU Pollack Center for Law and Business.  
"With the support of the DeFi Education Fund, we are able to add a one-year funded 'DeFi Research Associate' position that will provide dedicated, expert support to faculty contributing to DeFi research, helping to advance the Center's mission and to keep pace with the rapidly evolving business landscape," added Professor
Kathleen DeRose
, Director of Stern's Fubon Center for Technology, Business and Innovation and and Director of Stern's Fubon Center Fintech Initiative.
---