Change. Lead it. NYU Stern's Leadership Accelerator Hosts First In-person Live Case – An Innovative New Model that Takes MBA Leadership Development Off the Page
When it comes to developing the next generation of business leaders, NYU Stern's Leadership Accelerator has taken the case study method off the page and into real life. Earlier this spring, after a few Zoom iterations, the Leadership Accelerator hosted its first in-person "live case" for MBA students. 
Developed by Professor Nathan Pettit, Leadership Accelerator Director, and Adjunct Professor Hannah Levinson, Senior Associate Director, the live case model is akin to a Broadway production. More than 60 MBA students were broken out into small teams and told they were now members of the executive management team of the NYC coffee shop, "Deja Brew." The challenge in front of them: determine the best market in which to pilot one of the company's products, the "Green Meanie," as a standalone brand outside of New York. However, even before the teams could start parsing through company financials and background, the case sprang to life! 
More than 30 professional actors, as well as Stern administrators and alumni who took on the role of the board of directors, started interacting with the teams in real time. Unexpected twists and turns challenged students to think on their feet and make quick decisions that dictated how the situation would unfold minute by minute. There was no pre-ordained script and no "right decision." Throughout the day, a faculty leadership coach silently observed each team and took detailed notes on team dynamics.
What took place felt real, unexpected, and at times, uncomfortable. That was the goal, given the types of actual experiences students will face as managers and leaders in their professional lives. In the end, students strengthened their leadership agility and received invaluable, personalized feedback from coaches on how they rose to the challenge. 
To learn more about the experience, read about the account from one MBA team as covered by Fortune here.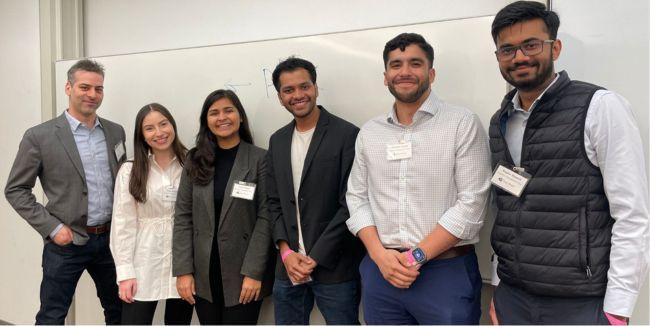 Professor Michael North (far left) served as a leadership coach to the Pink Team, comprised of MBA students (from left to right) Erica Kaplan, Neha Chopra, Jeevan Renjith, Nicholas Arroyo and Raghav Ramesh 
---