Endless Frontier Labs at New York University's Stern School of Business Graduates its 2019-2020 Cohort of Startups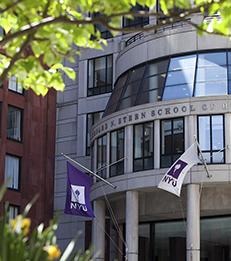 Endless Frontier Labs
(EFL), a program for early-stage science and technology-based startups at New York University Stern School of Business, graduated its 2019-2020 cohort of startups, concluding its nine-month program.  The EFL
application
for the 2020-2021 cycle is now open until 9 PM (ET), Friday, August 21, 2020.  Founders of life sciences and deep technology startups at an early stage (pre-Series A financing) are encouraged to apply to the 2020-2021 program cycle.   
"Our mission is to bridge the gap between science and societal impact.  We believe business strategy, validation by scientific peers, and connections to investors are essential for the successful commercialization of scientific breakthroughs. To that end, EFL provides founders access to an unparalleled network of business coaches, scientists, investors, and Stern MBA students to help transform their ideas into high-growth businesses. This year, even as the COVID-19 pandemic struck, several of our startups took on the challenge of combating health, diagnostic and disinformation issues related to the coronavirus, with the guidance of our mentors*," said NYU Stern Professor
Deepak Hegde
, Founding Director of EFL.   
Additionally, NYU Stern alumna
Elizabeth Elting
(MBA '92) has donated $2 million to EFL to provide investment funding for promising ventures featuring women in leadership positions or women-centric businesses that have successfully completed the program and awarded funding to SiDx and Stratyfy this cycle.   
"I am incredibly excited to partner with EFL," said Elting. "Its mission mirrors the goals and drive behind the Elizabeth Elting Foundation, and I am so grateful to have such a partner in our work to support women-led startups with the potential to change the world. These women deserve recognition for their industriousness, clarity of vision, and purity of purpose, and getting to be a small part of their future triumphs, here at the ground floor, is a true honor. The ambition and sophistication of each and every Elizabeth Elting Venture Fund recipient blows me away, and I count myself fortunate to be able to support their visions."   
EFL Program Highlights
EFL, launched in May 2019, reinforces NYU's commitment to the thriving entrepreneurship ecosystem in the greater NYC region and U.S. markets. 
Over nine months, EFL Mentors worked with admitted founders in either Life Sciences or Deep Tech tracks to set goals for the startups to accomplish and acted as an informal advisory board to guide founders on how best to scale their businesses. Startups making progress are able to attract financing from investors in the program.    
EFL Mentors include eminent business leaders, angel investors, venture capitalists, and renowned scientists and technologists. These mentors were instrumental in driving the success of our newly graduated EFL Alumni.
Consistent with its mission as a non-profit, EFL is a founders-first program and charges no equity or fees from participating startups. No NYU affiliation or relocation to NYC is required to participate. 
EFL is appropriate for founders from around the world seeking deep connections to the thriving New York ecosystem or U.S. markets.
EFL's Life Sciences Startup Graduates
A2A Pharmaceuticals develops therapeutics against specific biological targets, leveraging AI and fragment-based discovery to optimize drug design
Algen Biotechnologies is building a CRISPR-based machine learning engine to discover therapies for cancer that minimize adverse effects in healthy tissue
BioRosa is developing a diagnostic to determine a patient's risk of developing Autism Spectrum Disorders, which may improve access to early intervention
C2i Genomics provides diagnostics-as-a-service (DaaS) using a cloud-based platform to analyze DNA sequences for cancer markers
*Cytonus Therapeutics has developed the Cargocyte platform, which delivers therapeutic payloads to cells in oncology, inflammation, and other diseases
Immunai is improving human health by leveraging a granular knowledge base of the immune system for drug discovery
Neochromosome designs, builds, & delivers DNA to cells on an unprecedented scale, with applications in nutrition, cell/gene therapy, and manufacturing
Nirova BioSense is developing a diagnostic medical device for the detection of ovarian cancer, using nano sensors in an IUD form
Octagon Therapeutics uses their platform to highlight metabolic vulnerabilities in rapidly proliferating cell populations and identify novel drug candidates
Onconetics Pharmaceuticals is using a genetic approach to treat cancer, effectively targeting sick tissue without harming healthy tissue
*PhAST Diagnostics is developing an AI-based computer vision technology to help tackle the global healthcare threat of antibiotic resistance
Prohibix has a novel hyaluronic acid (HA) platform that requires a fewer number of injections vs. standard HA and serves as a platform to deliver other molecules
QSM Diagnostics has developed a rapid point-of-care diagnostic test for bacterial infections in animals and humans
Quantumcyte aims to provide pure cellular data from soft tissue samples in a fast, efficient manner using their proprietary 'Oncomask' tool
*SFA Therapeutics develops safe and effective drugs, derived from naturally occurring compounds found in the human gut, for multiple therapeutic areas
SiDx modernizes point-of-care blood typing and rapid testing with patented silicon photonic biosensors and specialized surface chemistry
Statera Therapeutics has a nanoparticle delivery platform designed to improve immune responses in patients with allergies, auto-immune disease, and cancer
Synthis is developing an immunotherapy-based platform to restore immune function in multiple cancer types and improve patient outcomes
Tatch has built a wearable patch that uses ultra-flexible electronics to conveniently and cost-effectively deliver the benefits of a sleep lab at home
EFL's Deep Tech Startup Graduates
More About EFL
Endless Frontier Labs (EFL) is a nine-month program at NYU Stern for early-stage science- and technology-based startups. Startup founders are advised by serial entrepreneurs, investors, and technical mentors to accomplish individualized business goals at eight-week intervals. These goals are designed to maximize each startup's chance of growing into a high growth business.  Startups that fail to make progress can be cut from the program at mentor discretion in order to optimize resources for startups that are excelling. Those that meet their goals are likely to attract investment from EFL mentors, as well as from one of the many venture capital firms that are represented in the program. While companies in the EFL program do not require an NYU affiliation to participate, all companies will benefit from access to and support from NYU scientists and Stern MBA students. Startups can also benefit from access to several in-kind services from EFL's corporate partners, such as advice on intellectual property issues and related matters from global law firm Greenberg Traurig, LLP and server credits from Amazon Web Services. As EFL is a non-profit academic initiative of New York University's Stern School of Business, EFL does not take equity or collect fees from startups. Further information and FAQ can be found on EFL's
website
and follow us on
LinkedIn
,
Twitter
,
Facebook
, and
Instagram
for regular updates.  
About New York University Stern School of Business
New York University Stern School of Business, located in the heart of Greenwich Village, is one of the nation's premier management education schools and research centers. NYU Stern offers a broad portfolio of programs at the graduate and undergraduate levels, all of them enriched by the dynamism, energy and deep resources of one of the world's business capitals. Visit
www.stern.nyu.edu
and follow NYU Stern on Twitter:
@NYUStern
.
---