Business and Policy Leader Events
Stern Faculty and Indian Business Leaders Headline Indian Forum in Mumbai
On January 11, 2013, NYU Stern hosted its inaugural India Business Forum in Mumbai, India. Stern's world-class faculty, and India's top corporate leaders and policymakers took part in this full-day event, "India in the 21st Century: From Potential to Progress."
The conference included sessions on the future of India's urban growth, valuation in the Indian context, implementing effective corporate governance, and successfully building India's infrastructure, accompanied by discussions of business and policy issues critical to the nation's future economic growth.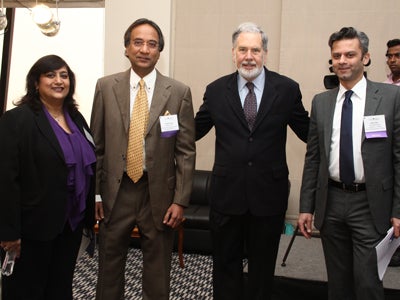 (from left to right) Geeta Menon, Dean of the Undergraduate College, NYU Stern; Shishir Bajaj, MBA '74; John Sexton, NYU President; Rohit Deo, Associate Dean of Academic Affairs, Undergraduate College, NYU Stern
Watch the Video of the India Business Forum
Welcome Address
Geeta Menon
, Dean, Undergraduate College, NYU Stern 
Opening Remarks
John Sexton
, President, NYU
Charter Cities and the Future of India's Growth
Paul Romer
, Professor of Economics and Director of the Urbanization Project, NYU Stern
The Dark Side of Valuation
Aswath Damodaran
, Kerschner Family Chair in Finance Education, NYU Stern
Valuation in the Indian Context
This in-depth panel and audience discussion led by
Aswath Damodaran,
Kerschner Family Chair in Finance Education, focused on corporate valuation in India, what's different about valuing Indian companies, and some of the challenges unique to the country's business and market environment.
Participants:
Aswath Damodaran, Kerschner Family Chair in Finance Education, NYU Stern (moderator)
Harsh Agrawal, Former Executive Director, Morgan Stanley Infrastructure
Lav Chaturvedi, Chief Risk Officer of Reliance Capital
Mihir (Mickey) Doshi (BS '81),

Managing Director and Country Head, Credit Suisse Securities (India) Pvt. Ltd.

Vijay Karnani, Co-CEO India, Goldman Sachs
Corporate Governance
Led by
Marti Subrahmanyam
, Charles E. Merrill Professor of Finance, Economics and International Business, and featuring thought leaders from industry, government and the media, this session addressed the critical importance of good corporate governance in ensuring continued business evolution and economic growth of and investor confidence in Indian companies.
Participants:
Building India's Infrastructure - A Fireside Chat
An interactive conversation between UIDAI Chairman
Shri Nandan Nilekani
and
Arun Sundararajan
, Associate Professor and NEC Faculty Fellow, with active audience participation, this session addressed the success of India's massive digital infrastructure investments, their future potential as a catalyst for entrepreneurial growth and economic development, and how their innovative public-private partnership and platform models might facilitate more rapidly building India's physical infrastructure.
Participants:
Arun Sundararajan, Associate Professor, Information, Operations and Management Sciences, and NEC Faculty Fellow, NYU Stern
Shri Nandan Nilekani, Chairman, Unique Identification Authority of India
Closing Remarks
Geeta Menon
, Dean, Undergraduate College, NYU Stern
---