School News
NYU Stern Faces of Change: Sameer Bagaber, MS in Risk Management '21
NYU Stern's
MS in Risk Management (MSRM) program
, the first of its kind at a top business school, is designed specifically for senior executives across industries to enhance their capabilities and credentials in the area of assessing and responding to enterprise risk that is vital to the sustainable performance of their organizations. The one-year, part-time program is divided into six modular class sessions leveraging NYU's global network, and concludes with an applied capstone project.
Last year, 2019, marked the 10-year anniversary of the program. At this milestone, the program announced its new curriculum in enterprise risk management to align with the changing facets of risk senior managers need to manage in today's fast-paced, global and tech-driven world.
Meet student Sameer Bagaber, MS in Risk Management '21, Abu Dhabi Department for Culture and Tourism, Business Resilience Manager.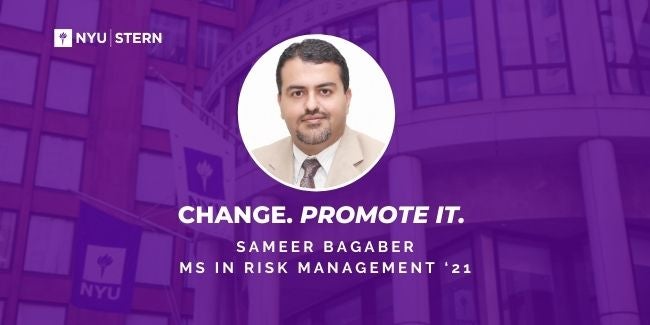 CHANGE. PROMOTE IT. Sameer Bagaber, MS in Risk Management '21
Hometown
:
Abu Dhabi, United Arab Emirates
Current company and role:
Abu Dhabi Department for Culture and Tourism, Business Resilience Manager
What's one professional accomplishment you are particularly proud of?
I'm particularly proud of a socio-economic masterplan that I delivered for one of the regions in the Emirate of Abu Dhabi, along with a small group of dynamic colleagues. The project was challenging. We successfully identified several economic clusters that would bolster quality job creation and economic growth in the region and devised solutions to social issues such as equality, housing, education, and health. The project outcomes are going to make a significant impact and change people's lives in the region.
Why did you decide to pursue your MS in Risk Management now?
I spent the last two decades formulating sectorial and corporate plans for the Department of Culture and Tourism and conducting financial assurance and internal audits with Ernst and Young LLP. I was relatively new in the position of Business Resilience manager when I enrolled in the NYU Stern's Master's in Risk Management program. I wanted to advance my risk management skills in a comprehensive and rigorous program, explore new technologies and practices, and seek solutions to address current business challenges. The MSRM program at Stern ticked all the right boxes and much more.
What made NYU Stern the best fit for you?
The program is comprehensive across enterprise risk domains with an exceptionally reputable faculty and a flexible format.
What is your first impression of your peer cohort so far?
The cohort is dynamic, diverse, and extremely professional. I find our discussions in class intellectually stimulating and I am learning a lot from them.
Stern's brand call to action is all around embracing change. How do you see change and why?
CHANGE. PROMOTE IT. Because change does not always appear on its own, we have to change from within.