NYU Stern School of Business Now Accepting GMAC's Executive Assessment as Part of Full-time MBA Application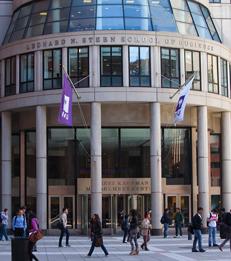 Expanded Test Options Increase Choice and Flexibility for Candidates Applying to Stern's Two-Year Full-time MBA and Focused One-Year MBA Programs
New York, NY, August 19, 2019: Today, New York University Stern School of Business announced that candidates applying to the School's full-time MBA programs can now choose to take the Executive Assessment, designed by the Graduate Management Admissions Council (GMAC), to fulfill the application's standardized test requirement. GMAC's Executive Assessment (EA) has been used successfully by almost 70 schools around the world, including Stern for its Langone Part-time MBA and Executive MBA programs, as a valid predictor of business school academic readiness.
Beginning with the current 2019-2020 admissions cycle, the EA expands the options and adds flexibility on the standardized test component for candidates applying to Stern's
two-year Full-time MBA program
and recently launched focused one-year MBA programs, the
Andre Koo Technology and Entrepreneurship MBA
and
Fashion & Luxury MBA
. Stern applicants can now choose to submit either the GMAT, GRE or EA as part of their application.
According to Executive Director of MBA Admissions Rabia Ahmed, "Stern has always been an early adopter. We were among the first programs to accept the GRE a decade ago, and now we are excited to add the EA to our full-time MBA admissions process. As a school on the move, we recognize that business is rapidly evolving, and we've responded with new program options as well as innovations in our admissions process, such as the EQ Endorsements, to ensure we are assessing talent for today's changing workforce."  
The EA was designed by GMAC to evaluate business school readiness in the context of career experience. The assessment requires a modest time commitment to prepare, is easy to schedule and short in duration. During the 90-minute assessment, candidates are evaluated on three areas: integrated reasoning, verbal reasoning and quantitative reasoning. 
The standardized test requirement is just one part of Stern's holistic admissions process. There is no minimum amount of work experience required to be eligible to take the EA. Stern's Admissions Committee has no preference for the GMAT, GRE or EA; the choice of test is entirely up to the candidate. 
For more information, visit Stern's
MBA Admissions page
. 
About New York University Stern School of Business
New York University Stern School of Business, located in the heart of Greenwich Village, is one of the nation's premier management education schools and research centers. NYU Stern, whose faculty includes four Nobel Laureates in Economics, offers a broad portfolio of programs at the graduate and undergraduate levels, all of them enriched by the dynamism, energy and deep resources of one of the world's business capitals. Visit
www.stern.nyu.edu
and follow NYU Stern on Twitter: @NYUStern.
---