NYU Stern's Center for Business and Human Rights, the First of its Kind at a Business School, Marks its 10-year Anniversary
A decade ago, building on NYU Stern's long-standing foundation in business and society endeavors to support a new generation of responsible leaders, Stern became the first business school to open a human rights center. In 2013, both the School and Professor Michael Posner, Founding Director of Stern's Center for Business and Human Rights, recognized an urgent need for new approaches to global business that would address human rights challenges.
"Over the last ten years, we have adopted a pro-business, high-standards approach, working to encourage companies to invest in measures to address human rights challenges in their core business operations. They can and should adopt these measures while continuing to be profitable and competitive," said Professor Posner, who launched the Center at Stern after serving in the Obama Administration as Assistant Secretary of State for Democracy, Human Rights and Labor. Before that, he was executive director and president of Human Rights First, a U.S.-based human rights advocacy organization. He also chairs the board of the Fair Labor Association, which addresses supply chain labor issues in the apparel, athletic footwear and agriculture sectors.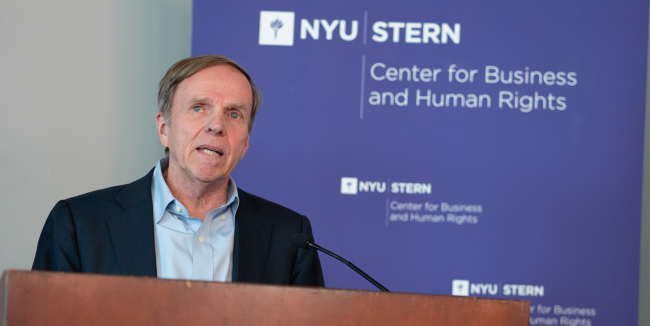 Professor Michael Posner, Founding Director of Stern's Center for Business and Human Rights, at the Center's 10-year anniversary event
Since its start, the Center's work has focused on critical issues facing businesses and society. Just six weeks after the Center launched, the Rana Plaza factory complex in Bangladesh collapsed, tragically killing more than 1,100 workers. The Center convened key players from across the garment sector and the Bangladesh government to have a candid conversation on how the industry functioned in the country and later released its first report, "Business as Usual is Not an Option," further researching this topic. In the years since, the Center has released additional research on the garment industry in Bangladesh, including a new report this year, "A Broken Partnership: How Clothing Brands Exploit Suppliers and Harm Workers – And What Can Be Done About It," and has continued to advocate for apparel companies to take greater responsibility for the protection of workers in global supply chains.
At the same time, the Center's research areas of focus have expanded beyond manufacturing to include construction, technology and investment. The Center's reports have explored the exploitation of migrant workers who built the infrastructure for the 2022 World Cup in Qatar, actions by leading social media companies that have intensified political polarization, and how investors can help improve low-wage labor and ease income inequality, among other pressing topics.
The Center, which is part of Stern's Business & Society Program, has also had a major impact on academics at the School. The Center began with offering MBA courses and now also offers undergraduate and executive MBA courses, in addition to organizing Stern Solutions experiential learning projects. The Center itself has grown as well, growing from a team of two at launch to now ten full-time staff members. 
"Stern's Center for Business and Human Rights has been a trailblazer since its launch," said Professor Batia Wiesenfeld, Director of the Business and Society Program. "Through the Center's groundbreaking work, students gain the practical skills needed to address the societal challenges facing businesses today and to drive change as the responsible business leaders of tomorrow."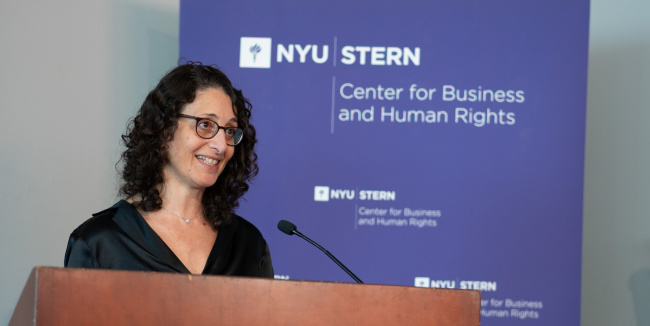 Professor Batia Wiesenfeld, Director of Stern's Business and Society Program, at the 10-year anniversary event for Center for Business and Human Rights
Alumna Lily Warnke (MBA '21), who now serves as Governance Manager, Oversight Board at Meta, interned with Microsoft and PepsiCo through the Center's summer fellowship program. She noted the impact the Center had on both her perspective and career. "The skills I learned from the Center enabled me to succeed in a fast-paced, often ambiguous, and ever-changing workplace while staying focused on the global human rights impacts of the decisions my team and company make every day," she said. "The Center informed my belief in the necessity of business approaches that support long-term sustainability and positive change. The principles, skills, and strategies the Center provided have shaped my career and outlook, and will remain the most meaningful cornerstone of my education."
Beyond Stern, the Center has greatly influenced business education as well. In 2016, the Center published the first comprehensive, interdisciplinary textbook on business and human rights, "Business and Human Rights: From Principles to Practice." Together with the Geneva Center for Business and Human Rights at the Geneva School for Economics and Management, the Center has also started the Global Business School Network, a collection of schools in more than 35 countries committed to including human rights in their curriculum. 
This spring, the Center hosted an event in celebration of its 10-year anniversary as well as its milestone research report. Read the report here to learn more about the Center's innovative work over the past decade. View additional pictures from the anniversary event below.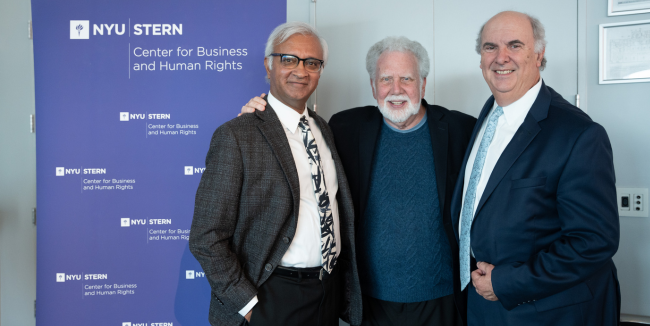 NYU Stern Dean Raghu Sundaram (left), along with NYU President Emeritus John Sexton (center), who delivered remarks, and Professor Bruce Buchanan (right)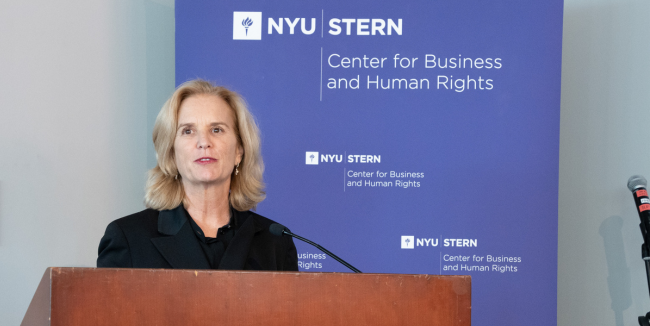 President of RFK Human Rights Kerry Kennedy also delivered remarks
---