Business and Policy Leader Events
Regulating Wall Street: CHOICE Act vs. Dodd-Frank Book Discussion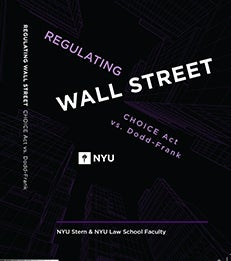 Date:
Thursday, June 1
Location:
NYU Stern, New York, NY 10012
*By invitation only
On June 1, the NYU Stern School of Business will present a new book, "
Regulating Wall Street: CHOICE Act vs. Dodd-Frank
", authored by more than a dozen faculty members from Stern and the NYU School of Law. Professors
Kim Schoenholtz
,
Bruce Tuckman
, and
Lawrence White
will lead the discussion on the book.
The professors will address the prominent issues of financial regulation and examine the benefits and drawbacks of the CHOICE Act—the prominent proposal to reform financial regulation—while comparing it to Dodd-Frank.
For more information, please visit the NYU Stern Alumni
website
.