NYU Stern Hosts Inaugural FinTech Conference Featuring President and CEO of PayPal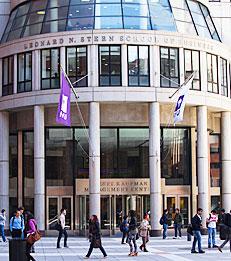 There are profound changes ahead for industries such as finance, making this a critical time to examine innovation at the intersection of finance and technology.
Industry Veteran Kathleen DeRose Joins Stern as Executive in Residence
New York University's
Stern School of Business
, the first business school to establish a
FinTech specialization
for MBA students, held its inaugural
FinTech Conference
on November 9, 2016. Featuring keynote speaker Dan Schulman (MBA '86), president and CEO of PayPal, the conference addressed many critical issues in the industry, ranging from regulation to public policy, equity crowdfunding, marketplace investing and blockchain technologies.
"Technology is transforming business at a breathtaking pace," noted
Raghu Sundaram
, vice dean of MBA programs and online learning at NYU Stern. "There are profound changes ahead for industries such as finance, making this a critical time to examine innovation at the intersection of finance and technology."
Sundaram continued, "We have seen tremendous interest from students since Stern launched its FinTech MBA specialization in June, including a record number of students registered for our Spring blockchain course alone."
In conjunction with the conference, the School also announced the appointment of
Kathleen DeRose
(TRIUM '11) as the new Executive-in-Residence for FinTech at Stern. A seasoned FinTech professional, Ms. DeRose also serves as the Chair of the Board of Evolute Group AG and is an active FinTech start-up investor. Her depth of experience includes holding senior positions at Credit Suisse, Scudder Stevens & Clark (Deutsche Bank) and JPMorgan Chase.
"Stern is at the center of this important dialogue as we are able to draw on thought leadership across NYU, convene industry leaders within the innovation hub that is New York City and tap seasoned experts from our own alumni base, such as Kathleen," said
Peter Henry
, dean of NYU Stern. "Our success, and our students' success, depends on our ability to create innovative crossroads between the new and old economies."
The day-long forum convened thought leaders from industry, academia and government to discuss how technology is reshaping financial services.
Research presentations included "The FinTech Opportunity," by Professor
Thomas Philippon
and "Blockchain, DAOs & the Future of Finance," by Professor
David Yermack
, followed by a response/critique to those presentations by Ken Kroner, former senior managing director at BlackRock.
NYU Stern Professors
Anindya Ghose
and
Arun Sundararajan
moderated the panels, "Marketplace Investing Versus Venture Capital" and "Beyond Blockchain and the Decentralized Autonomous Organization," which included:
Mike Kwatinetz (MBA '79), Founding General Partner of Azure Capital
James Murphy, CEO of EquityNet
Michael Graver, Principal of CircleUp
Neil Rothenberg, CEO of Paygevity
Jutta Steiner, Chief Operating Officer of Ethcore and Co-Founder of Provenance
Michael Casey, Senior Advisor of the MIT Media Lab
Teddy Cho, Head of Markets and Corporate Treasury Technology for BNY Mellon
Jalak Jobanputra, Founder/Managing Partner of Future\Perfect Ventures
Dan Schulman, president and CEO of PayPal, concluded the presentations with a fireside chat with Professor
Charlie Murphy
(MBA '74) and Q&A from the audience.
The full agenda to the conference is accessible
here
. #SternFinTech
About New York University Leonard N. Stern School of Business
New York University's Stern School of Business, located in the heart of Greenwich Village, is one of the nation's premier management education schools and research centers. NYU Stern, whose faculty includes three Nobel Laureates in Economics, offers a broad portfolio of programs at the graduate and undergraduate levels, all of them enriched by the dynamism, energy and deep resources of one of the world's business capitals. Visit 
www.stern.nyu.edu and
follow NYU Stern on Twitter: @NYUStern.
---