Research Center Events
Stern Innovation Conference: Transformative Technological Change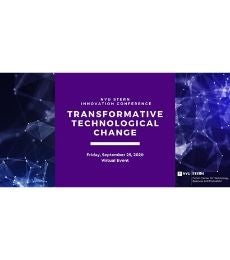 Date:
Friday, September 25, 2020
Location:
Online Event
This year's Stern Innovation Conference will be themed, "Transformative Technological Change," and will examine how major innovations are changing the landscape in industries as diverse as food agriculture, transportation, medicine, education, and more. We will also consider how firms, consumers, and regulators are responding (or will respond) to these changes.
The conference will take place on Friday, September 25, 2020. In light of the current environment this year's conference will be held entirely online. We will host exciting keynotes and panels with interactive features, and we will have a special lightning-round session where speakers from both industry and academia will present the latest new breakthrough innovations and how they are likely to change the world. In keeping with our highly successful format last year, the conference will seek to engage both executives and academics in an accessible, informative and fun way. Please join us!
For tickets, please visit the event
registration page
, or for more information, please visit the Center's
website
.