Stern Solutions Experiential Learning: Meet Stephanie DeCourcey (MBA '22), Executive MBA
Through Stern Solutions experiential learning courses and projects, NYU Stern students build foundational skills through hands-on courses and company-sponsored projects by solving real business challenges in real time, with the guidance of faculty. 

Built upon this long-standing model, Stern launched its first Executive MBA Stern Solutions course in Summer 2022, led by Professor Sonia Marciano and designed specifically for the executive student audience. 

In this course, titled Consulting Practice: Process & Problem Solving, students tackle a business issue or opportunity for a client while applying in real-time the key steps of the consulting process they are learning in the classroom. The course is an experiential learning elective where students work in teams and learn how to break down and methodically address complex problems. 

In the project, titled "New Segment Strategy for Out-of-Home," corporate partner Nespresso tasked students with the challenge of developing a go-to-market strategy for two new customer segments: colleges & universities and healthcare. 

Meet Stephanie DeCourcey, NYU Stern Executive MBA Program (MBA '22), and learn more about her Stern Solutions project with Nespresso.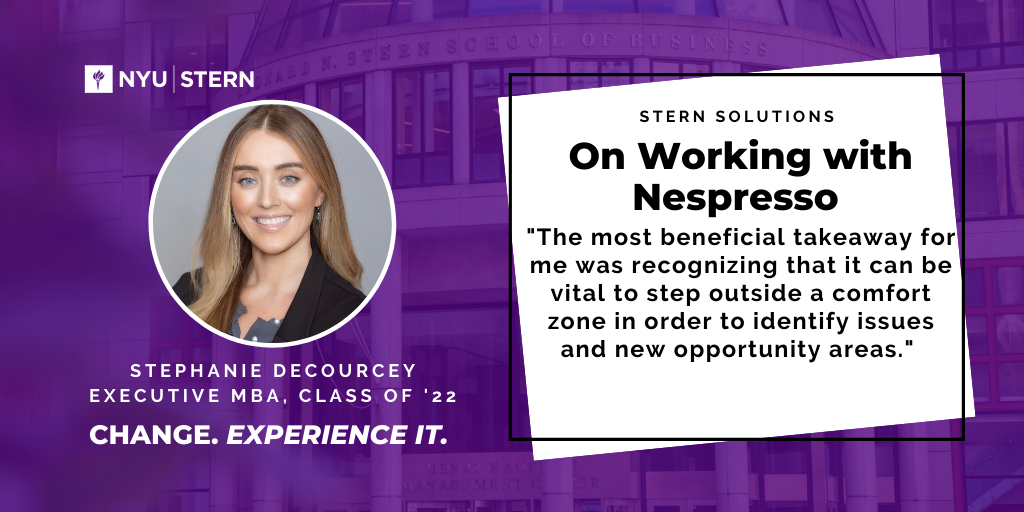 Corporate partner: 
Nespresso
 
Briefly describe what you were working on with your corporate partner. 
Each team was asked to consult on a specific business challenge related to their corporate partner. My group was partnered with the business to business (B2B) side of Nespresso here in NYC.
 
Briefly describe the benefits of working to solve unique business challenges while engaging with industry experts?
The most beneficial takeaway for me was recognizing that it can be vital to step outside a comfort zone in order to identify issues and new opportunity areas. The team at Nespresso was participatory from the very beginning which allowed for an incredibly engaging environment. Though they came to us with lots of data, the NYU library also gave us access to so much research. Because our team came from all different industries, we all had different perspectives on the business challenge, and we learned to use our individual strengths to support our recommendations. We also had the opportunity to engage with all sides of their B2B team, conduct interviews and exploratory sessions, and visit their US corporate headquarters.
 
Describe your team and how you worked together on the challenge. 
I was the only EMBA student from my A'22 class on our team. It gave me the opportunity to work and bond with three students from the January cohort. We worked exceptionally well together and tried to make it as fun as possible given the scope and demands of the project. At some point, we all found our niche and which of our strengths benefitted the team and the final product. 
 
Describe the faculty support you received throughout the project and how it was helpful. 
This was my third opportunity in EMBA to have Sonia Marciano as a professor, and the reason I opted to take this class (especially in my last semester at Stern). Professor Marciano is equal parts knowledgeable, supportive, encouraging, resourceful and funny when needed. With Professor Marciano you can easily forget you're in a class because she treats you as a business professional rather than just a student. In this class in particular, she was extremely realistic when helping us to narrow our scope and deliverables to the client. Professor Marciano was always available to us via email, text, zoom or in person if we needed to bounce ideas, talk strategy or align our final presentation to the client's needs. 
 
What key learnings will you take from this experience back into your career?
As a business owner, I can get caught up in the challenge before stepping away and identifying the root cause. This class helped me to see that not all ideas that are presented work, but are worth exploring to see the potential they may present. Taking this class offered practical resources that can be applied to any challenges I may face in the future. We were also exposed to industry professionals who offered hands-on experience and practical advice and tactics.
---