Stern Solutions Faces of Change: Meet Alexia Victor (MBA '22), Langone Part-time MBA
In one of the only MBA-level courses in the US that is designed to train students to become futurists, NYU Stern Professor
Amy Webb
teaches students strategic foresight, long-term trends research, quantitative modeling, and scenario planning. In the first half of the semester, they focus on the methodology of these skills, which help companies outgrow competitors and define new markets earlier.
Then in the second half of this NYU Stern course—called Strategic Foresight and Predicting the Future of Technology—they put it into practice, tackling critical challenges in real time. In a live case study, students work with major companies and organizations such as JP Morgan, PayPal, and New York Public Radio, among others. 
The class builds on Stern's long legacy of
Stern Solutions
experiential learning offerings, where students engage in hands-on courses and company-sponsored projects. In real-time and with the guidance of faculty, they help businesses solve real challenges, while getting to interact with industry experts. 
Meet Alexia Victor, NYU Stern Langone Part-time MBA Program (MBA '22), and learn more about her Stern Solutions project with
a4
.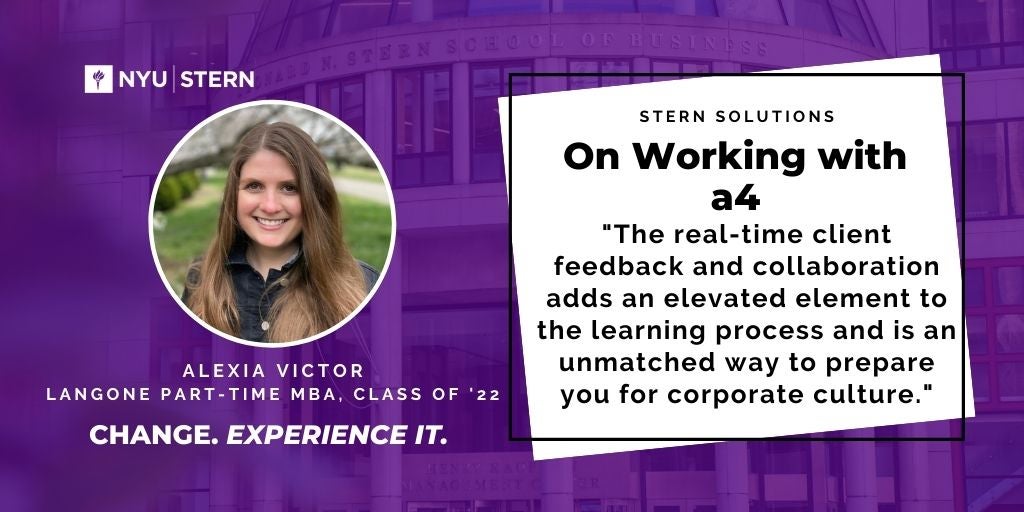 Name:
Alexia Victor
Employer:
TikTok
Name of the Stern Solutions class you were enrolled in:
Strategic Foresight and Predicting the Future of Technology
Faculty name:
Professor Amy Webb
Corporate partner:
a4
Briefly describe what you were working on with your corporate partner:
Throughout this project we worked closely with a4, the advanced media advertising arm of Altice USA, to help them prepare for the future of advertising and a data privacy compliant identity. We explored changing data regulations and expanded the focus of our client sessions beyond the scope of digital advertising and privacy using established Strategic Foresight frameworks from class. Our main goal was to really push their boundaries and get them to be comfortable with the uncomfortable in order to explore white spaces that they previously hadn't considered. At the end of the process, we presented them with five different scenarios, ranging from optimistic for their current position to extremely challenging. Our goal was to prepare them for multiple possible future scenarios and uncover how they could differentiate themselves in an exceedingly competitive space.
Briefly describe the benefits of working to solve a real business challenge?
There's no greater learning experience than working with a client and trying to solve a real-world challenge. There are more stakes on the table when you know your solutions can actually be implemented and make a difference. The real-time client feedback and collaboration adds an elevated element to the learning process and is an unmatched way to prepare you for corporate culture. It was beyond helpful to regularly hear feedback from a4 about what they had already considered, and to see what surprised and excited them throughout the process.
My favorite part of the process was when we were working on our Axes of Uncertainty and one of our clients threw the most out-of-the-box, innovative idea on the board. We had been fairly tame up until that point, and then he threw out the idea of ads in your dreams facilitated by neurological implants – this really opened up everyone's creative floodgates. That type of client investment and trust in the process was really the cherry on top of the whole experience.
Describe your team and how you worked together on the challenge. 
We all leaned on each other's strengths to develop strong solutions for our client. Our group had a variety of backgrounds, from media to finance to tech, and I think it really helped to get perspectives from both peers in the industry, and peers coming in with a fresh perspective. Everyone knew what they were good at and really leaned into that for the project. It was also extremely beneficial to have peers who didn't have industry knowledge because they really stretched us to uncover the obscure and zoom out instead of zooming in on where we instinctively wanted to look. Doing so helped us develop even stronger scenarios for our client.
What was it like to work with a corporate partner throughout the project? 
a4 was the most perfect partner we could have asked for! They were fully engaged and were great collaborators. They were all so leaned into the process that they truthfully felt like additional team members every step of the way. It was so exciting when we were able to see them fully embrace the process, from rapid firing signals for our fringe sketch, to really stretching themselves for our axes of uncertainty. They were completely invested in our project and our insights, and it was so reassuring to have their input and confidence in our outputs from day one.
Describe the faculty support you received throughout the project and how it was helpful. 
Both our coach and professor were invaluable resources throughout the project. They were there to guide us at every stage and would let us know if we were on the right track or needed to recalibrate. When working through our client sessions, they gave us the room to lead while also giving us the reassurance that they would guide us when needed. They were vital sounding boards for our thought process and ideas, and let us know how we could really push ourselves to develop the strongest product for our client.  
What key learnings will you take from this experience into your career?
The Strategic Foresight methodology we learned in class is an invaluable tool that every single company can benefit from, and it was instrumental to really learn how to utilize the process through real-world application. Working directly with a client gave us more confidence in our application of Strategic Foresight, and gave us assurance that we can now go and successfully apply this methodology when working with our own clients.
We all left the class with the tools to identify signals, forces and trends that will enable us to help our clients prepare for the future. I've already found myself unconsciously identifying signals on a daily basis and calling out any contradictions or inflexions I notice. It almost feels like second nature now, and I can't wait to put the methodology into practice again. I will certainly be utilizing this methodology at my own company! 
---