Superstar Firms and Innovation with Professor Tommaso Valletti and Professor John Van Reenen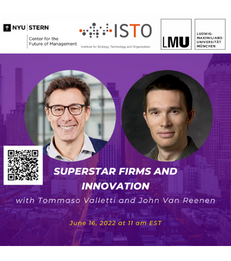 Date:
June 16, 2022
Time: 
11am ET (virtual)
Over the past decade we've witnessed the growth of so-called "Superstar Firms" in the economy. Is this good for innovation? What will be the impact of recent policies proposed and passed in the EU, UK and USA on these firms and on innovation? These topics and more will be explored in the virtual event, which is co-hosted by the the
Center for the Future of Management
and LMU's Institute for Strategy, Technology and Organization.
Tommaso Valletti is Professor of Economics and Head of the Department of Economics & Public Policy at Imperial College London. He is a Non-Executive Director to the board of the Financial Conduct Authority. He is the Director of the CEPR Research and Policy Network on Competition Policy. He was the Chief Competition Economist of the European Commission between 2016 and 2019.
---