Business and Policy Leader Events
The Volatility Institute and NASDAQ Derivatives Research Project Conference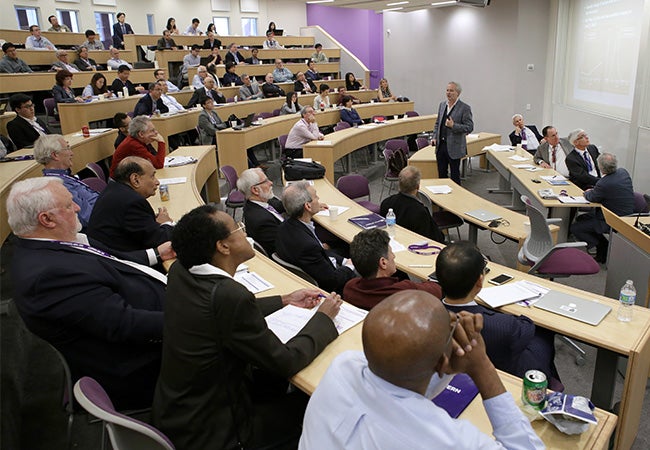 The NYU Stern Volatility Institute and NASDAQ Derivatives Research Project Conference took place on the Stern campus on April 27-28.
The NYU Stern
Volatility Institute
and
NASDAQ Derivatives Research Project
Conference convened academics and practitioners to discuss the latest research and ideas on the theme, "Derivatives and Volatility: The State of the Art." Hosted by Nobel Laureate Professor
Robert Engle
and Professor
Stephen Figlewski
, the conference was sponsored by NASDAQ, the Alfred P. Sloan Foundation, the Michael Armellino Foundation, the Global Risk Institute, the National Science Foundation, the Norwegian Finance Initiative and SoFiE.
Conference highlights included:
Nobel Laureate Professor Robert Engle, director of Stern's Volatility Institute, shared an update from V-Lab, introducing a new initiative focused on climate risk and ways investors and companies can insure against losses. He also shared recent data from the Volatility Map and discussed recent fluctuations in domestic systemic risk.
New research from NYU Stern faculty, including Professor Stephen Figlewski on the value of American calls and Professor Ralph Koijen on market risk insurance.
Keynote remarks from Darrell Duffie of Stanford University on "Good and Bad Unintended Consequences of New Regulations for Derivatives Markets"
Research presentations from leading academics at Columbia Business School, City University of New York, Duke University, the Massachusetts Institute of Technology, Northwestern University, NYU Tandon School of Engineering, the University of California, the University of Chicago, the University of Maryland, the University of North Carolina, the University of Pennsylvania, the University of Toronto and the University of Zurich. The presentations were moderated by NYU Stern Professors Menachem Brenner, Itamar Drechsler, Robert Engle, Stephen Figlewski, Matthew Richardson, Kim Schoenholtz and Johannes Stroebel.
A panel discussion on "Risk, Volatility and Derivatives in an Era of High Uncertainty" with Darrell Duffie, Dean Witter Distinguished Professor of Finance at Stanford University; Bruno Dupire, Head of Quantitative Research at Bloomberg L.P.; Frank Hatheway, Chief Economist at NASDAQ; and Bluford Putnam, Chief Economist and Managing Director of the Strategic Intelligence & Analytics team at CME Group
A full photo gallery from the conference can be accessed
here
.
For more information, please see the
conference website
.