Business and Policy Leader Events
The World After Capital featuring Albert Wenger in a fireside chat with Arun Sundararajan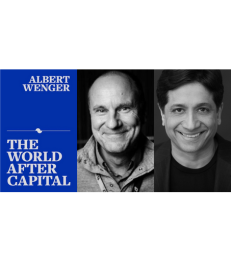 Date: Tuesday, September 12
Time: 6:00 pm ET
Location: NYU Stern, register here
NYU Stern's Fubon Center for Technology, Business, and Innovation presents The World After Capital featuring Albert Wenger, Managing Director, Union Square Ventures, and author of The World After Capital, in a fireside chat with Professor Arun Sundararajan, Harold Price Professor of Entrepreneurship.
Albert Wenger is a managing partner at Union Square Ventures (USV), a New York-based thesis-driven venture capital firm, where his investments have included Etsy, Twilio, and MongoDB. Before joining USV, Albert was the President of del.icio.us from founding through the company's sale to Yahoo. Albert graduated summa cum laude from Harvard College in economics and computer science and holds a PhD in Information Technology from MIT. His wife Susan Danziger co-founded Ziggeo. Together, they have three wonderful children.
The World After Capital argues that capitalism cannot allocate all resources efficiently in the digital age—where the new shortage isn't capital, but rather, human attention. While economically incentivized activities will not go away, we must make room for the things we cannot put a price on. It proposes increasing three freedoms: economic, informational, and psychological, to ensure the continuation of human knowledge production. The book is available free of charge at: worldaftercapital.org

For more information, please visit the center's website.
---