Change. Design it.
Stern Undergraduate College Business, Technology and Entrepreneurship Students Sprint to Real-World Innovation during Their First Semester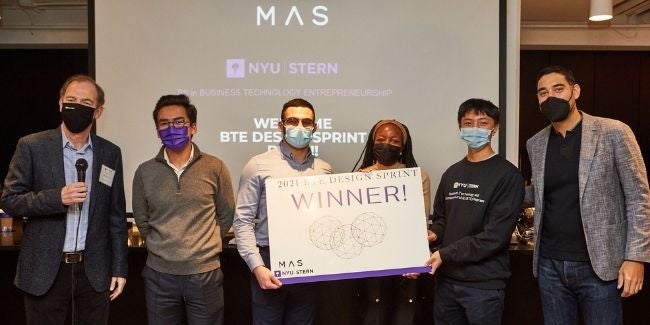 Winning BTE Design Sprint student team for Bolder Money, with members Rafed Abbassi, Harry Du, Sarah Munis, and Dimash Shubay, with Undergraduate College Vice Dean Robert Whitelaw (far left) and BTE Academic Director Ashish Bhatia (far right) 
This Fall, NYU Stern welcomed the inaugural cohort of the new
BS in Business, Technology and Entrepreneurship (BTE) program
, the first U.S. undergraduate business program of its kind to seamlessly integrate business, technology and entrepreneurship. Like all Stern undergraduates, BTE students engage in experiences throughout their four years that are grounded in the College's
Five Pillars
. The BTE program is intentionally designed to instill students with an entrepreneurial mindset, and business and technology competencies, to play transformative roles in today's dynamic and tech-driven business world. 
"The BTE program builds the relevancy and real-world of the New York tech ecosystem directly into the academic experience to give students access to skill-building experiences that will set them up for success in their future careers," said
Robert Whitelaw
, Vice Dean, Stern's Undergraduate College.
For one intensive week in November during their very first semester, BTE students put their first 10 weeks of education into action working with early-stage New York City ventures during an immersive "Design Sprint" -- an only in New York signature moment. At the end of the Sprint, the student team for startup Bolder Money, with members Rafed Abbassi, Harry Du, Sarah Munis, and Dimash Shubay, was named the overall winner. 
The four-year, STEM-certified BTE Program is based on the principles of active learning, reflective growth, community, and envisioning the future. These foundational principles fused together in one of the first courses students took this fall, "Fundamentals of Entrepreneurship: The Entrepreneurial Mindset," led by Professor
Ashish Bhatia
, BTE Academic Director. The course immersed students into the world of entrepreneurship and technology through engagement with the NYC entrepreneurial ecosystem and exposure to entrepreneurial methods, including design thinking. 
"The BTE program is designed to spark a new type of thinking and a bias toward action, and it starts right away in the first semester," said Professor Bhatia. "The accelerated nature of the Design Sprint is critical as this immersion also forced students to learn valuable lessons around agility and experimentation when navigating ambiguity. These are crucial skills for business and technology leaders of the 21st century."
The BTE Design Sprint built on Stern's strong legacy in experiential learning. 
"What's especially exciting for our students is that the BTE program is fully anchored in real-world, real-time experiential learning, right from the very start of the program," said Bryan Ramos, Assistant Dean, Global & Experiential Education. "For the BTE Design Sprint, we customized our
Stern Solutions
experiential learning method, an iterative process of immersion, action and reflection that Stern pioneered more than two decades ago, giving undergraduate students the chance to work right alongside actual ventures, including those founded by Stern alumni."
To gear up for the BTE Design Sprint, the 50-student cohort was broken up into small teams and assigned to a startup. 
"Getting the opportunity to work on a real business challenge was initially intimidating because it was something completely new to me but was also very exciting and really made me look forward to being in the founder's shoes one day," said BTE student Mariangel Sumoza. "I think the design sprint was the perfect way to learn the value of human-centered design and practice using the process. The hands-on approach allowed me to learn from my mistakes and gain personal experience." 
The ventures included: 
In the week leading up to the Sprint, students were given details about the unique challenges facing the startups. Class time was spent discussing strategies for accelerating innovation, planning, and meeting with a roster of industry mentors for advice, including: 
Craig Wilson, Managing Director, Tandon's Future Labs; Co-Founder, The Crop Project (MBA '14)
Inna Lobel, Creative Director at FROG; Adjunct Professor
Gisel Marmolejo, Product Manager, Capital One (BS '20)
Ryan Loney, Senior Associate Product Manager, Capital One (BS '20)
Phil Hayes, Data Science Lead, Airbnb (BS '16)
Hunter Tam, IT Intern @ A24; BS/BFA Student; BTE Teaching Fellow
The Sprint was hosted by
MAS Event + Design
at their workspace in Dumbo, one of Brooklyn's top technology innovation hubs. MAS is a female- and alumni-founded bespoke experience agency of creatives and technologists.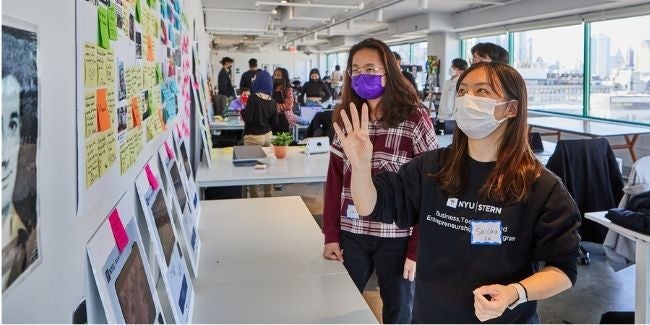 BTE students participating in the Design Sprint at the MAS Event + Design workspace in Brooklyn
The teams gathered data through customer interviews, online research and frameworks used by entrepreneurs. The teams then prepared a short overview on their progress, which they shared with Stern faculty, mentors and BTE advisors. The groups received feedback in real time and pivoted their plans as necessary. 
"Receiving feedback, advice and perspective from mentors and judges with valuable knowledge and experience in entrepreneurship helped my team think through complex questions, and accelerated our progress at key stages in our project building," said BTE student Cynthia Zhang. 
The final day of the Sprint shifted gears to acting and refining. The teams tested, adapted and fine-tuned their work products. 
"The Design Sprint gave me an opportunity to work closely in a team and through this experience, I also learned the importance of an agile team," said BTE student Joseph Wang. "Listening, resilience, and above all flexibility - these traits were all paramount to our success.  There were moments within the Sprint where we had to scrap a day's worth of work, but it was necessary to move on. In retrospect, I learned the most from making these tough calls."
Each founder met with the teams assigned to tackle their challenge and heard their proposed solutions. Then the founders conferred with the Sprint judges: ​​Eric Chung, Project 120, Google (BS '10); Melissa Mahon, EVP Operations, MAS; and Lori Berenberg, Project Manager, MongoDB (BS '17). One team for each startup was selected as a finalist. 
"Design thinking is how we should be building world-beating businesses -- a solid command of consumer insight coupled with strong commercial thinking is the secret for building successful businesses," said Sid Singh, Founder, Bolder Money. "Each of the teams also demonstrated natural instinct in unpacking the problem by applying thoughtful consumer-centric thinking, and I was pleasantly surprised by how insightful and strategic their solutions were." 
The final teams each gave a short presentation to the judges. After conferring, the judges selected team Bolder Money as the winner. Professor Bhatia also announced awards for teams that came up with the most creative solution to winners of the community-oriented photo contest. 
"No one on our team had set roles but we each gravitated towards different aspects of the presentation," said BTE student Sarah Munis, who was on the winning team. "We got really nervous as we saw our competitors using different platforms and mediums. But with the feedback from Sid and our insights, we knew we addressed problems and made it very user-focused. I felt so proud of what we accomplished within the time we had. At the beginning of that week, I wasn't sure how we were going  to do it, but by the end we saw there's no better way to learn something than actually doing it!" 
Next semester, students will build on these learnings through the second semester immersion focused on data science and product management.   
---