Capitalize on Lifelong Career Coaching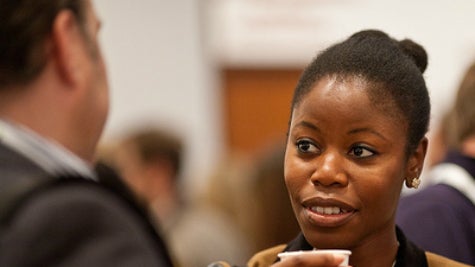 The Working Professionals Team offers complimentary one-on-one career coaching to all degree holding Stern alumni. Draw from our career coaches' breadth of experiences to:
Explore the next step in your career
Discuss career transitions, job search strategies, and personal branding
Review resumes, cover letters, and LinkedIn profiles
Prepare for interviews and participate in behavioral mock interviews
Practice salary negotiations and performance reviews
Take advantage of career and self-assessment tools
How to make an appointment:
Log in to your Career Account via SternLife and make an appointment by selecting 'Career Account' and then the 'Appointments' tab
If this is your first time logging in to SternLife, please follow these instructions:

Go to http://sternlife.stern.nyu.edu and select 'Do you need to activate your account?'
Enter your Stern Net ID, University ID and Date of Birth

If you do not remember your Net ID or University ID, please contact the Office of Records and Registration: registrn@stern.nyu.edu or 212-998-0660

Set up your account using an email address and password

Note: When you set up your account, your username is your Net ID

Your SternLife account will open

Select 'Career Account' and then the 'Coaching' tab to make an appointment
If you are having issues setting up your account:
Please contact Stern IT at helpdesk@stern.nyu.edu or 212-998-0180

Note: Let them know you are an ALUM who needs to ACTIVATE their STERLIFE account
Once you are logged in to your Career Account in 12Twenty:

After you have successfully accessed your Career Account, you can schedule an appointment by clicking the Appointments tab.

Once you've selected the Appointments tab, you will see a drop down list of available appointment slots. Select the time and date that works best for you to book an appointment. You can also navigate to the following week using the > arrow next to the date.
After selecting the appointment time, click on the Book Appointment button in black.
In the next screen, select your preferred appointment type from the drop down menu.
Then, upload your resume if you haven't done so already using the Upload button.
Add notes for your coach explaining the nature of your appointment.
Hit the Book Appointment button to secure your appointment.
Once you have successfully booked your appointment, you will be able to see it visibly in the 'Appointments' section of your Career Account. Please keep in mind that you can only schedule one appointment at a time, therefore, you will not be able to see future appointments once you have booked your appointment. 

How to Cancel Your Appointment in 12Twenty

To cancel your appointment, go to the 'Appointments' tab and click on into your appointment by selecting the time slot that is posted as your appointment time in purple. Select the three dots next to the X and then hit 'Cancel Appointment.' Another screen will pop up asking if you're sure you want to cancel your appointment. Select 'Yes, cancel it' to confirm the cancellation. If you'd like to change your appointment details (i.e. the notes, upload a resume, or the appointment type) instead of hitting 'Cancel Appointment' select 'Edit' to make your changes and then 'Save' to confirm changes.
Once you have cancelled your appointment, you will be able to see other appointment options pop onto your screen. If you'd like to reschedule, select a new time slot that works for you and follow the process for scheduling appointments.

You can also view our informational video on scheduling appointments for a step by step guide or read our blog article on how to schedule an appointment.
  
We look forward to working with you throughout your personal career journey!