Who We Are
Leadership Development @ Stern
Stern's Leadership Development Program was founded in 2009 to address a growing need to provide personalized, experiential leadership training for students across a range of industries. A focus on experiential learning and individual attention helps students hone key skills and develop their leadership style. For event information, visit the
NYU Stern LDP Blog
and follow
LDP on Instagram
, username sternleadership.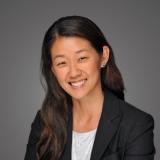 Connie Kim, Senior Director, Leadership Development
Connie oversees Leadership Development and she is responsible for developing the strategy, partnering with Stern faculty and administration, facilitating/teaching in class, strengthening corporate relationships, and mentoring and coaching MBA students. NYU Stern offers two formal leadership programs (Leadership Development Program or LDP, for full-time students; and, Inside Out Program or IOP, for executive MBA students). Both programs are a comprehensive, applied and personal leadership development curriculum that empowers Stern MBA students to evolve into effective and mindful leaders.
Prior to joining NYU Stern, Connie was a strategic leader within Thomson Reuters' talent management group, overseeing its global MBA leadership development program, where she refined the program to further enable business success and expanded it into China, India and Argentina. Previously, Connie was a senior leveraged finance banker at Société Generale and Citigroup for most of her banking career, and, an equity research junior analyst at Lehman Brothers and financial analyst at the Federal Reserve Bank of New York, prior to attending business school.
Connie holds a BS in Business Administration from Boston University and an MBA from Cornell University. In her free time, Connie loves practicing yoga and traveling to places that are best explored with a backpack.