Curriculum Overview
The online MS in Quantitative Management (MSQM) blends business foundations with analytics. In our foundation courses, you gain knowledge of a broad array of business functions, practices, tools, and concepts. In our business analytics courses, you learn how to analyze data and use results to solve problems and drive success.
MSQM courses engage students through an innovative suite of individual and group activities, assignments, and offer optional live sessions each week with the instructor. Though MSQM coursework is rigorous, NYU Stern structured the part-time program to help you maintain work-life balance while completing your degree.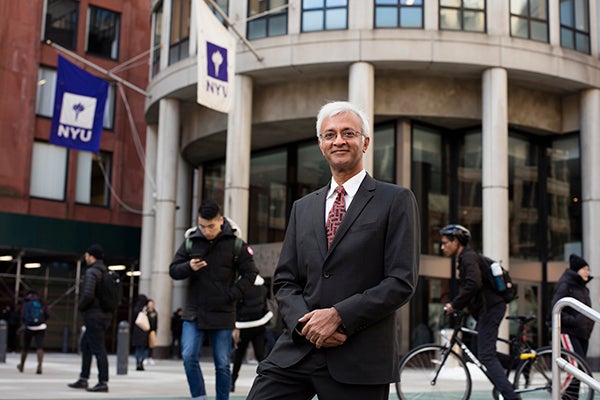 "We analyzed the competencies that are giving graduates of our MBA programs a measurable advantage in the marketplace and set out to develop a program that gives a similar edge to applicants with any undergraduate major who want or need the flexibility of an online degree. The MSQM is this program."
---
Cohort Learning
The MSQM is a cohort program, which means you learn with the same group of students throughout your time at NYU Stern. This model enhances learning and builds a strong sense of community.
Streamlined Program Structure
The part-time, 20-month program comprises 22 short courses, taken one at a time, for a total of 33 credits. Students take courses throughout their time in the program, with multiple long weekends off and other breaks of varied length including two weeks in December/January and a spring break.
The predominantly online MSQM program also includes two immersive four-day residencies, the first at the beginning of the program and the second a year later, on NYU Stern's Greenwich Village campus.
Learn more about MSQM residential immersions.
Focused Courses with a Personal Touch
Each online course spans three weeks and includes two lessons each week. Lessons incorporate short videos, including mini-lectures, demonstrations, worked examples, and expert interviews. Videos are complemented by a variety of ungraded and graded activities, such as readings, forum discussions, self-tests and quizzes, case analyses, and group projects.
Each week, students may choose to participate in a 60- to 90-minute live online meetup with the instructor and classmates. These synchronous sessions are recorded and posted. Courses are largely self-paced during the week and generally require students to complete assignments by Sunday. Occasionally an exam or project due date will fall a few days after the last lesson.
Students can expect a faculty member, teaching fellow, or staff member to reply to their questions within 24 hours on a weekday.
Learn more about the online learning environment.
Courses offered in part during the residential immersions are: Communication, Professional Responsibility, and Collaboration, Conflict & Negotiation.
MBA Pathway
Students in good standing who have not been awarded the MSQM degree may petition to transfer to Stern's Langone Part-time MBA Program and use the credits they have earned online toward their MBA degree. For details, please visit the "MSQM to Langone" tab on the MBA Academic Affairs & Advising website.
MSQM Course Highlights
Best-in-Class
Courses created by leading NYU Stern researchers, business professionals, and educators in partnership with our in-house learning science team.
Faculty Access
Optional live sessions with professors that give students an opportunity to ask questions, discuss subjects of special interest, or address course topics in greater depth.
Engaging
Coursework that engages students through an array of learning activities, such as group discussions, in-video quizzing, polls, self-assessments, reflections on readings, interactive games, team projects, and case studies.
Bespoke
Courses developed from the ground up and designed specifically for the online environment.
Relevant
Assignments that emphasize real-world application of course concepts.
Ahead of the Curve
Courses that anticipate what you will need to succeed in the fast-changing business world.
---