Steven Kassin, BS 2007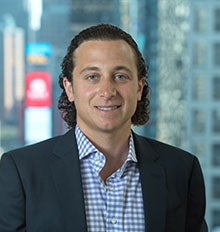 Steve Kassin is the Founder and Managing Partner of Infinity Real Estate, a privately-owned developer, owner, and manager of high quality real estate headquartered in New York City. Under Steve's leadership, Infinity has successfully acquired or developed more than two million square feet of commercial property, representing over $1.5 billion in direct investment transactions across more than 75 projects. Under Steve's leadership, Infinity honed its expertise in the urban multifamily, lodging and retail sectors. His management and growth initiatives have transformed Infinity Real Estate into a national real estate investment company.

In October 2015, Steve was named "Fifty Under 40" in Globe Street's Real Estate Forum publication. He is also an active participant on various industry panels and guest lectures at NYU Stern School of Business and at other educational institutions. Steve lives in the New York area with his wife and daughter.
As a student, where was your favorite spot to spend time at Stern?
I spent a lot of time at the Computer Lab and Bobst Library during my time as a student -- both great spots to study during finals. While those may not have been my favorite spots, they're definitely the places where I spent the most time.
What is your favorite childhood memory?
When I first learned to surf at ten years old, I never thought it would become a lifelong passion… or my greatest addiction if you ask those around me. I'm grateful to have learned how to surf as a child, before typical adulthood fears set in. The sport and lifestyle has been transformative for me, fueling my fitness regimen and my thirst for travel and adventure.
If you could have an endless supply of any food, what would it be, and why?
I absolutely love lamb. I'd be lying if I said anything else. Shoulder roast, chops, shank… There really isn't a bad cut on the animal if prepared properly. My ultimate food indulgence is a well-seasoned properly roasted rack of lamb chops. I can tackle the whole rack myself, although the occasion is far rarer these days as I only eat animal proteins once every week or so.
What is your favorite memory from your time at Stern?
Walking out of KMC one afternoon during my final semester, checking my Blackberry and seeing that I just closed my first big deal in my startup business. To this day, I still remember feeling a rush of adrenaline, I was really pumped up. When I think about it now, almost a decade later, I view that same moment through a very different lens. We all experience ups and downs in business and more broadly in life. The key is staying centered and consistent through the volatility. I don't get the same rush these days from closing a deal, but I also don't get as depressed or discouraged as I used to when I fail. I suppose it is maturity or experience setting in, but what I focus on now is enjoying the journey and ensuring that I invest time and effort on things that make me feel fulfilled in a lasting and deeper way.
Why do you choose to stay engaged with Stern as an alumnus?
I feel a great sense of commitment to Stern because I am so grateful for the tools and opportunities it has provided me, both during my time as a student and now as an alumnus. As a young entrepreneur, I want to be a resource to students and alumni -- because what I accomplished at a young age anyone can conceivably achieve with focus and relentless effort. I do my best to participate in speaking engagements and mentorship opportunities through the school because it's important to me to give back and to stay connected with our community.
What quote most inspires you?
"These will be the good ol' days."
~ The Script
---