Sara Sindelar, MBA '17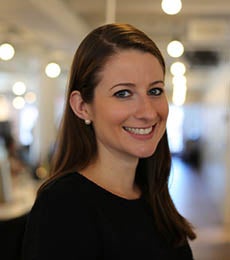 Some of my favorite projects have been bringing people into a room you would have never put together to co-create, the number of innovative ideas that come out of those conversations is remarkable.
We got a chance to hear from recent alumna Sara Sindelar, MBA '17, Experiential Marketing Manager, Corporate Marketing at IBM about her career path and her expertise in marketing. At Stern, Sindelar specialized in Digital Marketing and was involved with Langone Student Government. She shares insights as a leading innovator in her field.

Tell us about your current role at IBM.
I joined IBM as an undergraduate intern in 2008 and have been lucky to move around the company to various marketing roles over the last ten years. I was then offered a full time position as a campaign manager then moved to advertising before starting a new team that focused solely on building awareness for the next generation of buyers. This new initiative of creating awareness amongst the next generation led me to my current role as an event marketer. I always had an interest in working in events so I joined the corporate events team about a year ago where I work on experiential marketing for the IBM brand.

What drew you to Marketing and Advertising?
I always knew I wanted to be a business major but I didn't realize how much marketing would excite me until I started my marketing classes at Syracuse University. Though, I will never forget the moment where I was fully drawn to marketing. During my first undergraduate internship at IBM on the advertising team, I attended a TV shoot and that was when I truly got hooked on marketing and advertising. Throughout my career I still get excited about marketing because I love working with creative teams to pull complex stories into a piece of marketing to captivate consumers' attention for only a few seconds or minutes.

You studied Digital Marketing at Stern. Can you share how you applied some of your class learnings to your work?
Having worked at the same company my whole career, I really only learned how to do things the way IBM does things. My MBA classes allowed me to broaden my learning and bring a different type of thinking into the office. The classroom discussions on how other companies are marketing to their customers opened up my mind to different ways IBM could approach marketing. Being a part of such a large company you end up working on a specific part of marketing. At Stern we were always working on marketing plans in our group projects, this allowed me to experience more of the end to end marketing process relative to my day to day at IBM.

You've held a number of roles at IBM in your career. What drew you toward the company and what has your career path looked like?
If you asked me after my first summer at IBM if I would be here ten years later and accomplished what I have, I would have thought you were crazy but this company has kept me excited about work throughout. There are three things that really drew me to IBM. First, I was immediately hooked on the complexity of the brand and how we market business solutions to our business consumers. Second, I didn't realize how much IBM is the backbone to so many businesses and integrated in to so many elements of each of our days. Last, as cliché as it is, I fell in love with the people here. IBM is made up of around 400,000 employees which allows it to have experts all around the world in every topic you could imagine; you never stop learning.

You were named to the 2018 Forbes 30 Under 30 Game Changers in Marketing and Advertising List. Congratulations! What do you find most rewarding as you innovate in your field?
The thing that gets me the most excited is working with incredibly creative people in the field. Some of my favorite projects have been bringing people into a room you would have never put together to co-create, the number of innovative and out of the box ideas that come out of those conversations is remarkable. The most rewarding part is just seeing the projects come to life and watch others react as they experience them.

What were you involved at while at Stern? Any favorite Stern memories?
Stern was an incredible three years—constantly learning and meeting new people. I was on the Langone Student Government (LSG) for two years and a Lab Captain for orientation for two semesters. It gave me an opportunity to meet people beyond my class block and the classroom. My favorite memories from Stern happened on our DBi's, I traveled to Morocco and Australia, I was able to see another part of the world, fulfill my passion for travel and build friendships on those trips.

You've stayed very involved with Stern since graduation. What are some highlights of being a Stern alumna?
Yes, I have enjoyed staying in touch with Stern post graduation. It is such a great community that I want to keep giving back to; it also doesn't hurt that my office is around the corner! While I am only a year out, attending reunion was a great way to meet people from other classes and get a little taste of the Stern life again.

What is your favorite way to spend your free time?
I love to travel and experience new places. I am trying to visit all 50 states and 7 continents and I am almost there! Still waiting for the right time to see Antarctica.

Where did you go for your last vacation and why?
My last vacation was part work and part vacation but I attended the Forbes Under 30 Summit in Israel this past May—what an incredible country! It was a great chance to meet people from all over the world that are at the top of their field. The highlight of the trip was the overnight party they threw for us before they drove us to Masada for a morning hike to watch the sunrise over the Dead Sea. My true happy place is the beach so I try to spend as much of my summers up in Rhode Island.


---
Check Sara out on Stern Chats, an MBA student-run podcast that explores the stories between the lines of the resumes of members of the Stern community.