Research Highlights
NYU Stern Center for Sustainable Business and HSBC Bank USA Launch New Apparel Industry Sustainable Strategies Framework to Drive Better Financial Performance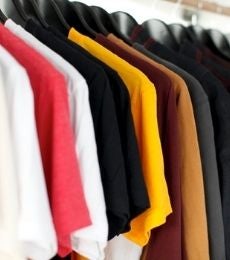 Novel research assesses sustainability efforts across the value chain, identifying eight strategies that apparel companies are using to positively impact their financial performance and drive better outcomes for the environment and society
Novel research assesses sustainability efforts across the value chain, identifying eight strategies that apparel companies are using to positively impact their financial performance and drive better outcomes for the environment and society
Today, the
NYU Stern Center for Sustainable Business
, with support from
HSBC Bank USA
, announced the creation of a new
Apparel Industry Sustainable Strategies Framework
designed to help companies identify and capitalize on opportunities to drive better financial performance across their value chains through sustainability.
The research identified eight sustainable strategies, mapped across the apparel value chain, uncovered more than 60 practices that companies are using to drive change, and designed ways to monetize the financial value delivered by those practices. The eight key strategies include:
1.
Reducing chemical impact,
2.
Improving water management,
3.
Improving energy management,
4.
Investing in the reduction of material waste,
5.
Implementing sustainable raw material sourcing,
6.
Investing in circularity and innovation,
7.
Investing in employee and supplier well-being, and
8.
Investing in sustainable brand marketing and communications.
In collaboration with apparel companies EILEEN FISHER, Reformation, REI and others, the Center for Sustainable Business team revealed initial highlights from their research:
Focusing on strategy #3, EILEEN FISHER shifted its transportation mix away from air transport and towards sea and trucking transports, resulting in ~$1.6 million in annual cost savings in 2019 as compared to 2015 and ~$150,000 in cumulative societal benefit by reducing greenhouse gas (GHG) emissions during the four-year period.
Leveraging strategy #7, REI found that its purpose-led company culture helped to improve employee well-being, resulting in $25M and $34M in net benefits from increased employee engagement and retention for 2018 and 2019 respectively, which represents approximately 5% of the company's total payroll expenses.
"As we have seen in recent years, companies continue to see the tremendous value that results from embracing sustainability in their business practices," said Professor
Tensie Whelan
, founding director of NYU Stern's Center for Sustainable Business. "With HSBC's vital support, we are excited to launch our new framework for the apparel industry – the second-largest sector in terms of supply chain pollution – to improve financial and societal returns. In the near future, we look forward to releasing additional results, particularly focused on companies' efforts to monetize investments in circularity."
"As COVID-19 continues to batter business, apparel companies are seeking untapped opportunities to strengthen their balance sheets and inspire consumers," added
Sophie Rifkin
, director of Corporate Research and Engagement, Stern's Center for Sustainable Business. "Our framework can play a critical role in unlocking value for both business and society, and we look forward to implementing these sustainable strategies with more apparel brands in the coming months."
"Consumers are demanding more from today's brands and the real-world implications of this research are indisputable," says Kelly Fisher, Head of Corporate Sustainability at HSBC Bank USA. "By adopting these strategies, our clients in the apparel industry can yield significant benefits for the environment, for society, and for their financial performance."
For additional information on the framework, please visit the Center's
website
.
Media Contacts
:
Carolyn Ritter, NYU Stern Office of Public Affairs
212-998-0624,
critter@stern.nyu.edu
Jeff Piascik, NYU Stern Office of Public Affairs
212-998-0906,
jpiascik@stern.nyu.edu
Robert Sherman, HSBC Bank USA
212-525-6901,
robert.a.sherman@us.hsbc.com