About CSB
The NYU Stern Center for Sustainable Business (CSB) is proving the value of sustainability for business management and performance at a time when people and the planet need it most.
Center for Sustainable Business
NYU Stern School of Business
44 West 4th Street, Suite 8-190
New York, NY 10012
Ph: 212-998-0567
sustainablebusiness@stern.nyu.edu
Educational Programs
Students studying sustainable business at Stern, whether
undergraduate
,
graduate
, or
executive
, will examine the unique role and shifting expectations of the private sector and gain a broad understanding of how embedding sustainability into business strategy benefits financial performance and management practices.
Learn more
Student Career Development
CSB offers unique programs including fellowships, boot camps, and case competitions to prepare students to pursue careers in sustainability, increasing their academic and professional competitiveness and positioning them at the forefront of thought leadership on the future of business.
Learn more
Research & Insights
CSB research demonstrates how sustainability strategies can improve business management and performance while addressing societal challenges. Learn more

Engaging Business through ROSI™
The CSB Return on Sustainability Investment (ROSI™) Methodology is used to monetize the benefits of sustainable practices for corporate executives and investors. Partners have included Aston Martin, Capital Power, HSBC, McDonald's, and REI.
Learn more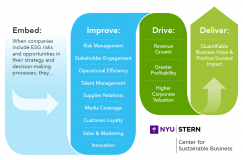 Recent Publications
In the News
Events