Rugby, Recruiting and Realigning Expectations
Undergraduate student Karl Gourgue blogs about his experience studying abroad in Paris.
A Brief Update
It's getting really nice. That is, the strange feeling of living at a true campus school. I still miss the impossibly tall buildings of the city, but I'm developing a soft spot for playing sports by the lake and doing homework under a tree. We moved from the B1 period to B2 (classes at HEC last half the semester, or six weeks), meaning I'm now taking five new classes. The rugby season is getting into full swing. I finally pulled the trigger on a discounted NFL Gamepass subscription so I could keep up with NFL games easier. Things are getting pretty serious.
I'm now taking Cost Accounting, Financial Markets, Sports Marketing, International Marketing and Leading Organizations. Cost Accounting, much like Financial Accounting at Stern, is surprisingly interesting. Overall, these classes seem like a good transition to some of the more technical courses I'll be doing at Stern in the spring.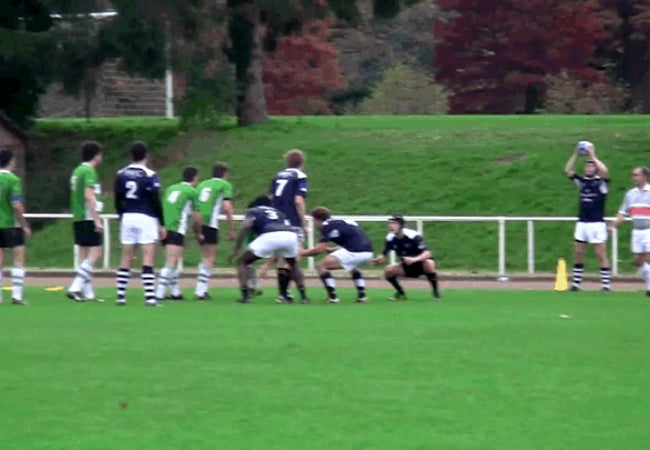 We finally kicked off the rugby regular season, and I got my first chance to experience a regulation match on the field. I couldn't understand everything said (in French) during pre-game warm-ups, but I like to imagine that our game plan was to "score a lot, and not let them score at all." In a not-that-strange turn of events, rugby has really grown on me. It won't replace American football in my heart, but it definitely beats almost every other sport.
On First Impressions in France
"If I let you choose, you're going to stick with the same people from the same background." One of my professors hit us with this serious-ish truth when explaining how she was going to create the groups for our projects. It's interesting because she touched on something that I've found strange about my time at HEC.  
French students and international students don't mix as much as I thought they would.  
Many people came here for the diversity factor – getting to study in an environment with students from all over the world. It makes sense. It's also strange because it shows a natural tendency of people to seek out and, at the same time, reject diversity in social settings. I'm seeing it at an extreme level, where the divide between "native" and "foreign" students is either clear or indistinguishable. People either gather into incredibly diverse groups or stick to insular nationality-based circles. I've noticed that all of my friends personally fall into two buckets: "French Students" and "Everyone Else."  
Did I expect this? Kind of. One Stern student who previously spent a semester at HEC commented, "I spent most of my time with other international students.  The French seemed very secluded, even if you spoke French." They're not the only ones that feel this way; the same professor mentioned above runs a network study on the class each semester. Here's a visualized chart of how students in the class defined their friendships within the classroom. Exchange students form a completely distinct social group!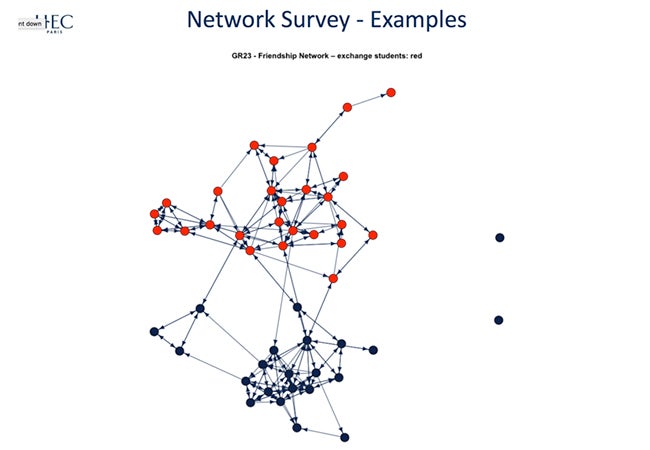 Here's the thing. I don't think the problem is with French people. I think the problem is the expectations people set for others coming to France. I've heard all kinds of things about French people from American, Czech and Chinese friends and coworkers. Almost none of them are true. French people do have some faults for sure (for one, they dress annoyingly well) but not at the level that people outside of France claim.  
I think the value of HEC is that the exposure breaks down those kinds of stereotypes pretty easily. It's a learning experience for everyone, faculty and administration included. I've learned a lot more about France from friends here that I ever learned in my high school French class. It's a different life out here, and I'm excited to keep learning about the strange intricacies of French culture every day.
On Jobs and Recruiting
Every day, recruiters come to NYU and Stern to try to attract students to amazing jobs in New York. While they're off doing that, I'm over here in France trying to experience life abroad. It's every Sternie's biggest concern about going abroad as a Junior – missing out on recruiting. I've had more than a dozen friends and family members (including my mom) ask me what I'm doing about it.
Truthfully, I've avoided the really stressful stuff by choosing early not to pursue a career in finance. My roommate, Chris, who committed to the challenge and opportunity of that kind of career, has already flown back to New York twice and visited London once for interviews. I've been doing my best to stay ahead of tech-centered recruiting by using LinkedIn and older/alumni friends to find opportunities that are opening up in the next few months.
Part of the unique value of this semester was getting the opportunity to experience business school like most European students do – without part time internships. Since I started at Stern, I've been working at least one job on or off campus. I've held some career-defining positions as an intern or freelance worker, and they've made school much more valuable. Even in Prague, I paired "Intro to Marketing" with an internship doing market analysis for a company in the Middle East. Over here, the typical internship is 6 months of full-time work, and, in France, legal regulations play a big part. 
So, for this part of my journey, I've rolled with an unemployed lifestyle, investing my time into traveling to new countries, trying new sports and learning new skills. I'm still looking hard for work during the January and summer break (just because I'm taking a semester off from work doesn't mean I don't miss office life), but I appreciated the (somewhat forced) opportunity to just be in school.
What's Next
This week I'm at Slush, a business conference in Helsinki, Finland. In the next few weeks, I have job interviews, some more rugby games (including a weekend tournament) and possibly one last huge trip before the semester ends.
---
More posts by this author