Research Center Events
Digital Innovation Conference: Platform Strategy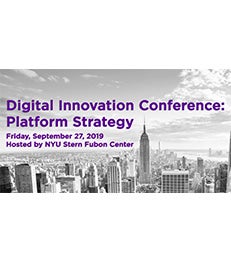 Date:
Friday, September 27, 2019
Location:
NYU Stern, New York, NY 10012
*By invitation only
NYU Stern's
Fubon Center for Technology, Business, and Innovation
will host Stern's first Digital Innovation Conference on September 27, 2019. The focus of this year's conference will be Platform Strategy.
Digital platforms have rapidly risen to dominate industries as diverse as entertainment, retail, financial services and more. They promise to create unprecedented value in the years to come. The rapid rise of new business models, however, requires managers and scholars to deal with new strategic questions, such as:
How "open" should the platform's boundaries be?
To what degree should ecosystem participants make investments in co-specialization or share proprietary data?
How will value be be shared across the members of the ecosystem?
What kind of governance roles should be played in the ecosystem and by whom?
This one-day conference will bring together leaders of platform businesses and leaders in platform research to discuss these questions. The conference will have several interactive sessions designed to facilitate members learning from each other and forming new collaborative relationships.
For tickets, please visit the event
registration page
, or for more information, please visit the Center's
website
.